The BMW M5 F10 is one of the fastest performance sedans money can buy. Could this 975Nm interpretation by German tuner G-Power be the best M5 yet?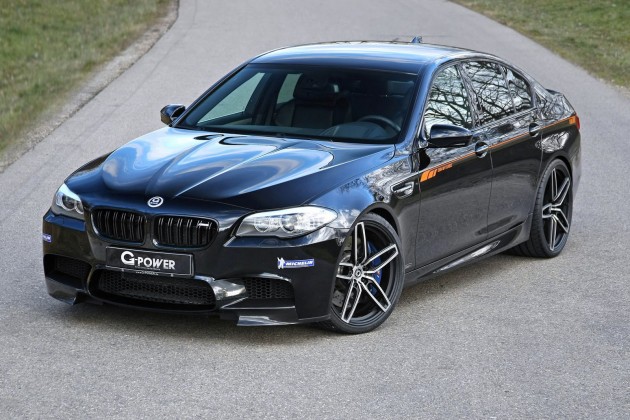 Under the bonnet of the BMW M5 F10 sits a 4.4-litre twin-turbo V8 that produces 423kW and 680Nm. Sending power to the rear wheels (so the tyres can be destroyed) is a seven-speed dual-clutch transmission.
Enter the latest M5 kit from G-Power. The kit consists of a piggyback ECU upgrade, and a new free-flowing sports exhaust that features pipes that measure 100mm in diametre. The sports exhaust is said to give the M5 a new sound to match its new power output.
As a result of the new performance parts, overall output is raised to a whopping 552kW and 975Nm – that's an increase of 129kW and 295Nm. While G-Power hasn't quoted performance figures for the M5 kit, we're sure it'd have no trouble eclipsing the standard car's 0-100km/h time of 4.2 seconds.
The G-Power BMW M5 has been fitted with a set of 21-inch Hurricane RR forged wheels to give it more of a custom look, and there's also new G-Power side decals, G-Power badges front and rear, as well as Michelin stickers on the front and rear bumpers. Thanks to the output increase, we're sure this M5 doesn't need any help standing out amongst the performance car crowd.
The BMW M5 is currently on sale in Australia with prices starting from $229,930. If you prefer fast coupes, then perhaps the BMW M6 is more for you with prices starting from $291,675.