The highly anticipated 2014 BMW M3 and M4 are ready for Australia. BMW says the new models bring up to $8500 in added value over the predecessor, while also being quicker and more efficient than ever.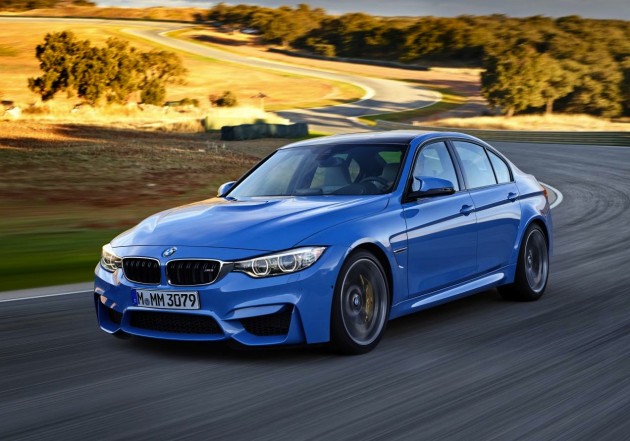 As revealed last year, the M3 (including the M4) has gone back to a six-cylinder engine. A 3.0-litre inline six. It changes from there though as it comes with twin turbochargers this time, making it the first pressurised M3 ever.
Fans needn't worry about authenticity and heritage. Despite being turbocharged the new unit is high revving, just like all of the predecessors, reaching its peak power output of 317kW from 5500rpm all the way out to 7300rpm. If you want more, the engine is capable of revving right out to a 7600rpm redline.
Torque is just as tractable. It peaks at 550Nm, that's 150Nm more than the outgoing V8 model, and it's available from 1850rpm to 5500rpm. This means it's more useable and practical while remaining somewhat true to its tradition.
Out on the road the M3 sedan and M4 coupe are able to dispatch 0-100km/h in just 4.1 seconds when optioned with the seven-speed dual-clutch auto, or 4.3 seconds if you choose to stick with the standard manual. Incredibly, the average fuel consumption for both the 1520kg M3 and 1497kg M4 is 8.3L/100km.
BMW M engineers have been developing the new model for a number of years now, with countless testing laps undertaken at Germany' Nurburgring. The adaptive suspension, electromechanical steering, and weight optimisation have contributed to what is expected to be the quickest and most complete M3 in history.
Start saving your pennies, the M3 and M4 will officially arrive in the Australian market in June. Prices start from the following:
2014 BMW M3 – $156,900
2014 BMW M4 – $166,900
For plenty more information and specs head over to our first-reveal report.