Audi Australia will launch the new 2014 Audi RS 6 Avant in November this year, rivalling the likes of the BMW M5 and the Mercedes-Benz E 63 AMG. The new model comes with a turbocharged V8, as opposed to the predecessor which featured a twin-turbo V10.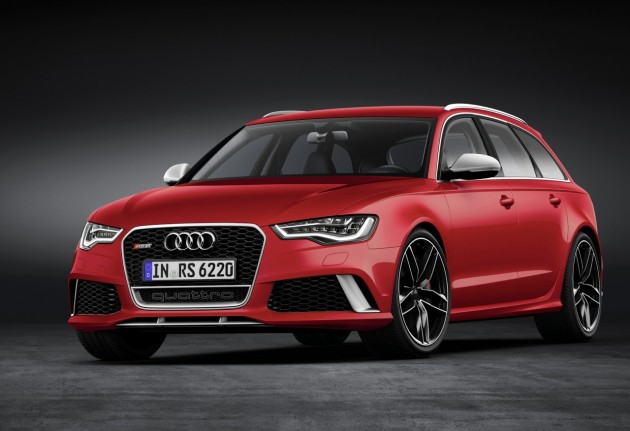 Using the Audi's new 4.0-litre twin-turbo V8, also seen in the S7 and Bentley Continental V8, quattro GmbH engineers – the team behind all RS models – have managed to boost output up to 412kW of power and 700Nm of torque.
Matched up to an eight-speed automatic transmission and a quattro all-wheel drive system, the new RS 6 Avant is able to cover 0-100km/h in just 3.9 seconds. This will make it one of the very quickest Audis to ever hit the market.
Being an 'Avant' wagon variant, the RS 6 can be described as a practical supercar. It offers the same sort of accommodation and cargo space as the regular A6 Avant – 565 litres – only the seats are much more sporty bucket-style items. There's also various 'RS' trimmings throughout, including a sports steering wheel.
Although prices haven't been officially announced, Audi Australia has said "it is expected to debut around $230,000" (excluding on-road costs). This would put it exactly up against the BMW M5 in terms of price, and around $20,000 cheaper than the E 63 AMG.
The car will be one of many new performance models that will debut this year. Audi Australia's managing director Andrew Doyle recently said,
"Without a doubt, 2013 is a year when Audi will introduce a host of extreme performance vehicles to the Australian market. In addition to our RS 4 Avant, TT RS plus and R8, we will also be bringing the all new RS 5 Cabriolet in July."