As the demand for hot hatches increases, we start to see brand new models pop up to attempt to take a chunk of the pie. The new 2013 Opel Corsa OPC is a first in Australia, ambitiously taking on the highly regarded Volkswagen Polo GTI, the upcoming and so far highly praised Ford Fiesta ST, and the well-rounded Suzuki Swift Sport.
It's a tough market to ace, having to be good at many different, often opposing aspects; fast, fuel efficient, small, versatile, good-looking, and cheap.
And even if you have achieved all of these attributes, you still have to make sure you're doing them better than the competition. Here, we put the new kid on the block to the PerformanceDrive test.
For those who aren't familiar with the name 'Opel', it is a GM-owned, predominantly German carmaker that has been around for decades. You could say it's the Holden of Europe. In fact, many previous Holden models in Australia have been rebadged Opels, like the Barina, Astra, Vectra, and even the Commodore to some degree with the Opel Omega/Vauxhall Carlton.
In the late 1990s the Holden Barina in Australia was sourced from Opel in Europe, where they called it the 'Opel Corsa'.
As much as Australians might have liked to see the use of the name 'Barina' with this Corsa, Holden still use the Barina name (although it's now sourced from Korea). Despite the challenges of being a new car with a new name, on paper, the Opel Corsa OPC has quite impressive credentials.
2013 Opel Corsa OPC – THE SPECS
Engine: 1.6-litre turbo intercooled four-cylinder
Output: 141kW@5850rpm / 230Nm@1900-5850rpm (260Nm overboost)
Transmission: Six-speed manual
Drive type: Front-wheel drive
Wheels: F: 7.0×17, 215/45  R: 7.0×17, 215/45
ANCAP: Five stars (scored 33.7 out of 37)
Kerb weight: 1252kg
Power-to-weight: 8.87:1 (kg:kw)
Official fuel economy: 7.5L/100km
Economy during test: 7.8L/100km
Fuel capacity/Type: 45L/91 RON minimum
Power efficiency: 18.8kW:L/100km
0-100km/h as tested: 7.1 seconds
Priced from: $28,990
2013 Opel Corsa OPC – THE PACKAGE
Tucked under the bonnet sits a keen 1.6-litre turbocharged four-cylinder engine producing 141kW at 5850rpm and 230Nm of torque widely spanning from 1980rpm to 5800rpm. It is not only the most powerful hatch in its class, it's also one the highest outputting four-seat cars currently on sale under $30,000 – the $29,990 Toyota 86 (147kW) is the only four-seat car that's more powerful. The $30,340 Honda Accord Euro (148kW) also comes close.
What might be a turn away for some and an attraction to others, this frugal engine can only be paired with a manual transmission. Now that Volkswagen has basically perfected its seven-speed DSG dual-clutch automatic transmission, it doesn't seem like Opel, or at least OPC, is willing to take it on. On the contrary, the Polo is no longer offered with a manual transmission, which could be seen as a drawback.
The OPC variant (as tested) adds the full performance suite to the package, with luscious Recaro sports seats, a tweaked suspension and chassis setup that sits 15mm lower than the standard Corsa, 17-inch alloys, a triangular tipped exhaust, and a flat-bottomed leather-bound OPC sports steering wheel.
The interior of this pint-sized OPC is the weakest part of the package in our opinion. The fact that this model has been out in Europe since 2006 shows up most when you take a look around the cabin. The plastics look cheap, and the see-through yellow illuminated plastics are unique, but well out-dated. There's also plenty of creaking noises produced in the cabin from the impacts of the tough suspension.
The standout is definitely the slim Recaro sports seats that not only look that part, but feel the part, providing plenty of support when zipping around corners.
Frankly, the sound system is tinny and shrill. And the yellow monochrome LCD display is small and pixelated. Unfortunately, the Bluetooth system isn't stream able; it only functions as a hands-free device.
Buttons and menus take a bit to get used to, as they're quite different to what you'd assume. For example, the confusing stalks on the steering wheel operate on a one click idea; if you want to put the windscreen wipers on the fastest setting, you have to click the stalk upwards three times. Some other European vehicles use this kind of mechanism as well.
It goes without saying that room isn't outstanding inside. But, the engineers have made good use of the space available. The Recaro seats are not bulky at all, and being a two-door car, climbing into the back is made as easy as can be thanks to large grab pull-handles for the front seat fold action.
Once you're in the back, it's not actually as claustrophobic as the petite exterior proportions portray. There's decent headroom, and legroom isn't too bad either, as long as the front passengers don't slide their seats too far back.
If you're in the front, there's no dramas. It showcases a spacy atmosphere with plenty of 'breathing space' between you and the controls –  and your other passengers. The driving position isn't smack on perfect, with the steering wheel tilted slightly away from you at the top, but it's nothing you won't get used to within a few moments of driving.
The OPC Corsa offers a loud exterior design. It's yelling out with its cool three-tier grilles in the front and rear corners, the muscly rear end which looks like it is flexing all day long, and that triangular exhaust shooting out from the middle. The dynamic front and rear bumper styling, the aggressive front lights, and the black-spoke machined-face alloy wheels make the car much more than just a Holden Barina with a body kit.
A German car and high levels of safety are attributes that have always been tantamount to each other. And like with all Opels sold in Australia, the Corsa OPC scores the full five-star ANCAP safety rating. It vaunts itself with a vast collection of gear including switchable stability control with traction control, anti-locking brakes, six airbags, rear park assist, cruise control, auto headlamps and wipers, keyless entry, and sporty rubber-studded alloy pedals.
2013 Opel Corsa OPC – THE DRIVE
Now for the strongest part of the package. There's plenty of 'wow factor' on the road. Right from take-off, the engine is noticeably zippy. It nips up to speed in almost any gear, assisted by the low ratio gearbox. You can easily cruise in sixth gear at 70km/h with no complaints or groans. In fact, there's a nifty 'shift up' suggestion indicator in the dash that lights up to help maintain the lowest level of fuel usage.
The torque available at your right foot is immense. Being the most powerful car in its class, and being equipped with an 'overboost' function providing up to 260Nm means you can be in nearly any gear in any situation, and it will effortlessly pull away.
OPC has done a great job with engine, bringing together tractability, performance, and perhaps more importantly, useability. You can stretch its legs out and it'll pull and pull, or you can zip through traffic effortlessly with the wide torque span.
We timed 0-100km/h in 7.1 seconds, which is a touch slower than we expected. Once you're levering through the gears, it's a convincingly zesty and forceful machine. We can't help but wonder why OPC didn't want to provide a more pronounced exhaust note to celebrate the potent engine (check video below). It sounds fairly wispy from outside. It does sound angry from inside the cabin though.
Gear selections have quite a long throw for a sports car, however, the clutch work is among the smoothest and quickest we've felt. It's nearly impossible to stall; it feels like you could never lift the clutch too quickly. This kind of useability is perfect for this segment as it is likely an important factor for those browsing the market, no matter how serious the rest of the car is.
Steering is extremely direct and responsive from the new-gen hydraulic-electric power steering, and it doesn't require many turns. It is somewhat sensitive compared to your average car, but here it is perfectly suited to give that racy composition. You get plenty of feel, feedback and realism on the road. So much so, it encourages you to treat every corner with confidence, like you're on a racing track.
The suspension is necessarily firm like a sports car should be, making going over regular bumps quite a sudden experience, to say the least. With such a small footprint – short wheelbase and narrow track – it's very difficult to engineer soft and comfortable suspension which is also firm and rigid for sporty driving.
We think Opel and OPC have done a good job here. If anything, the damper setting is more skewed to the firmer/performance driving tune – you can take that as a good thing or a bad thing, depending on how serious you like your sports hatches to be. The result is impeccable grip throughout the full arc of a corner, and bumps do little to upset the balance, even when you're really pushing on.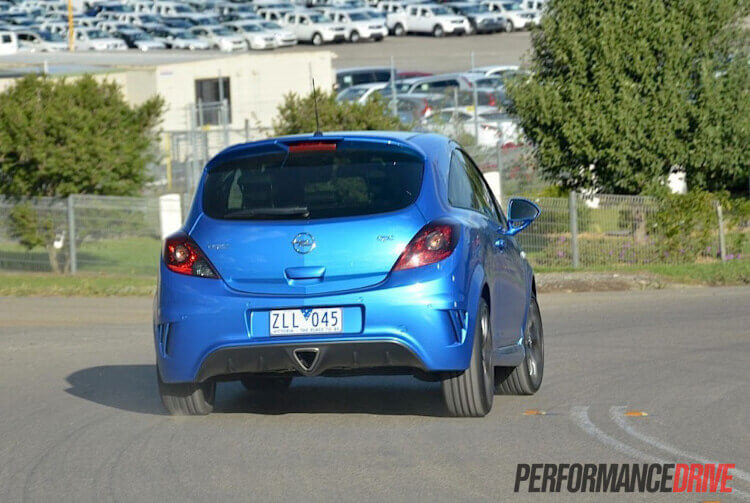 2013 Opel Corsa OPC – THE VIDEO
2013 Opel Corsa OPC – THE VERDICT
The Opel Corsa OPC should not be seen as souped up Barina. It is everything but. You can feel the German engineering shining through, with a well-balanced chassis/suspension, engine, brakes, and set of ratios. Being the highest powered in this class, it makes every day driving a truly exhilarating experience.
At only 0.2 seconds slower than the 'benchmark' Volkswagen Polo GTI to 100km/h, on paper at least (full review of that coming soon), it'll satisfy your adrenaline needs, and some. In fact, about the only thing that holds this back from being an absolute torque-steering animal is the weight. At 1252kg, it is one of the heaviest three-doors in this segment.
With dart-like handling and aggressive exterior looks to add to the fun factor, it's a very impressive hot hatch. As we mentioned, unless you want an automatic, the only main shortfall is the dated interior design and sound system.
PROS:
– Best power and torque available in this class
– Sharp, stable, superglue-like handling
– Smooth manual gearbox and clutch harmony
– Direct and responsive steering
– Fun factor

CONS:
– Cheap-looking interior, creaking plastics
– Ordinary sound system
– Buttons, controls and menus a tad confusing
– Fairly mute exhaust note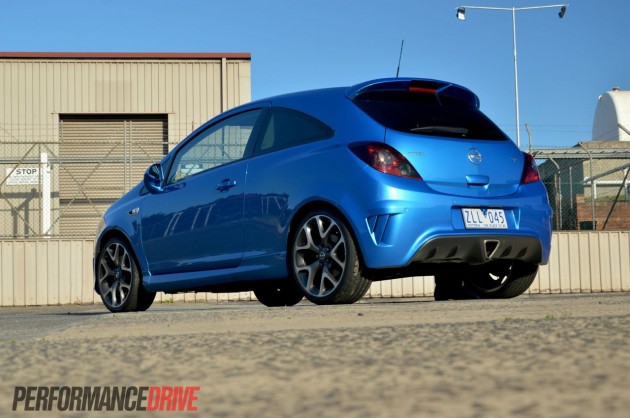 2013 Opel Corsa OPC – THE COMPETITORS
Ford Fiesta ST (arriving in Australia second-half of 2013)
1.6-litre turbo four-cylinder – 132kW-240Nm – L/100km (N/A) – kg (N/A) – Prices yet to be announced
Skoda Fabia RS 5dr
1.4-litre turbo and supercharged four-cylinder – 132kW-250Nm – 6.1L/100km – 1253kg – $27,990
Suzuki Swift Sport 5dr
1.6-litre naturally aspirated four-cylinder – 100kW-160Nm – 6.5L/100km – 1060kg – $23,990
Volkswagen Polo GTI 3dr
1.4-litre turbo and supercharged four-cylinder – 132kW-250Nm – 6.1L/100km – 1189kg – $27,790