The humble Nissan Pulsar is back, and it's soon to be joined by the iconic and pretty much legendary Pulsar SSS hot hatch. Nissan Australia has now announced details and pricing on the 2013 Pulsar, which will arrive in Australian showrooms in February.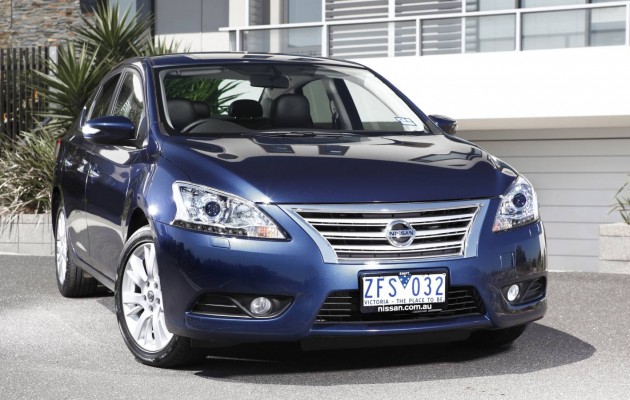 Those who have been interested in cars and the car scene for more than five years will remember the Nissan Pulsar SSS as one of the true greats when it comes to performance and practicality. In Australia at least, it was almost the 'Golf GTI' of the Nineties.
Specific details of the 2013 Nissan Pulsar SSS are still under tight wraps, however, it will come with a 1.6-litre turbocharged four-cylinder engine with direct injection.
Along with the feisty engine, the SSS is set to come with various sporty highlights such as sports suspension, a unique bodykit, and a spruced up interior.
As for the normal 2013 Nissan Pulsar range, of which will be on display at the 2012 Australia International Motor Show starting this Thursday (media day), the model will compete in the market with the likes of the Mazda3, the Hyundai i30, the Volkswagen Golf, and the Toyota Corolla.
It will be a lot different to the current Nissan Tiida which competes in the same segment, with longer, wider, and lower overall dimensions. It does adopt a similar front-wheel drive layout though.
The range will consist of an entry-level ST, an ST-L, and a top-spec Ti. Standard features include 16-inch alloy wheels (17 for the Ti), a six-speed manual transmission or an optional Xtronic CVT unit, as well as satellite navigation and dual-zone climate control for the Ti.
In terms of safety, the new Pulsar will come with traction and stability control, a multitude of airbags, electronic brake force distribution, and four wheel disc brakes with ABS.
The Pulsar will initially hit Australia in sedan format in February next year. A hatch variant will follow and a SSS approximately three months afterwards.
Prices for the new model will be as follows (excluding on-road costs):
2013 Nissan Pulsar ST six-speed manual – $19,990
2013 Nissan Pulsar ST CVT – $22,240
2013 Nissan Pulsar ST-L six-speed manual – $23,650
2013 Nissan Pulsar ST-L CVT – $25,900
2013 Nissan Pulsar Ti CVT – $28,990
Prices for the SSS are yet to be announced.