The new BMW 4 Series is now on sale in Australia with some prices starting at a slightly lower price point than the 3 Series Coupe predecessor. Four variants make up the new range.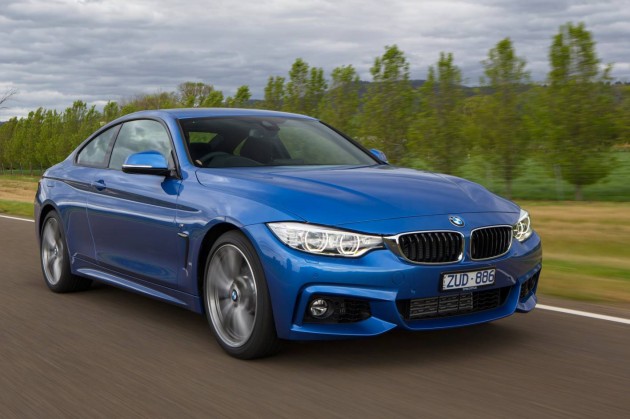 Kicking off the range is the 420i. It comes with a 2.0-litre turbocharged four-cylinder producing 135kW and 270Nm, capable of 0-100km/h in 7.3 seconds. It will join the rest of the range in January, 2014.
Next up is the 420d. It comes with a 2.0-litre turbo-diesel four-cylinder producing 135kW and a more serious 380Nm of torque. It's able to accelerate from 0-100km/h in 7.3 seconds, while offering an average fuel economy rating of just 4.6L/100km.
In the middle of the selection is the 428i. It sports a slightly tuned version of the 420i engine, producing 180kW and 350Nm, with 0-100km/h coming up in 5.8 seconds. The average fuel economy rating is 6.4L/100km.
Sitting at the top end of the range is the 435i. It previews some of the performance we could expect on the upcoming M4, with a 3.0-litre turbocharged inline six developing 225kW and 400Nm. Acceleration from 0-100km/h can be covered in just 5.1 seconds, while the official economy rating is a reasonable 7.4L/100km.
Like other models in BMW's showroom, the 4 Series is available in a number of different trim levels; Sport Line and Luxury Line, both of which are standard options on the 420d and 428i. Meanwhile, the 435i comes standard with a full M Sport package with sports suspension, 19-inch alloy wheels, and various M trimmings and exterior enhancements.
As for the prices, the 420i will kick off from $69,500, while the 420d starts at $71,800 ($1400 less than the outgoing equivalent 3 Series Coupe). The 428i kicks off from $80,200 ($6300 cheaper than the equivalent 3 Series Coupe), and the 435i starts at an unchanged price of $108,500.
All variants except the 420d are available now. The 420i, as mentioned, arrives in January.