The 2013 Hyundai Genesis Coupe has been spotted once again. This time the full exterior and interior has been revealed. The engine has also been confirmed as a 3.8-litre with GDI, matched to an eight-speed auto.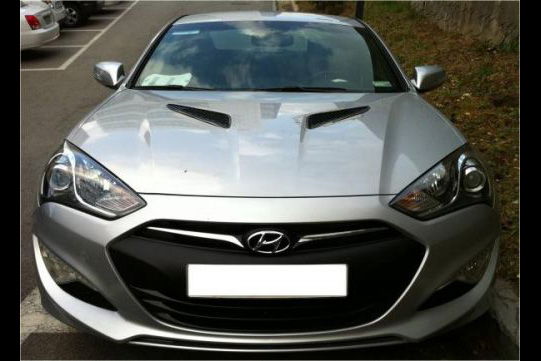 According to these images, initially posted on The Korean Car Blog, the new 2013 Hyundai Genesis Coupe features a revised version of the previous 3.8-litre V6. Thanks to Hyundai's GDI technology (gasoline direct injection), the new unit develops 248kW as previously predicted.
Other engine details are yet to be revealed. There's still the possibility of a supercharged V6 version with around 298kW and a 2.0-litre turbocharged unit developing 204kW joining the lineup.
Inside sits a new eight-speed automatic transmission, as well as a swish new interior layout featuring a large centre infotainment interface screen. The interior is stepped up a notch in terms of quality too, with brushed aluminium trimmings and a cool blue-illuminated start button.
The interior of the 2013 Hyundai Genesis Coupe also gets a trio of gauges in the middle of the centre fascia, plenty of chrome highlights, and new silver dials which appear to be borrowed from Audi's interior design books for that refined touch.
On the outside, we already know that the front end will capture Hyundai's latest design philosophy, featuring LED daytime running lights and curvy headlights, but this is the first time we've be able to see the rear end in detail.
There's a combination of clear and red taillights which give off quite a modern look, a flowing high-seam rear bumper bar and a lipped boot lid which blends into the bolstered rear haunches.
We'll keep you updated with more information, including the official Australian launch dates, as soon as we hear more.
UPDATE: Official images of the 2013 Hyundai Genesis Coupe have been revealed, with one of the images proving the leaked image last Saturday was in fact real, and not fake.