Jaguar has officially unveiled the all-new Jaguar XE mid-size sedan at the 2014 Paris Motor Show in France. The new model is set to shake up the mid-size premium sedan segment, competing with the likes of the BMW 3 Series and Lexus IS.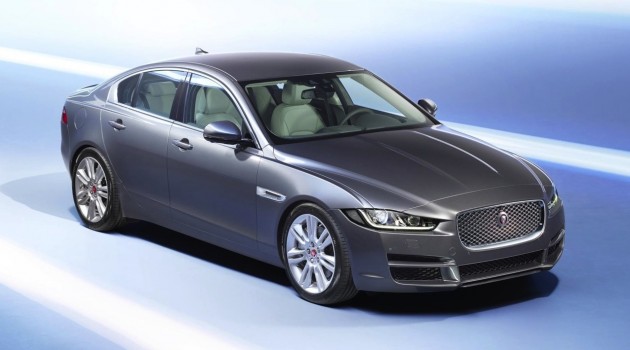 The XE presents a number of firsts for Jaguar and some for its class. It's the first vehicle to be built in the segment on an aluminium monocoque chassis in its class, for example. It's also the most aerodynamic Jag ever, with a Cd of just 0.26, and the most fuel efficient with economy figures as low as 3.8L/100km.
Five trim levels of the XE will be available at launch, including the SE, Prestige, Portfolio, R-Sport, and S. Each provide a different specification in trim and features. All come with sat-nav as standard and a new InControl 8.0-inch touch-screen with iOS and Android apps.
Technology highlights include an optional advanced laser head-up display system which is capable of display images in the driver's line of sight, as well as stereo camera technology with 3D views of the road ahead. There's also automated braking functionality, adaptive cruise control, and InContorl Secure vehicle monitoring.
As for the powertrain options, the XE will come in five different flavours. Starting the range is a 2.0-litre turbo-diesel producing 120kW and 380Nm, equipped with a six-speed manual or eight-speed auto. It's capable of 0-100km/h in 8.2 seconds (auto) and offers a combined fuel economy rating of 3.9L/100km (3.8 in manual).
Next up is a tweaked version of the same diesel unit. It produces 132kW and 430Nm, and is also available with auto and manual transmissions. Acceleration from 0-100km/h comes up in 7.8 seconds, while fuel economy is rated at 4.2L/100km.
Starting the petrol lineup are two tunes of a 2.0-litre turbo four-cylinder. The first produces 147kW and 280Nm, available only with the auto. It's capable of 0-100km/h in 7.7 seconds, while offering a fuel consumption figure of 7.5L/100km.
The second tune produces 177kW and 340Nm, and comes in auto form as well. It's capable of 0-100km/h in 6.8 seconds and offers a fuel economy figure of 7.5/100km as well.
Lastly, the range-topping engine is the 3.0-litre supercharged V6 which produces 250kW and 450Nm, matched up to the eight-speed auto only. Acceleration from 0-100km/h takes just 5.1 seconds. Despite the performance, fuel economy is reasonable, at 8.1L/100km.
Kerb weights span from 1474kg for the diesel to 1665kg in the case of the V6. All variants offer a boot capacity of 450 litres, with a 63-litre fuel tank for the petrol models and 56 litres for the 132kW diesel and 47 litres for the entry model.
Jaguar should be very proud of the new XE as it looks like it could be a very popular model for the company. It's set to be a real driver's car as well, with sophisticated suspension and advanced car control. The local arm is yet to announce Australian specifications and prices, however, it will go on sale in the UK from October. We can expect and Australian launch by mid-2015.