There's been a few super-exotic cars added to police forces in the Middle East lately. The latest and perhaps grandest of them all? A Bugatti Veyron police car.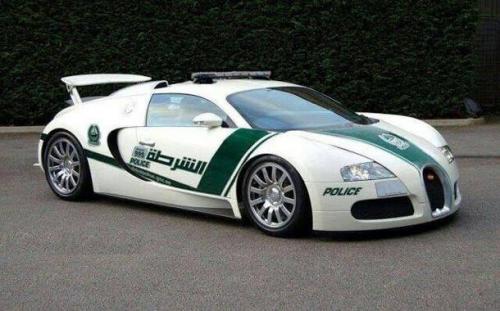 This is one cop car you don't want to be fleeing from. Once holding the title as the world's fastest production car, with an outlandish top speed of 408km/h, the Veyron makes an ideal contribution to the Dubai police force. The region is renowned for its large mega-rich supercar communities.
The Veyron joins the recently assigned Lamborghini Aventador and Ferrari FF from last month. They also join a range of other super-sportscars that the Dubai police use, including a Chevrolet Camaro, a Mercedes-Benz SLS AMG, and even an Aston Martin One-77.
The strange part is, the local police has informed that while the cars are ideal for high-speed pursuits, their duties will mainly be focused around patrolling the cities and 'showing off' the region's wealth.
We're sure there will be a sudden influx in Dubai police recruit applications this year.