Nissan has confirmed it will be putting the insane Nissan Juke-R into very limited production after at least three orders have been made. The original one-off concept car attracted plenty of attention earlier this year in Dubai during the making of a special film, and has since gone viral the world over.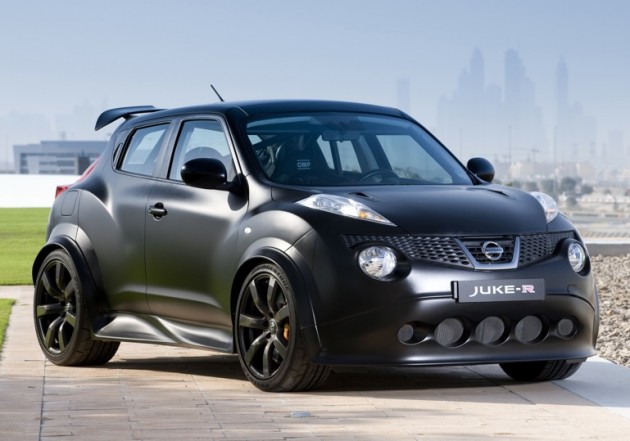 It's understood interested buyers in the Dubai region have put in a request for street versions of the Nissan Juke-R, which features a full Nissan GT-R running gear, to be produced. Gareth Dunsmore, Nissan Juke marketing manager, has confirmed orders will be fulfilled. He recently said,
"The Juke-R was originally intended as a one-off concept to marry two of Nissan's most innovative models. But the reaction we had to the car in Dubai was amazing – people were making offers for the original on the street!

"With such a strong reaction, and with three genuine offers on the table, we decided we had to make the car a reality. We can't let down enthusiasts who are this keen to add to their collection of cars."
In its original prototype form, the Nissan Juke-R is fitted with the powertrain from the 2010 Nissan GT-R. It consists of a 3.8-litre twin-turbo V6 producing 357kW, sent through an all-wheel drive system. For the production versions, power will come from the 2012 GT-R which produces a savage 404kW of power.
The latest engine package is expected to shave a few milliseconds off the prototype's 0-100km/h time of 3.3 seconds. Top speed will be around the 257km/h mark.
It's unknown what specific elements of the prototype will be carried over for production, such as whether or not the full roll cage will be on offer, or the active aerodynamics kit. The first deliveries are set to take place during the third quarter of this year though, so we'll keep you updated.
Pricing for the special model has not been mentioned, however, interested buyers are encouraged to express their interests to Juke-R@Nissan.co.uk. Orders will apparently be taken for around one month only. Better get in quick!