Images of the 2013 BMW 3 Series GT – Gran Turismo – have been leaked online, revealing the car in full for the very first time. The new model is expected to make an official debut a the 2013 Geneva Motor Show next month.
Like the BMW 5 Series GT, the 3 Series GT features a larger rear end and a larger cargo area compared with the sedan. It's also concealed with a hatch lid including the rear windscreen instead of a conventional sedan boot. The idea being it offers a mix of sedan sportiness and wagon functionality and practicality.
There are many who have criticised the current 5 Series GT, saying that it looks ugly. In Australia, just 120 consumers bought a 5 Series GT during 2012, compared with 1087 who bought the regular 5 Series.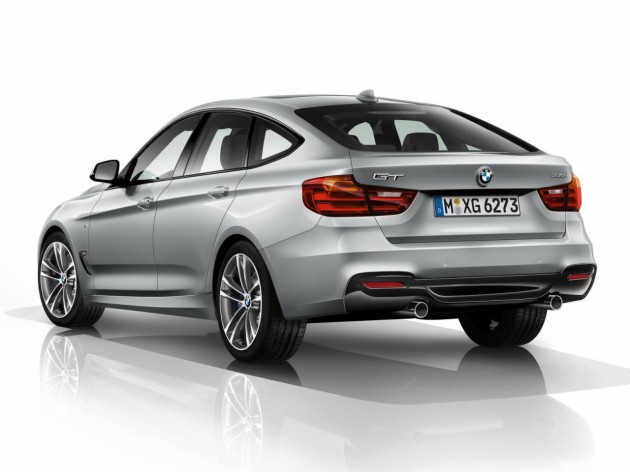 Details on cargo space volume and how it compares against the sedan and wagon are still yet to be revealed. It's understood the rear hatch does feature a removable parcel shelve just like your average hatchback, while the seating position for passengers is raised a touch.
The GT is expected to come with a similar lineup of engines as seen in the 3 Series, including the 320i (135kW/270Nm), the 328i (180/350Nm), the 335i (225kW/400Nm), and the 320d (135kW/380Nm).
Judging by the images, it looks like an 'M Sport' performance kit will be made available for the new model, as showcased in the 335i version (pictured above). The M kit appears to have different front and rear bumper bars, bigger alloy wheels, and blue-painted brake calipers. (The regular 320i version can be seen in the gallery below.)
Complete details and specifications will likely be released in the coming weeks. We'll keep you updated in regards to a possible Australian introduction.