Abarth has unveiled its most potent little Fiat 500-based creation yet. And it's street legal. Called the Abarth 695 biposto, the firecracker is inspired by the 695 Assetto Corse that won the Barthurst 12hr in Class F this year.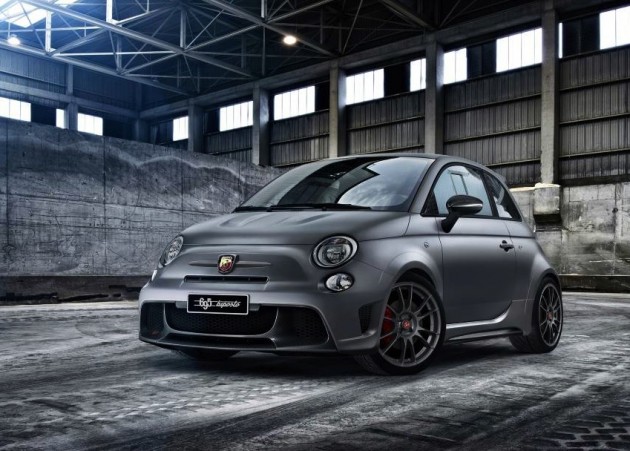 Designed as a race car for the road, the 695 biposto is all about track performance, inside and out. It also pays tribute to the original Abarth 695 of 1964, which featured a 22kW 699.5cc engine (based on the Fiat 500 of the day).
Under the micro bonnet sits a tweaked version of the 1.4-litre T-Jet turbo four-cylinder seen in the regular Abarth Esseesse. It produces 141kW, which 9kW more than the already-ballastic 695 Maserati.
The engine is matched up to a H-pattern 'dog 'box' transmission which feeds power into a self-locking clutch-type differential in the front. Blasting off from the mark, it takes just 5.9 seconds to cover 0-100km/h.
As you can see, Abarth has revised the exterior quite a bit. There's a bespoke bodykit with a deeper front air intake and spoiler setup, a chunkier diffuser at the back, as well as carbon fibre side mirrors and an aluminium bonnet to save weight.
A lot of creature comforts have been removed to further optimise weight, such as the rear seats, climate control, power windows, and the audio system. The front windows are also fixed and feature polycarbonate sliding panels, and the wheel arches and spoilers have carbon inserts. All in all it weighs in at just 997kg.
To enhance track performance, not that the Abarth needs much improving, the engineers have fit a set of Extreme Shox dampers with adjustable settings, a front-mount intercooler, a barking Akrapovic exhaust system, 18-inch OZ Racing lightweight alloy wheels, a titanium brace bar in the back, and a MXL digital data logging system to record lap times.
What can we say? We love the 695 Maserati. We can only imagine how mad this thing would be.
Unfortunately, it looks like it will only be made in left-hand drive, which means it isn't likely to be hitting Australian showrooms any time soon.