After some lacklustre years of sales from the Japanese giant, Honda's latest release could very well have what it takes to turn those numbers around. The Honda CR-V has never stopped growing in size throughout its life. Now, in its fifth-generation, the larger SUV is offered with 7 seats, a new engine, new design, loads of safety tech, and innovative practicality .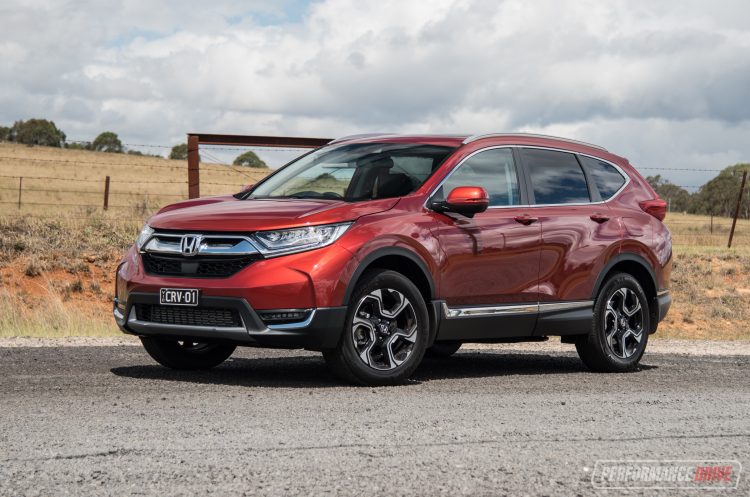 There are quite a few variants on offer if you count 2WD and AWD alternatives. Starting from the bottom, the VTi (review here) is offered in 2WD only. Then the VTi-S is offered in 2WD and 4WD. Next in line is the VTi-L, which is strangely the only variant to be offered with 7 seats – and with no 4WD option. At the top of the line is the VTi-LX in AWD only.
Prices begin at a very competitive – for an SUV of this size – $30,690. Here, we're putting the VTi-LX and through some thorough testing, which adds 12k to the price tag, starting from $44,290. We've also sampled the seven-seat VTi-L, which starts at $38,990 (all excluding on-road costs)
2018 Honda CR-V VTi-LX – THE SPECS
Engine: 1.5-litre turbo four-cylinder
Output: 140kW@5600rpm / 240Nm@2000-5000rpm
Transmission: CVT automatic
Drive type: Four-wheel drive
Wheels: F & R: 18×7.5, 235/60
ANCAP: Five stars (scored 35.76 out of 37)
Kerb weight: 1630kg
Power-to-weight: 11.64:1 (kg:kW)
Official fuel economy: 7.4L/100km
Economy during test: 7.6L/100km
Fuel capacity/Type: 57L/91 RON
Power efficiency: 18.91kW:L/100km
0-60km/h: 4.21 seconds*
0-100km/h: 8.51 seconds*
60-110km/h: 6.27 seconds*
1/8 mile: 11.08 seconds at 110.1km/h*
1/4 mile: 16.43 seconds at 141.2km/h*
Max acceleration: 0.726g
100-0km/h braking: 3.00 seconds at 38.76 metres*
Max deceleration: -1.155g
Decibel at idle: 42*
Peak decibel at 60-100km/h: 79*
Priced from: $44,290
* Figures as tested by PerformanceDrive on the day. Factory claims may be different

2018 Honda CR-V VTi-L & VTi-LX – THE PACKAGE
Customers buy Hondas because they are reliable and provide value for money. Now, the fifth-generation CR-V adds to that by offering more practicality and technology than ever before. All CR-Vs are equipped with a new 140kW VTEC turbo engine, smart keyless entry with push button start, a 7.0-inch touch-screen that integrates Apple CarPlay and Android Auto, dual-zone climate control, multi-angle reverse camera with guidelines, electric park brake, LED daytime running lights, fog lights, tyre pressure sensors and a full-sized alloy spare wheel, just to name a few.
If you want to further add to the technology and safety feature list, the top spec VTi-LX is packaged with 18-inch alloys with Michelin tyres (compared with Dunlop on lesser variants), a power tailgate, sat-nav, front and rear parking sensors, automatic LED active cornering headlights, auto high-beam, rain sensing wipers, Honda's LaneWatch camera and departure warning system, panoramic sunroof, leather seats and heated in the front, DAB+ digital radio, all-wheel-drive, forward collision braking and alert, and distance-controlled cruise control.
Some of these features we have seen before, but at this price, Honda is pushing a great bargain. There are also some new features that are not so common. For example, we love the simple yet innovative idea of a side-view blind-spot camera. A view of your left side blind spot flashes up on the centre screen as you activate the indicators. It can also be manually activated via a button on the end of the stalk should you need it during parking or anything else.
There's also some really useful practical designs throughout the interior. For example, the back doors open out to 89 degrees. This can truly go a long way in making life easier for parents buckling young kids in the back seats, or loading the second row with shopping. Another practical measure is the extra low boot lip and floor. This also makes it easier to throw luggage in without needing to lift higher over a boot lip.
Interior space is among the best in class throughout the entire cabin in the CR-V. There are too many storage areas to count. Whether it be the huge dual level centre console or the massive door pockets, Honda has really thought out how to make the CR-V as practical as possible. There are two USB ports in the second row, in addition to the two in the front row, and two 12V power sockets. The gear shifter is positioned high up on the centre dash to open up console space.
All passengers are well looked after in the CR-V. In fact, in the seven-seat VTi-L, third row occupants are granted with a four-vent air-conditioning outlet on the roof. They can also control the fan speed way back there, and there's cup holders on the sides. The second row seats are superbly versatile whereby you can adjust them in every direction to make the boot or back seat area bigger as required.
Officially, boot space is pegged at 522 litres with the second row in position. That makes it bigger than the Mitsubishi Outlander's 477 litres. When second row is folded down, capacity grows to 1084 litres, which is then significantly less than the Outlander's 1608 litres. The seven-seat variant reduces boot space to 472 litres with the second row upright, and 967 litres with the second row flat. Unfortunately the third row of seats does occupy some space even when folded down; they don't embed themselves into the floor like in larger SUVs.
The CR-V's interior feels like it is made from premium materials, and the seats are well-positioned and supportive for all body types. Graphics colours and layouts on the digital cluster and screen look like a blast from the '90s, or even a late '80s Mazda 929 perhaps.
That quirky design also flows out to the exterior, where chunky curves and jagged lines are adopted from front to rear. It will win some and lose some, depending on one's taste.

2018 Honda CR-V VTi-L & VTi-LX – THE DRIVE
Like with most carmakers nowadays, it's all about getting more power out of smaller engines in order to achieve greater efficiency and lower emissions. In some regard, the Honda CR-V could be seen as a people-mover – a large SUV (optioned as a seven seater) with a large load to pull. At first, the thought of a 1.5-litre engine taking on the task can be a bit offputting. But with that turbo to help, it's not as bad as we thought. Although the engine needs to scream under load more than you're probably used to, it does get the job done. It only becomes a stretch for the 240Nm of torque when it comes to steeper hills with a load.
If you're after the ultimate SUV with sports appeal, all Honda CR-Vs are equipped with a CVT transmission. CVT autos can be quite uninspiring when it comes to performance. This CVT is no different. However, they can provide greater fuel efficiency compared with conventional autos.
And speaking of efficiency, the CR-V officially rates an average of 7.4L/100km. We were able to manage an average of 7.6L, which is slightly better than the standard for a 7-seater SUV in today's market. Unlike some Euro models, the CR-V can run on 91-RON fuel, saving you some coin at the bowser.
Although its size might have you thinking otherwise, the CR-V is not suitable for serious towing. With a 1500kg towing capacity, you won't be able to tow a full-sized caravan, for example. Best to leave those jobs up to the heftier diesels without CVT autos.
On the road, the CR-V gives off a large and dominating feel. The bonnet bulges up on the edges, which may impede slightly on forward vision for some. We're impressed by the lightness and effortlessness of the steering at low speeds. This is especially important for managing those Woollies carparks. At the same time, higher speeds appropriately stiffen the steering to enable greater stability; and to make balancing the vehicle in the lane a breeze.
As for ride quality, the suspension is limber enough to absorb most bumps yet maintains enough control to provide neutrality and stability through sharp corners. The higher centre of gravity causes a slight degree of body roll when driven eagerly, but any surprises are restrained by the stability control, which doesn't intervene too early.
True rugged off-road performance is not what the CR-V is about. That is evident by the suspension setup and the lack of any 4WD controls. However, it will veer off the bitumen and onto unsealed roads competently. There is 208mm of ground clearance.
Servicing intervals are scheduled for every 10,000km or 12 months at a capped price. And a five-year or 100,000km warranty is now offered on all Honda built after July 2017, regardless of where you choose to service them.

2018 Honda CR-V VTi-L & VTi-LX – THE VIDEO
2018 Honda CR-V VTi-L & VTi-LX – THE VERDICT
The new CR-V flies ahead of the competition when it comes to interior space and functionality. Now, with the offering of third-row seating, and some well thought out designs, a new benchmark is set. The CR-V is also more fuel efficient and comes with more technology than ever before.
But it doesn't challenge any of its rivals with the engine performance or drivetrain, or at least offer an option that does, but it does excel with fuel economy for a petrol unit. That won't matter to most, but why not extend market reach just that little bit more and release that sporty Honda soul. If that doesn't matter to you, the CR-V is a class-leading SUV contender offered at an affordable price tag, making it perfectly appropriate for modern suburban families.
PROS:
– 'LaneWatch' side camera
– Plenty of safety tech in the VTi-LX
– Practicality; huge boot, versatile seat positions, wide opening doors, and plenty of storage spots
– Price; one of the cheapest SUVs with this level of technology
– Seven seat option (rare in this class)
– Full-size alloy spare wheel throughout the range
CONS:
– CVT auto is uninspiring
– Only one engine available, which can lack torque
– Quirky exterior design not to everyone's palate
As always, if you're thinking about buying a new car in Australia don't forget we can help you find the best price. Click here to get in touch.