Suzuki has pulled the wraps off the new 2012 Suzuki Swift Sport at the 2011 IAA Frankfurt Motor Show in Germany. The new Swift features similar styling traits as those previewed on the Suzuki Swift S Concept that was on show at the 2011 Australian International Motor Show earlier this year.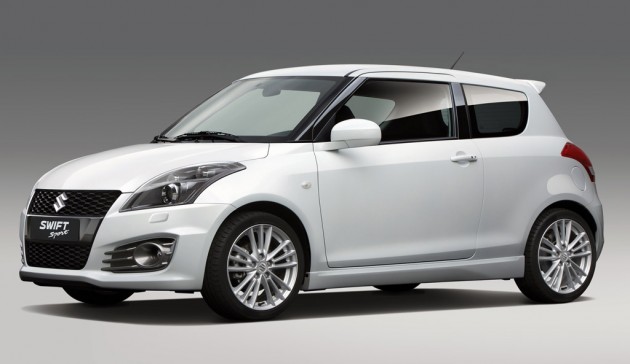 From the front, it's easy to spot the new redesigned headlights which extend further up the guard and bonnet line. There's also an Audi R8-esque front bumper bar with horizontal lower vent fins in the spotlight clusters, as well as a sharper, more aggressive chin spoiler, compared with the existing model.
At the rear, the new 2012 Suzuki Swift Sport features rounder haunches, while the roofline gives off that sports car drawn back profile. The back bumper bar is also neatened up with a tidy rear diffuser layout including a centrally mounted fog light. The taillights also leap further into the side rear quarter panel, matching the headlights as the front.
Under the bonnet, there's a 1.6-litre four-cylinder engine offering 100kW of power and 161Nm of torque, backed up by a six-speed manual transmission and a front-wheel drive drveline. This gives the popular sporty hatch a power boost of 8kW and 13Nm extra compared with the current model.
Suzuki says the handling of the new 2012 Suzuki Swift Sport has been improved over the existing model thanks to suspension tweaks that were tested on the Nurburgring in Germany. The setup consists of strut suspension with internally-mounted springs.
A definite on-sale date and pricing in Australia is yet to be confirmed, but we'll update the story as soon as we can with the details.