Always wanted to buy an original McLaren F1? Well, Gordon Murray, the man responsible for the F1, is planning a new hypercar called the T.50. And on paper, the initial stats look very impressive. Even more impressive than the F1.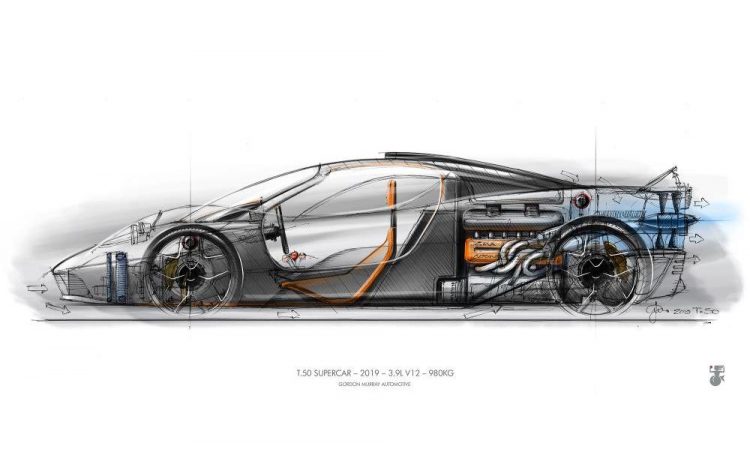 The plan is to make a modern interpretation of the McLaren F1, and that includes the iconic three-seat cabin configuration with a central driving position. As you can see by this teaser image showing the side profile, it will be a very low-slung car with a mid-mounted engine.
Speaking of which, Gordon Murray Automotive is planning to build a bespoke 4.0-litre (3980cc) naturally aspirated V12 for the T.50, producing 485kW and just 450Nm. The torque figure gives you some idea of the engine style; this will be a rev machine, capable of hitting a ridiculous 12,100rpm. In other words, it'll be like an F1 car for the road, which is what the original McLaren F1 was all about.
There's no mention of any projected performance figures, such as 0-100km/h times. However, with a projected overall weight of just 980kg, it will be one of the lightest weight supercars on the market. The low weight translates to an awesome power-to-weight ratio.
According to the specs the body will be made from carbon composite panels, while the primary structure will be a handmade sandwich-style carbon fibre monocoque. At the front is a double wishbone suspension setup, like an F1 car, and a double wishbone layout at the back. According to Gordon Murray, the T.50 won't concentrate on acceleration or top speed or any specific area. Murray says:
"Just as with the F1, we have no specific targets for acceleration, top speed or lap times. The F1 was fast because it was light and relatively small. The T.50 will deliver performance and dynamic characteristics simply out of reach for other supercars not least because of its low weight. Once again, I have focused on the complete driving experience, not horsepower or top speed."
Like the F1, the T.50 is being pitched as the purest, lightest and most driver-focused road-going supercar ever built. Murray says the new car will rewrite the supercar rulebook. In a statement, he added:
"I designed the F1 as a sort of super GT car – absolutely road-focused with no plan to go racing, which is why the car set new standards for packaging and luggage space. The T.50 design has the same focus and betters the F1 in every area – ingress and egress; luggage capacity; serviceability; maintenance and suspension set-up. Also, driver-selectable engine maps ensure a driving mode to suit every situation."
So, how much? Well the starting price will be "in excess of £2 million" before taxes (about AU$3.64m), with first deliveries to begin rolling out in 2022. You better get in quick though, only 100 are being planned. This will make it more exclusive than the F1 as well, of which 106 were made in total, including race versions called the F1 GTR. Preliminary specs are as follows:
Technical specifications
General
Body type
Two doors, three seats, Grand Tourer Supercar
Engine
Cosworth-GMA 3.9L 65-degree V12 N/A twin-cam
Weight
980kg
Length
4380mm
Width
1850mm
Motor and transmission
Type
Naturally aspirated V12
Displacement
3980cc
Layout
Rear mid-engine
Maximum power
650hp
Maximum torque
450Nm
Valves
Four valves per cylinder
Fuel system
Petrol pfi aluminium fuel tank
Maximum engine revs
12,100rpm
Engine details / overview
Dry sump lubrication
Variable valve timing
Highest-revving road car engine (no flywheel / lightweight clutch)
Structural chassis member
Ram-air induction system
Cutting-edge materials and coatings
All light alloy (including magnesium and titanium)
Transmission
Bespoke lightweight six-speed transmission
Light alloy casing
Limited-slip differential
Lightweight clutch
Gun-drilled drive shafts
Chassis and body
Drive type
Rear-wheel drive
Chassis
Primary structure handmade sandwich-panel carbon monocoque, including semi-structural powertrain utilising high-modulus adhesive
Body
Carbon composite panels
Occupant architecture
Central driving position – three seats
Suspension and brakes
Front suspension
Rod / operated rising rate; double wishbone; anti-roll bar
Rear suspension
Rod / operated rising rate; double wishbone – inclined shear axis; powertrain mass damper
Brakes
Carbon-ceramic discs
Aluminium floating disc bells
Monobloc light alloy calipers
Low boost assist / ABS
| | |
| --- | --- |
| Steering | LSPA rack and pinion |
| | |
| --- | --- |
| Wheels | Forged light alloy |
| | |
| --- | --- |
| Aerodynamics | Active ground-effect with full-width diffuser and fan-assisted underbody airflow – brake balance foil |