Kia has revealed details of the Kia GT rear-wheel drive concept car that has been causing quite a stir in the media lately. It won't feature a V8 engine as suspected, instead, it features a twin-turbo V6 unit.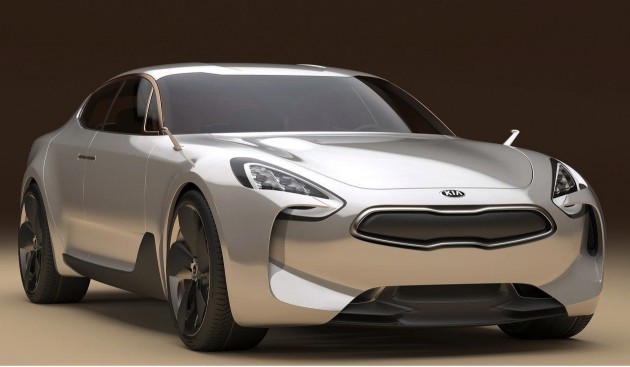 The Kia GT concept was designed as a bit of a taste of what to expect from the Korean manufacturer in the future, in terms of design. It presents the new-look front grille layout with full LED headlights.
From the back, the Kia GT concept features a carbon fibre rear diffuser as well as slimline LED taillights. Rolling stock consists of carbon fibre blade-style spoke wheels. Peter Schreyer, Kia's chief design officer said in a recent report,
"This concept allows us to explore exciting new design directions, as using a rear-drive layout creates very different proportions compared to a front-wheel drive car.

"The classic front-engine, rear-wheel drive layout of a performance saloon has distinct appeal not just for the domestic Korean audience, but also for the European and American markets."
As for the engine department, Kia has revealed that the Kia GT is not powered by a V8 as originally rumoured, instead it gets a 3.3-litre twin-turbo V6 offering 290kW of power and 534Nm of torque.
Kia has no plans to put this Kia GT Concept into production, but as mentioned, some key features are likely to make their way into Kia's future lineup.