It might be an unconventional combination blending coupe styling with SUV functionality, but the 2012 BMW X6 xDrive30d goes further than that; you also get true sports car handling and decent performance from an efficient turbo-diesel engine.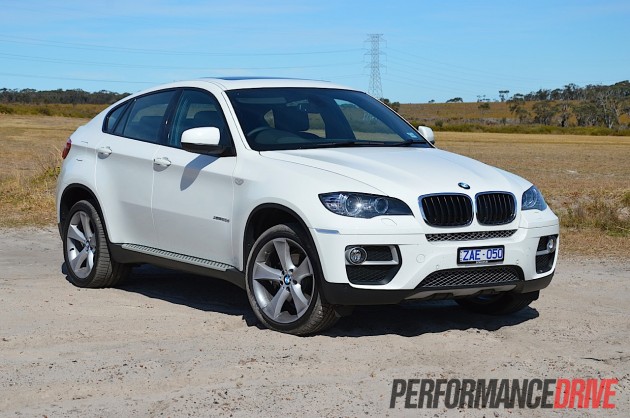 2012 BMW X6 XDRIVE30D – PROS AND CONS
PROS:
Proper sports car handling
Great fuel economy for the performance and vehicle weight
Impressive stance and demeanour
Excellent ride, even with the optional 20-inch alloy wheels (as tested)
CONS:
Rear headroom compromised due to the coupe exterior and sloping roofline
Would you really take it off road?
Many optional extras
2012 BMW X6 XDRIVE30D – OVERVIEW
When BMW launched the X6 back in 2008, motoring critics were very quick to jump on the scrutiny bandwagon and point out its somewhat confusing purpose. There were those that said it didn't look good and said it wasn't good for off-roading, and generally suggested that this would be a vehicle that wouldn't last long in the BMW showroom.
How wrong they were. Consumers have continued to enjoy the X6 over the past four years, particularly in European markets and in the US. In Australia, BMW sells around 40 X6s per month and has sold 251 so far this year. Considering it doesn't have a direct rival, it's forced to go up against the likes of the more popular BMW X5 (1693 sales so far this year) and the Mercedes-Benz M-Class (1297).
What we have here is the xDrive30d variant with the optional Sport package which includes 20-inch 'Star Spoke 259' alloy wheels, Shadow line trimming around the windows, BMW Individual Anthracite roofliner, and contrasting mesh grilles below the main twin kidney grilles in the front end.
The xDrive30d is the base model in the lineup and it features a 3.0-litre straight-six turbo-diesel engine. Maximum power is 180kW while torque is very strong at 540Nm. All non-M X6s are matched up to an eight-speed automatic transmission, sending power to all four wheels.
Prices start at $89,608 (excluding on-road costs).
2012 BMW X6 XDRIVE30D – START UP, REV, AND 0-100KM/H ACCELERATION VIDEO
2012 BMW X6 XDRIVE30D – ACCOMMODATION AND EQUIPMENT
Sitting in the X6 is almost identical to sitting in the 'conventional' X5, borrowing the same platform. Despite the coupe styling, there's no doubt this is a large SUV just the same with a high-riding position.
Most of the dash is carried over from the X5 as well, including the dual-zone climate control layout and the multifunction iDrive pad.
All X6 variants come with an 8.8-inch LCD screen which features BMW's Professional satellite navigation system, as well as a 12GB hard drive, and an electronic owner's manual with check control functions.
The screen also provides a display for an interesting drive torque distribution readout. It's fun to watch where the power is being sent at any given time, particularly if you're doing some off road driving.
In standard trim, the X6 also comes with a sophisticated 'xDrive' all-wheel drive system with a Driving Performance Control limited-slip differential at the rear. Torque split is continuously variable in terms of front-to-rear, as it all depends on the conditions, steering angle, and traction available to each individual wheel.
All X6 models also get BMW's latest brake energy regeneration system which allows for maximum acceleration under full power by recharging the battery during braking, and not during full throttle.
Being a premium vehicle, the BMW X6 comes with leather seats as standard, including power front seats, aluminium or fine wood trimmings, automatic Bi-Xenon headlights with washer functions, auto high-beams, and an electric tailgate.
It's all very luxurious inside, and you feel pretty special as you're perched up high when you're driving along. That said, the driving position is quite good, and can be lowered right down via the seat adjustment for a more sporty feel.
There's plenty of room front and back, especially in the front as it's all pretty much borrowed from the large X5 SUV. In the back, headroom is lacking a little due to the sloping roofline. More on that in the Design section below.
Boot space is more than acceptable too, considering this is a four-door coupe. It offers 570 litres with the rear seats in place, or 1450 litres with them folded down. This doesn't compare too badly to its full-size brother, the X5, which offers 620 litres with the rear seats in place. With the rears folded down, there's a noticeable difference; the X5 offers 1750 litres.
2012 BMW X6 XDRIVE30D – DESIGN AND SAFETY
There's no denying this is an imposing vehicle. Its design may not be conventional, but it deserves credit on originality and as something a bit different from the usual SUV field. As we've previously learned, both Mercedes-Benz and Audi are reportedly working on developing a version of their own to give the X6 some competition.
BMW calls it a Sports Activity Coupe (SAC), meaning, it can go off road like an SUV but it's also ready to play or settle down when the bitumen is firm. The upshot of this of course is that it works very well as a night crawler and looks impressive to onlookers, while it can also do some light work duties, even if it means going off road.
The only obvious flaw we see with the X6's design is the rear-seat headroom, which is sacrificed due to the sleek styling. It's far from terrible but taller passengers will easily find themselves having to lower down a bit to avoid headbutting the ceiling.
As far as safety goes, the X6 is packed full of kit to help keep you and others alive out on the roads. Some of the highlight features include Active Headrests which move in to support your head to reduce whiplash during a crash, an abundance of airbags front and back, and stability and traction control.
All X6 variants also come with a safety body cell with "easily-replaceable deformation zones", and a first aid kit in the back. Australia's ANCAP is yet to test the X6, however, it has tested the X5 and given it the full five stars.
2012 BMW X6 XDRIVE30D – ON THE ROAD
In BMW tradition the X6 has been designed for drivers. And you can feel it. The Servotronic variable electric power steering is precise and direct out on the road, providing a tight ratio when you're in the twisty stuff, and more relaxing and less sensitive gearing on the highway.
It may be hard to believe, and even while you are witnessing it first hand, the X6 amazes you with its corning abilities. It turns in with confidence and composure, with no understeer or kick-back from the steering and weight. Again, you find yourself pushing for more as you question how it is all coping, but it just keeps on impressing.
Weighing in at a hefty 2070kg, the X6 xDrive30d is no lightweight. It does feel heavy on the road, but in a solid kind of way. It feels firmly planted, even when hooking around tight hairpin bends. It's hard to get the tyres squealing in fact, but this could be due to the huge 275mm front tyres which have a low '40' side profile. At the back, the 315mm tyres are like two Arnold Schwarzeneggers hanging from helicopter railings; they aren't going to slip.
In terms of acceleration, the 30d turbo-diesel engine is powerful and lots of fun. The 180kW on tap is very responsive to your throttle movements, but it's the 540Nm that impresses most. It comes on like a tidal wave and is capable of literally hitting you in the back of the head. During our usual 0-100km/h timing, when we first dialled up the revs and released the brake, the takeoff was so sudden it made our head hit the headrest. We eventually timed it in 7.0 seconds.
So, if you're question or concern is; 'can the X6 xDrive30d hustle and handle around the bends like a proper BMW – a pure driving machine?' Yes, it certainly can. This is the kind of vehicle that you would just love to take around the Nurburgring, it's especially fun using the standard paddle shifters which provide throttle blipping on the downshifts. It's also a pleasure to drive on the highway and in normal suburb conditions.
2012 BMW X6 XDRIVE30D – OFF THE ROAD
Whether or not you choose to take your X6 off road is separate matter. It is good to know it can get down and dirty if you want it too though. The 20-inch alloy wheels and sporty low-profile tyres don't seem too upset with moderate off-road conditions, however, we only drove the vehicle in dry fairly compacted conditions.
In wet muddy conditions, or in very loose sand, we feel those performance road tyres wouldn't last too long. Even still, they handled everything we threw at it with no excessive slip or issues.
The approach angle of 25.1 degrees is quite good on the X6 allowing you to tackle steep inclines, while at the back it's a similar sort of story with a depart angle of 25.5 degrees. The departure angle is not quite as good as the X5's 23 degrees.
With features like the Hill Descent Control, BMW is serious about the X6's off-road potential. The system works by slowing the vehicle in a controlled manner during very steep downhill tracks, using the stability control framework. We found the system to be useful, working well to keep the 2070kg SUV/SAC straight and true.
The only issue we had off the bitumen was the fact that we felt kind of guilty in the bush; it looks stunning and impressive when it's clean and on the road. Does this defeat its purpose though? Judging by the success of SUV sales over the years, no, motorists simply like the high-riding position regardless of the off-road benefits.
2012 BMW X6 XDRIVE30D – VERDICT
If you're after a large sporty SUV and you aren't planning on carrying five passengers on a regular basis, the 2012 BMW X6 xDrive30d is a joy to live with. It's also a lot of fun as a driver's car.
During our test we averaged 8.4L/100km in fuel consumption, making it a great long-distance tourer as well. Up to 800km from a single tank is achievable.
The X6 will have to enjoy its place in the market while it lasts, before the other German marques come along with their versions.
2012 BMW X6 XDRIVE30D – THE COMPETITORS
Currently there are no other vehicles available in this category: Large SUV four-door coupe.

2012 BMW X6 XDRIVE30D – SPECIFICATIONS
MODEL
2012 BMW X6 xDrive30d
ENGINE
3.0-litre straight six turbo-diesel with TwinPower (variable geometry) turbo
ENGINE SIZE  / COMPRESSION RATIO
2993cc / 16.5:1
BORE X STROKE
84mm x 90mm
POWER
180kW@4000rpm, 540Nm@1750rpm-3000rpm
POWER TO WEIGHT RATIO
11.5: 1 (kg:kW)
KERB WEIGHT
2070kg
HEIGHT / WIDTH / LENGTH
1699mm / 1983mm / 4877mm
DRIVETRAIN
Eight-speed auto transmission, all-wheel drive
BRAKES
F: Ventilated discs
R: Ventilated discs
WHEELS / TYRES
Front: (optional) 20 x 10-inch 'Star Spoke 259' alloy wheels, 275/40 R20
Rear: (optional) 20 x 10-inch 'Star Spoke 259' alloy wheels, 315/35 R20
FUEL TANK CAPACITY
85 litres
FUEL TYPE
Diesel
FUEL CONSUMPTION
Tested average: 8.4L/100km
Official average: 7.4L/100km
PERFORMANCE
0-100km/h: 7.0 seconds (tested)
PRICED FROM
$89,608
WARRANTY
Three-year/100,000km