Audi has unveiled the new facelifted 2012 Audi S4 sports sedan. It gets a slightly revised exterior with new headlights and taillights, a more refined interior, as well as the 3.0-litre TFSI V6 engine.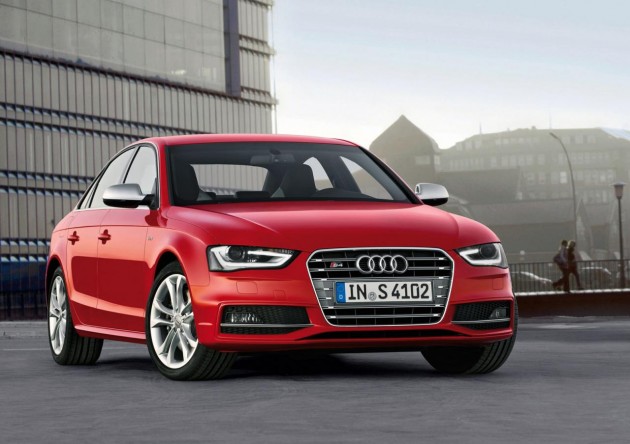 Under the bonnet, the 2012 Audi S4 features the same 3.0-litre TFSI turbocharged V6 engine as the current model, developing 245kW of power and 440Nm of torque. Audi says this packs enough grunt to get the S4 from 0-100km/h in 5.0 seconds. The engine's average fuel consumption rating has been reduced however from 9.4L/100km (according to Audi Australia website) to just 8.0L/100km thanks to a number of innovative technologies.
The main changes to the new 2012 Audi S4 are on the outside. There's a new headlight design featuring a kink or wave layout along the bottom which blends into Audi's latest design language, as well as similarly styled tallights at the back, including LEDs.
Other subtle changes include a curvy bonnet design and a fresh grille at the front showcasing a new horizontal line theme, as well as a more prominent outline compared with the current model. The front and rear bumper bars are also revised and feature indented contours which give a kind of aggressive cheekbone to the S4.
The new 2012 Audi S4 also rides on fresh 18-inch alloy wheels connected up to S line performance suspension. All new Audi A4s also come with an advanced steering technology which has a mechanism to allow for no energy to be sapped from the engine during straight-ahead driving, improving fuel consumption by up to 0.3L/100km.
In Australian, the 2012 Audi S4 – and the new 2012 Audi A4 range – is set to go on sale around mid-2012. Audi Australia is yet to finalise official specs and prices, we'll keep you updated as soon as the details are confirmed.
In the meantime, here is a taste of what the new visual changes consist of. The interior also is revised to offer a more refined feel and can be optioned in various new colour schemes.
For more information on all current Audi vehicles on sale in Australia, head over to the Audi Australia website.