A slide leaked online outlines Volkswagen's intentions for its MEB (Modularer Elektrifizierungsbaukasten) electric vehicle platform, with five vehicles destined to use the architecture.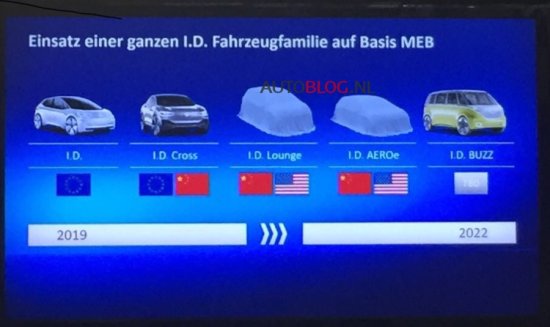 The production timeframe for the 125kW, 500km ID hatch previewed at last year's Frankfurt Motor Show looks to be 2019, with the EU flag under it indicating that market will be prioritised. Further along, the ID Crozz crossover coupe will join it.
The slide also indicates that there are two more MEB electric concepts on the way, possibly debuting at Detroit or Shanghai Motorshows; the ID Lounge and ID AEROe.
The latter could be a sporty four-door coupe in the vein of Arteon or even a successor to the XL-1 high-efficiency sports car. I.D Lounge could be a luxury car, such as the promised Phaeton. Development of a second-generation Phaeton was halted and changed to an electric vehicle as the company sought to reposition its halo car in a post dieselgate world.
At the end of the spectrum with a 2022 debut date is the production version of the ID Buzz, finally committed by VW for production. This is a whopping 21 years after the Microbus concept first teased showgoers with the notion of a retro Kombi comeback, but still very exciting news for many.