A brochure of the Toyota FT-86 production car has apparently been leaked ahead of the car's official debut at the 2011 Tokyo Motor Show next month. The images show a Toyota FT-86 production version in a Modellista brochure featuring Toyota in-house accessories. The surprising part is, the basis of the car does look very similar to the concept.
UPDATE: Toyota FT-86 production car revealed without accessories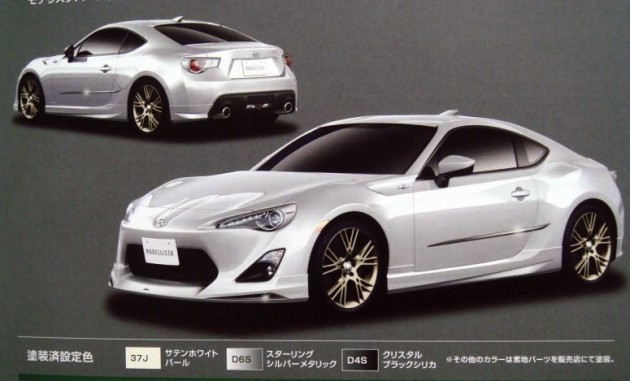 This is a good thing, as many pessimistic speculators were suggesting that the Toyota FT-86 production car would look vastly different to the concept, presenting a toned down body with less flare to fit in with tightening pedestrian safety laws.
But Toyota may have pulled it off if this is what it will look like. From the front there's a very similar, aggressively pointed and styled front bumper bar with a sharp lower chin and a big air intake in the centre. While at the front corners there's a aeroplane-wing-style pods for the spotlights.
At the back is where it's at for us though. The rear bumper bar wraps around a large central rear diffuser section which is painted in the black. While the chunky and solid-looking rear haunches blend around to form a spoilerless boot lid. The rear guards look more heavily pumped than the concept, in a good way.
Model and trim level details are yet to be released, but this Toyota FT-86 production car Modellista pack seems to offer a luxury style, featuring a chrome pinstripe down the middle of the doors. The alloy wheels also seem more luxury-spec than sports.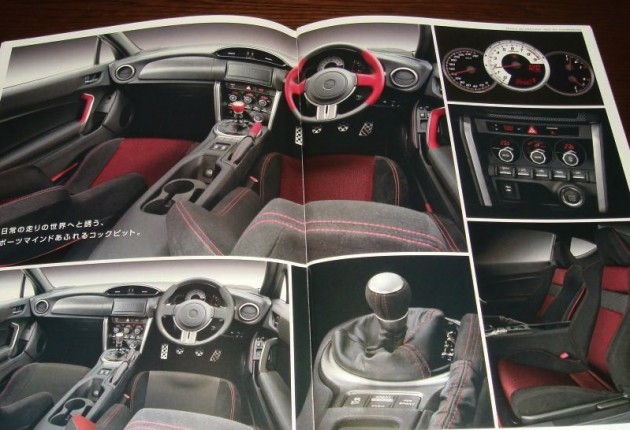 Inside, the cockpit appears to be a solid driver's office with everything centralised around the driver, or out of the way in a less-fuss design. The high centre console also gives the impression that the driver will really sit deep down 'in' the Toyota FT-86 rather than 'on'.
What we and everyone wants to know is, what are the specifications of the engine? What is the power output? Well, the brochure doesn't reveal that data, unfortunately. We'll have to wait until November 30 for the official unveiling at the 2011 Tokyo Motor Show. But we'll keep a lookout for further leaks.
What do you think of the design?