Volvo has come a long way in terms of personality and design in the past decade, and as this 2011 Volvo S60 T6 R-Design review proves, Volvo should be treated as a performance car brand just like the rest of them.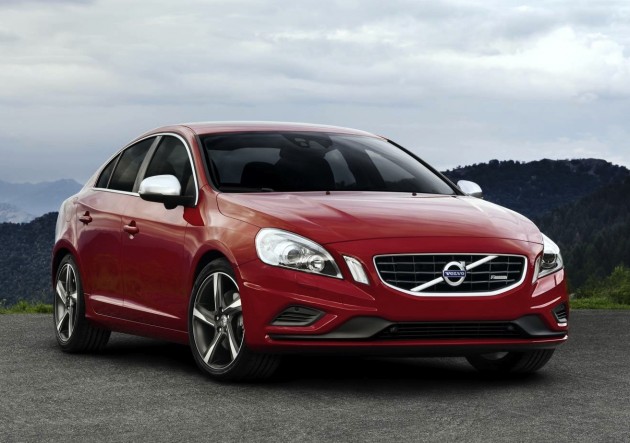 The Volvo S60 T6 R-Design is the most high performance model currently in Volvo's lineup. It's a medium-sized sedan (also comes in wagon form as the Volvo V60), with four-wheel drive and a 3.0-litre turbocharged straight-six engine. It offers 224kW of power and 440Nm of torque.
The best way to describe the Volvo S60 T6 R-Design is that it is a sleeper
Interestingly, the straight six unit is mounted horizontally, like a front-wheel drive layout. This kind of layout normally lends itself to a more front-wheel drive biased torque-split. After a full road test however, such concerns didn't arise or affect the handling in any way. Volvo has actually done a great job with the handling, as you'll find out later on in this Volvo S60 T6 R-Design review.
Since this is a Volvo, there's obviously going to be a far amount of safety kit included in the package. And there is. The standout among which on the Volvo S60 T6 is the City Safety system. Basically, it reads and interprets the external surroundings in front of the car, using various sensors.
If another car, pedestrian or a cyclist suddenly appears in front of you while driving at speeds below 30km/h, the Volvo S60 will first, warn the driver with audio and visual warnings on the dash, but if you still don't react in time, the Volvo S60 will break itself and attempt to stop before an impending accident occurs.
Of course, there's a whole string of other standard safety equipment such as multiple airbags, whiplash protection and side impact protection (WHIPS and SIPS), as well as an adjustable stability control and traction control system (DSTC – Dynamic Stability Traction Control). Along with a highly engineered safety cell cabin, the Volvo S60 has been awarded the full five-star safety rating by Australia's ANCAP and the Euro NCAP.
Now, since the Volvo S60 is being marketed as a sexy sedan, one that is 'naughty' and 'sculptured to move you', what we all want to know is, can this Swedish (even though Volvo is now owned by Chinese company Geely Automobile Holdings) hustler actually hustle?
Volvo claims the Volvo S60 T6 will achieve 0-100km/h in 6.1 seconds. PerformanceDrive did time it and got consistent 6.2-6.3 seconds. We also pitched it up against a 2010 Ford Focus RS, which has a claimed 0-100km/h time of 5.7 seconds, and it beat it. Yep, the stereotypical conservative Volvo S60 T6 can actually beat a Ford Focus RS in a decent little acceleration sprint. (Multiple attempts. Both cars had just a driver and were driven during a cold winter's day in dry conditions.)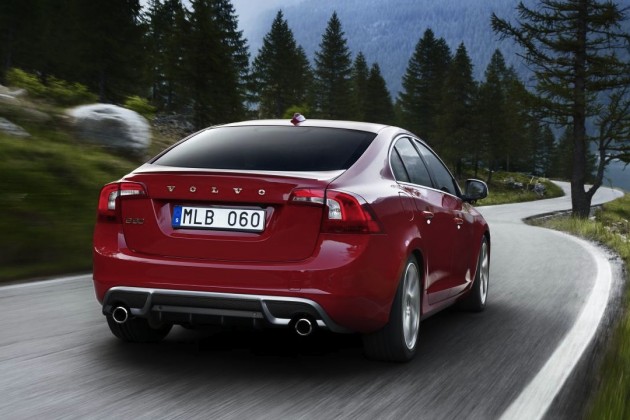 So that's passed one test then; it is capable of embarrassing even the hottest of hot hatches off at the lights. So onto the handling. The Volvo S60 T6 was developed and designed at a time when Ford owned Volvo. This means Volvo did have access to plenty of Ford's technology and expertise, and is thus why the Volvo S60 is built on Ford's EUCD platform which is used under the current Ford Mondeo – a highly acclaimed bit of kit in itself.
The chassis consists of McPherson strut suspension with anti-dive and anti-lift at the front and Multi-link independent suspension at the rear. This is all utilised via a Haldex all-wheel drive system.
Only when you really push it do you begin to notice that the Volvo S60 would rather you understeer and send power to the front wheels first than give the rear wheels a big does of that 440Nm – it's not a vehicle you could do all-wheel drive powerslides in without being completely reckless, put it that way.
Unlike a Mitsubishi Lancer EVO though, which has no trouble being threaded through corners while pivoting on the front wheels, the Volvo S60 T6 isn't really built specifically for slip-style driving.
It doesn't mean there's no fun to be had in the Volvo S60 T6. The intention of the handling seems as if it wants to get you up to and through a corner with as little fuss as possible – anyone in the motoracing scene will know the smoothest and most drama-free driving line is actually the quickest. So it seems Volvo has done well on the sporting front again.
The Volvo S60 feels very stable and well-planted in corners. Really solid. There's hardly any body roll, and with the DSTC system set in Sport mode, the transmission anticipates a change down more readily and will hold out the revs until very near the 6500rpm redline.
In Sport mode, the traction control and stability control is also less restrictive, providing you with increased driver interaction and control, without letting you fly off into a ditch.
The Volvo S60 T6 on test was fitted with the R-Design optional package. It's a must, really. If you're thinking of purchasing a Volvo S60 T6, then you must be in the market for a sporty sedan. The R-Design kit amplifies that trait wonderfully.
It not only includes a neat bodykit featuring a sharp new front bumper bar design with vents and sporty highlights, as well as a nice rear mini rear diffuser and lip spoiler on the boot, the R-Design kit also comes with changes made to the hardware.
The suspension is lowered by 15mm and features stiffer springs, while double-tube shocks on the rear are replaced with more sporty monotube items. There's also a strut tower brace added under the bonnet for improved front end torsional stiffness.
The best way to describe the Volvo S60 T6 R-Design is that it is a sleeper. While driving in pedestrian-rich areas, the Volvo S60 T6 looks understated but very intelligent. You do get a few onlookers glancing over to get a full eyeful, they also tend to double-check what kind of car it is.
It doesn't attract loads of attention in the noise department. It's very subdued and refined during normal motoring. When you do open up the taps, there's a proper howling growl. It almost sounds like a naturally aspirated engine. And the speed at which the revs build also hints tendencies to being an N/A engine.
There is one downside to the noise of Volvo S60 T6 though; the turbo whistle is not immediately evident. For a performance turbo sedan, it would be nice to know you have a 'turbo'. But again, that's what makes the Volvo S60 T6 a sleeper.
Inside the cabin is a very svelte place to sit. There's grippy sports seats, front and rear, that feature a kind of wetsuit neoprene material patterned into the trimming. They're soft yet very supportive providing high levels of comfort even on long journeys.
The dashboard is also nice, with controls laid out in a way that reminds you of its Scandinavian heritage. There's chrome blue gauges in the instrument cluster, lots of polished metal and aluminium details throughout, and a number of R-Design badges.
Overall, the Volvo S60 T6 is a cool car that most people will appreciate, whether it's your V8 mates or your mother. Best part is it's available for just $64,950, or $69,150 with the R-Design pack – a great price for a niche, turbocharged European sports sedan.
Click through to the audio link below for a demonstration of its sound. We timed a rough 0-100km/h sprint during the recording just to give you an idea.
Volvo S60 T6 acceleration sound
PD TECHNICAL
MODEL
2011 Volvo S60 T6 R-Design
ENGINE
3.0-litre turbocharged straight-six 24-valve DOHC
ENGINE SIZE (cc) / COMPRESSION RATIO
2953cc / 9.3
BORE X STROKE (mm)
82mm x 93.2mm
POWER
224kW@5600rpm, 545Nm@2100-4200rpm
POWER TO WEIGHT RATIO
8.43 : 1 (kg/kw)
WEIGHT
1888kg
HEIGHT / WIDTH / LENGTH
1484mm / 1865mm / 4628mm
DRIVETRAIN
All-wheel drive, six-speed Adaptive Geartronic automatic with Neutral Control and Sports mode
BRAKES
Front: Ventilated disc
Rear: disc
WHEELS / TYRES
F and R: 18 x 8 inch
FUEL CONSUMPTION
Official average: 10.2L/100km
PERFORMANCE
0-100km/h: 6.1 seconds (6.2 seconds tested)
PRICED FROM
$64,950 – $69,150 (R-Design)
PROS
Power delivery, suave and intelligent interior, overall feeling of safety (road-holding and equipment)
CONS
Fuel consumption is a little high for its class
THE COMPETITION
Volkswagen Passat V6, BMW 3 Series, Mercedes-Benz C-Class