Hyundai Australia is updating its best-selling SUV with the introduction of the 2020 Hyundai Tucson. Enhanced safety and a new entry Active variant headline the update.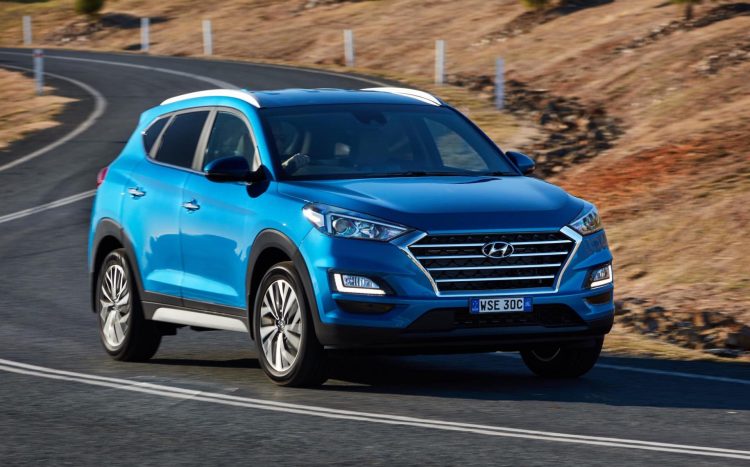 The 2020 Tucson now opens with the Active variant, replacing the previous Tucson Go. It comes impressively equipped with safety tech, with forward collision warning and avoidance assist (autonomous emergency braking) fitted as standard (automatic only). This is all part of the Hyundai SmartSense safety suite, which also includes driver attention warning and lane keep assist.
Moving up to the Elite and Highlander expands this suite to include city and interurban autonomous emergency braking, with pedestrian detection technology. Instead of autonomous braking operating between around 8km/h and 65km/h in the standard system above, this more comprehensive setup, which includes radar and a wide-screen camera, operates between 10-80km/h in terms of being able to bring the car to a complete stop autonomously.
The system will also operate the brakes in emergencies at speeds between 81-180km/h, although its aim is to reduce the severity of a collision as opposed to being able to bring the car to a complete stop before any impact.
Forward collision warning in all cases operates between 8km/h and 180km/h, offering the driver an audio and visual warning if a potential collision is detection. These systems are becoming the benchmark safety standard for new vehicles, and such systems are incorporated into ANCAP's strict safety assessments.
In other areas, the 2020 Tucson Active comes as standard with rear parking assist, 17-inch alloy wheels, a leather-wrapped steering wheel and gear selector, and a one-touch power window for the driver. The rest of the range carries over from the 2019 Tucson specification. Speaking about the updated model, Hyundai Australia CEO, JW Lee, said:
"The 2020 Tucson line-up builds strongly on our best-selling SUV's appeal, starting with the new entry-level Active models, offering generous comfort, convenience and safety features as standard."
Buyers can head into their local Hyundai dealer now and place an order on the updated model. Prices start from the following (excluding on-road costs):
2020 Active 2.0 GDi 2WD 6-speed manual: $29,290
2020 Active 2.0 GDi 2WD 6-speed auto: $31,790
2020 Active 2.0 CRDi AWD 8-speed auto: $37,090
2020 Active X 2.0 GDi 2WD 6-speed manual: $32,290
2020 Active X 2.0 GDi 2WD 6-speed auto: $34,790
2020 Active X 2.0 CRDi AWD 8-speed auto: $40,090
2020 Elite 2.0 GDi 2WD 6-speed auto: $37,850
2020 Elite 1.6 T-GDi AWD 7-speed DCT auto: $40,850
2020 Elite 2.0 CRDi AWD 8-speed auto: $43,150
2020 Highlander 1.6 T-GDi AWD 7-speed DCT auto: $46,500
2020 Highlander 2.0 CRDi AWD 8-speed auto: $48,800