Raise your hand if you forgot about the MINI Cooper S? We must admit, we're guilty. Perhaps it's because the market is becoming flooded with so many carmakers coming up with their own exclusive takes on the everyday pocket rocket. MINI has been in this game for years. Decades, even. We thought we'd test out the 2019 model to refresh our minds and to see if it can shame some of the newcomers with its extensive pedigree and veteran experience, and of course its old-school charm.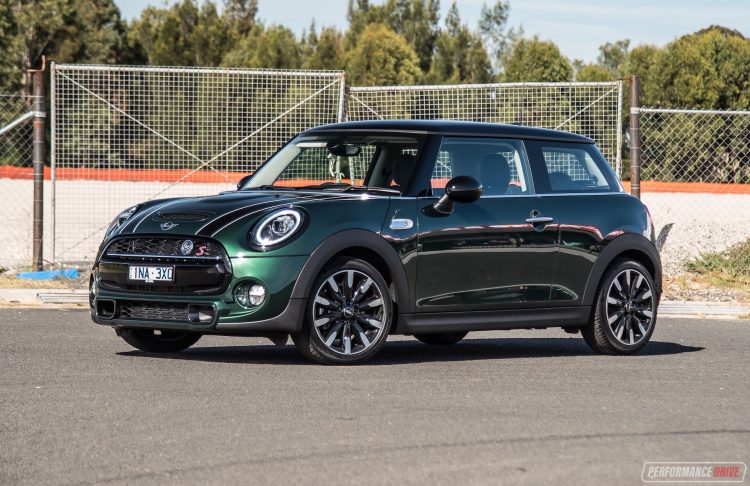 No major changes have been made to the MINI Cooper in the last few years. Since we last tested the Cooper S, in fact, back in 2014. The BMW-owned company did introduce a 2.0-litre turbo back then, switching from the old 1.6. The latest model also gets a seven-speed dual-clutch auto as opposed to a six-speed sports auto.
Instead of big hardware changes though, MINI has being applying evolutionary updates and tweaks to almost every other area. More advanced technology and connectivity now exists under the skin, while the styling has been given a light dusting and some Mr Sheen.
Here we're testing the regular Cooper S, just to make things clear. As you may know, MINI does offer a huge range of special editions, which can make the lineup confusing. But, the specials do add a certain exclusivity over the more mainstream rivals. MINI also offers a comprehensive catalogue of personalisation options and accessories. Some of which have been applied here, such as the black racing stripes, '60 years' anniversary badge on the front, and a modern interpretation of the British Racing Green paint colour, simply called British Racing Green II.
Prices start from $39,900 for the manual Cooper S, and from $42,700 for the seven-speed dual-clutch auto (as tested). This is a premium price for a hot hatch in today's market, especially one of this size. But remembering it is made under the ownership of BMW (assembled in the UK), it is a premium car after all.
2019 MINI Cooper S – THE SPECS
Engine: 2.0-litre turbo four-cylinder
Output: 141kW@6000rpm / 280Nm@1350-4600rpm
Transmission: Seven-speed dual-clutch auto
Drive type: Front-wheel drive, locking diff
Wheels: F: 17×7.0, 205/45
ANCAP: Four stars (31.78 out of 37)
Tare weight: 1179kg
Power-to-weight: 8.36:1 (kg:kW)
Official fuel economy: 5.5L/100km
Economy during test: 7.4L/100km
Fuel capacity/Type: 44L/95 RON
Power efficiency: 25.63kW:L/100km
0-60km/h: 3.25 seconds*
0-100km/h: 6.35 seconds*
60-110km/h: 4.04 seconds*
1/8 mile: 9.64 seconds at 131.2km/h*
1/4 mile: 14.61 seconds at 160.7km/h*
Max acceleration: 0.832g
100-0km/h braking: 2.84 seconds at 37.11 metres*
Max deceleration: -1.192g
Decibel at idle: 44*
Peak decibel at 60-100km/h: 93*
Priced from: $42,700
* Figures as tested by PerformanceDrive on the day. Factory claims may be different

2019 MINI Cooper S – THE PACKAGE
New for the 2018-2019 model is the Professional grade multimedia system with an 8.8-inch wide-screen display for the dash. This is controlled by a BMW iDrive-style hand controller down on the centre console. It's very easy to use, particularly while on the go. Once you learn how it all works and where all the menus are, which doesn't take long, you can just reach down and make selections without taking your eyes too far away from the road ahead.
As standard the Cooper S comes with all of the modern conveniences you'd expect from a premium hatch, such as a leather trim, dual-zone climate control, and lots of fancy in-car lighting and trimmings. There's also a heap of convenience-minded stuff, such as proximity key and push-button start, auto wipers and auto LED headlights.
Despite its name, the MINI isn't actually all that mini inside. Engineers have cleverly optimised the space so it feels more spacious than it looks. The ceiling in particular is quite high for a car of this type, which obviously helps out with headroom. In fact, the headroom is better than it is in some conventional hatchbacks. The dash is short and stubby, so it feels like you wear the windscreen like a pair of glasses, but the centre console is low and there's a decent sense of airiness. The sporty front seats have a wide range of adjustability too, so you can hunker right down close to the floor if you want to, or perch yourself up.
Rear seat comfort is more confined but the seats aren't completely redundant. Again, it's the headroom that is surprisingly accommodating. Legroom is the main issue. This can be fixed simply by sliding the front seats forward, if those in the front aren't super-tall.
Cargo space is measured at 211 litres. It is a pretty small cavity, however, there is an under-floor cubbyhole for smaller items. You can also flip down the rear seats to expose 731L. While we wouldn't describe the space as being as practical as a Mazda3, for example, you could certainly use the MINI as your everyday car and for running the usual errands if you live a busy city lifestyle.
The overall packaging is impressive for its size. We love the cabin decor, which is built to high quality standards. There's good fit and finish in all areas. What we love most about the interior though is the quirky design. The big, centrally-positioned speedo is a laugh, and the cute attention to detail throughout – chrome toggle switches, circular door handles etc. –  give it an edge over the mainstream rivals. The sheer expanse of accessories and personalisation options also help to boost individuality much higher than many rivals could ever hope for.

2019 MINI Cooper S – THE DRIVE
Power comes from a BMW 'B48′ 2.0-litre turbo four-cylinder engine – very similar to various '20i' BMW models. It produces a healthy dose of power and torque, with peak power maxing at 141kW at 6000rpm. All 280Nm of peak torque is available from just 1350rpm and held until 4600rpm. This means the engine is extremely versatile, producing a strong surge of thrust from any speed, in almost any gear at any rpm.
When you consider the fact the Cooper S, even with the seven-speed dual-clutch auto, weighs just 1179kg (tare), you immediately understand the potential here. It is such a fun-loving vehicle to drive. There is plenty of driving spirit, no doubt inspired by the classic Cooper S.
MINI claims 0-100km/h comes up in 6.8 seconds with the auto. However, with our Vbox we managed an easy 6.5 seconds. We actually clocked a best of 6.35 seconds by doing something a bit tricky. You see, the Cooper S auto comes as standard with launch control. This is activated by switching to Sport mode and pressing the traction control button just once, which activates DSC Sport mode.
In D, you then apply the brake with your left foot and apply full throttle with your right foot. The revs build and hold automatically at about 1800rpm, while giving off a rally-car-like pop and splutter (see video below). Release the brake pedal and the traction control will manage whatever wheelspin there might be to provide optimum acceleration. So what's the trick?
Well, we found out you can actually deactivate the DSC completely yet it will still let you build the revs on the brake pedal in launch control fashion. Being a dual-clutch auto, you can't normally apply brake pressure and the throttle at the same time. Not under normal circumstances anyway. But here you can. And this is what actually achieved the quicker time. With DSC Sport it managed 6.52 seconds. With DSC completely off, and using the rev-holding launch control function, we managed the 6.35-second time.
It's not just about acceleration though, this car. It's actually a lot more about the capability in the corners. This thing is an absolute blast to drive. The handling and steering are so playful and responsive. Flick your wrist and it'll change directions, even in the tightest of switchback corners and hairpins. Agility is easily one of the strongest traits of the car. However, it can be too agile at times.
For the long days at work when you just want to drive home in the evening, the Cooper S isn't really the metaphorical pillow to rest your weary head. This wants to play. And play all of the time. In saying that, it seems MINI has really stepped up the refinement and quality. A few years ago MINI vehicles did present some creaks and squeaks in the cabin, from what we remember. Not anymore. Build quality is now excellent.
The ride is also improved from what we remember. Yes, it is pretty firm, mainly because the springs and dampers have to suspend such a small footprint and short wheelbase. Out on the highway the Cooper S remains mostly settled and can cruise with a relatively premium nature. There are some hot hatches on the market that can do it better though, but these aren't as nimble or as fun in the corners. So it's a trade-off you can either accept or leave.
Aside from the outstanding sportiness of it all, the Cooper S passes one of the other important hot hatch criterion; fuel economy. The official average is just 5.5L/100km and we recorded a week average of 7.4L/100km.
2019 MINI Cooper S – THE VIDEO
2019 MINI Cooper S – THE VERDICT
Our main problem with the Cooper S is that it is always excited. It's like a puppy. It just wants to play, all of the time. But in reality sometimes you might want to relax and cruise. In that sense, the Cooper S's spectrum of ability is a bit narrower than some of the more versatile hot hatches that are on the market at the moment.
However, if you're interested in buying a hot hatch because you want something that's fun and something that will put a smile on your face, every day, you need to test drive one of these. We love the sounds and the overall driving pleasure of this little machine. It is a joy to drive and it will liven up your day, make no doubts about that. Above all, we think it is a superb rendition of one of the most iconic 'hot hatches' of all time. Remaking a true classic is a very difficult task. Especially with so many laws and regulations governing design and direction these days. But we think MINI has done extremely well to keep the Cooper S legend alive.
PROS:
– Super exciting and fun to drive
– Plenty of old-school charm
– Smart new cabin layout with BMW iDrive-style controller
– Lots of funky personalisation options
– Nice exhaust note

CONS:
– Firm and fidgety ride makes it difficult to relax and cruise
– Current design has been around for a while now, albeit lightly updated
– 4-star ANCAP safety rating
As always, if you're thinking about buying a new car don't forget to click here to speak with our car buying specialists.