It's already a superb sports car, but Alpine has managed to make it even better. Introducing the Alpine A110S. It's a more powerful version of the revived icon, with tweaked styling, handling, and features.
Firstly, the power. Behind the cabin remains a 1.8-litre turbo-petrol four-cylinder Renault engine. However, instead of producing 185kW at 6000rpm and 320Nm between 2000-5000rpm, the A110S develops 215kW (292PS) at 6400rpm and 320Nm between 2000-6400rpm.
These enhancements come thanks to a lift in turbo boost pressure by 0.4bar (5.8psi), from the standard of around 1.1bar (16psi). So that's about 22psi. With the increase in power comes a slight increase in acceleration. Alpine claims 0-100km/h comes up in 4.4 seconds, down from the standard claim of 4.5 seconds.
The A110S isn't just about more power though. Engineers have made some tweaks to the springs and anti-roll bars, as well as to the tyres and ride height. Alpine says new springs are 50 per cent stiffer and the dampers have been tuned to suit. The anti-roll bars are also 100 per cent firmer and now hollow to reduce weight.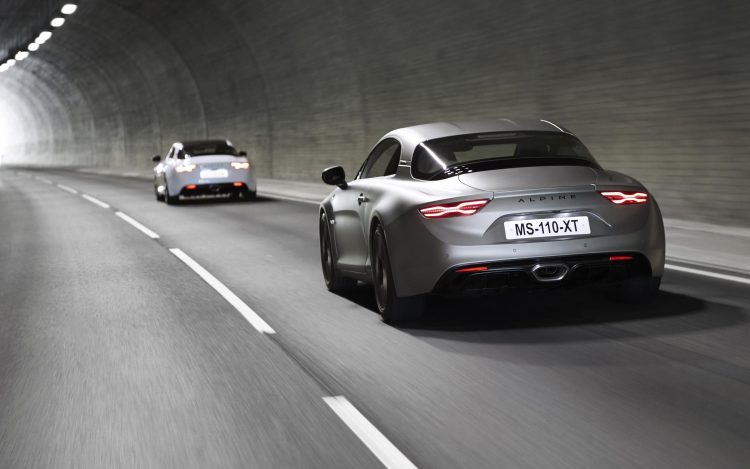 As for the ride height, it's been dropped by 4mm to help optimise the A110's centre of gravity. Not only that, the bump-stops have been retuned to provide "ultimate body control" according to Alpine. As a final touch, new alloy wheels are wrapped in 215 front and 245mm Michelin Pilot Sport 4 tyres. These are 10mm wider than the standard setup.
In other areas, Alpine has supplied the A110S with the otherwise optional Brembo braking package. This is available on the Pure and Legende variants as an option, and comes as standard on the limited Premiere edition (review here). On the front the discs measure 320mm and are made from two different metals.
Lastly, Alpine has applied some minor styling tweaks to help the S stand out from rest. The flag badges on the C-pillar are in carbon fibre and orange, there's a new black Alpine badge across the rear, orange brake calipers, 'GT Race' wheels, and a new optional Gris Tonnerre paint colour with a matt finish. Speaking about the new model, Jean-Pascal Dauce, Alpine chief engineer, said:
"Earlier versions of the A110 were pitched very much in line with the original 1970s A110 – just like that classic model they're playful and fun to drive. The A110S has a very different character. Its bespoke chassis setup makes it a very focused sports car. High-speed stability and handling precision are two of its defining characteristics. Although lap times are never a priority for our road cars, the new A110S is nonetheless faster than the A110's other versions."
The new model is on sale in Europe priced from €66,500. It's unclear at this stage if it will be offered in Australia. We hope so. See below for the highlight specs.
A110S specifications
Fuel type: Petrol
Engine type: 1.8L 4cyl, 16v turbocharged
Maximum power: 292PS at 6400rpm
Maximum torque: 320Nm from 2000rpm to 6400rpm
Architecture: mid-engined, rear-wheel drive
Gearbox type: 7-speed DCT, wet clutch
Unladen weight (DIN): 1114kg
Power to weight ratio: 3.8kg/PS (262PS/tonne)
Dimensions: 4180/1798/1248mm (length/width/height)
Wheelbase: 2419mm
Track width front: 1556mm
Track width rear: 1553mm
Chassis: double wishbones front and rear
Brakes front: 4 piston fixed caliper, 320mm discs
Brakes rear: single piston floating caliper, 320mm discs
Drag coefficient: Cd: 0.32
Drag area: Cd A: 0.621 (A 1.94m²)
Fuel tank: 45 litres
Boot capacity front: 96 litres
Boot capacity rear: 100 litres
Wheels and tyres: 215/40R18 (front), 245/40R18 (rear)
Top speed: 250kph, 155mph
Acceleration: 0-100km/h (62mph) 4.4 seconds
Fuel consumption: pending homologation
Emissions: pending homologation