Nobuhiro Tajima, 'Monster' has just broken the world record at the 2011 Pikes Peak International Hill Climb with a time of 9:51.278. This gives the Pikes Peak master his sixth consecutive win for the Race to the Clouds event.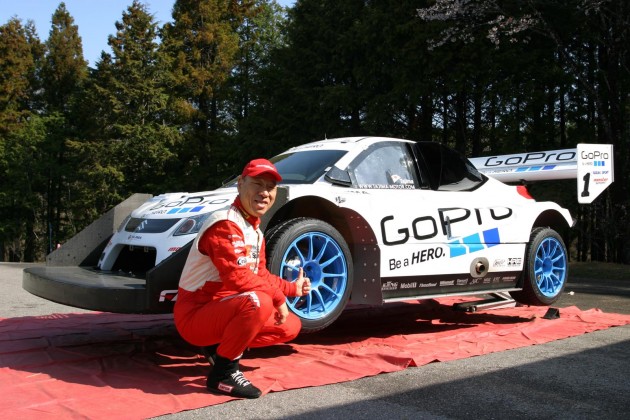 Following up from our previous Pikes Peak feature report, Monster set out to break his previous record of 10mins 1.4sec this year, which he set in 2007. He not only beat the time, he beat it by just under 10 seconds. Using the famous Suzuki Sport SX4 ballistic hill climb machine, the car had been revised for this year's event due to increasing amounts of tarmac sections being laid onto the course over the years.
The 19.99km normally-public track was dominated by Tajima and his 3.1-litre twin-turbo V6 weapon, with help from the 678kW (910hp) on tap and the sophisticated four-wheel drive system. As usual, Tajima's Suzuki was competing in the Unlimited class.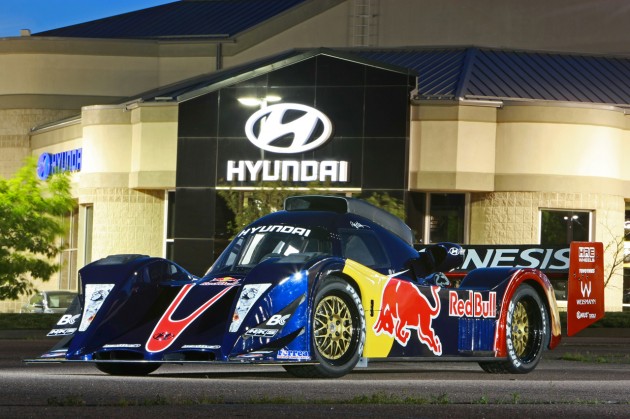 Another favourite for this year's Pikes Peak Climb was Rhys Millen, son of Rod Millen. Rod set the record for the overall quickest Pikes climb over ten years ago. This year it was his son in the Hyundai-powered PM580 Le Mans-style racer who was attempting to reclaim the record. Unfortunately, Rhys suffered from brake problems during the event and posted a best time of 10:09.30.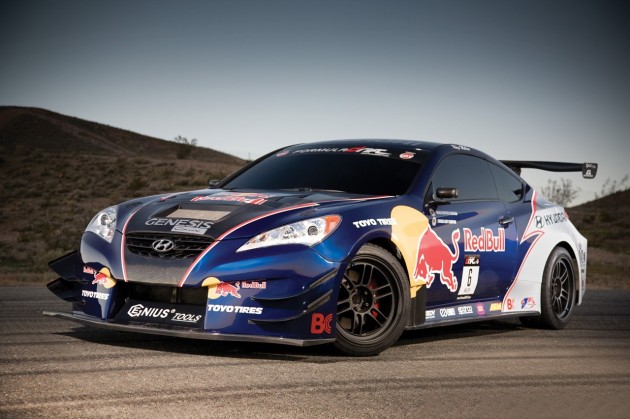 Interestingly, Rod Millen was back in the driver's seat too. But not in the PM580, instead he drove in the 2WD Time Attack class in a rear-drive Formula Drift Hyundai Genesis Coupe. He took out the class win in the car with a time of 11:04.912.
Taking out the 4WD Time Attack class was female driver Brianne Corn. She became the first female to compete in the Pikes Peaks climb since Michele Mouton did it in 1984.
Take a look below the gallery for the full results of the 2011 Pikes Peak International Hill Climb event.
Exhibition Powersport
| | | | |
| --- | --- | --- | --- |
| Pos. | Driver | No. | Finish Time |
| 1 | Joe Kopp | 3 | 11:26.530 |
| 2 | Chip Yates | 489 | 12:50.094 |
| 3 | Aaron Butler | 195 | 14:54.00 |
| 4 | Edward Smith | 529 | 15:52.116 |
| – | Douglas Siddens | 111 | DNF |
Time Attack 2WD
| | | | |
| --- | --- | --- | --- |
| Pos. | Driver | No. | Finish Time |
| 1 | Rod Millen | 676 | 11:04.912 |
| 2 | Jeff Zwart | 111 | 11:07.869 |
| 3 | Toshiki Yoshioka | 104 | 11:33.734 |
| 4 | Jerad Voight | 77 | 12:58.546 |
| 5 | Roy Tomkins | 119 | 13:04.231 |
| 6 | Savannah Rickli | 127 | 13:24.296 |
| 7 | Kris Antal | 88 | 13:29.417 |
| 8 | Ryan McLaughlin | 460 | 14:54.515 |
| – | Ken Stouffer | 22 | DNF |
| – | Kash Singh | 37 | DNF |
| – | Rogers Matthews | 72 | DNF |
Quad Modified
| | | | |
| --- | --- | --- | --- |
| Pos. | Driver | No. | Finish Time |
| 1 | Michael Coburn | 138 | 11:59.021 |
| 2 | Mike Ell | 131 | 12:17.264 |
| 3 | Mike Tollett | 75 | 12:26.399 |
| 4 | John Stallworth | 91 | 12:42.919 |
| 5 | Chris Wagner | 919 | 12:58.930 |
| 6 | Joe Portillo | 147 | 13:53.214 |
| – | Theo Bernhard | 42 | DNF |
RMVR
| | | | |
| --- | --- | --- | --- |
| Pos. | Driver | No. | Finish Time |
| 1 | Keith Davisdon | 163 | 12:44.126 |
| 2 | Jess Neal | 42 | 13:20.657 |
| 3 | Jack Rogers | 369 | 13:31.936 |
| 4 | Bob Hill | 110 | 13:54.129 |
| 5 | Ralf Christensson | 389 | 14:18.881 |
| 6 | Jim Hodgson | 164 | 14:52.030 |
| 7 | Mark Visconti | 995 | 16:02.372 |
RMVR Modified
| | | | |
| --- | --- | --- | --- |
| Pos. | Driver | No. | Finish Time |
| 1 | Ralph Murdock | 30 | 12:51.004 |
| 2 | Douglas Mockett | 133 | 13:01.997 |
| 3 | John Groendyke | 476 | 13:11.312 |
| 4 | Tony Landon | 372 | 13:51.018 |
| 5 | John Heavey | 554 | 14:21.550 |
| – | Richard Hockert | 721 | DNF |
Pikes Peak Open
| | | | |
| --- | --- | --- | --- |
| Pos. | Driver | No. | Finish Time |
| 1 | Randy Schranz | 17 | 11:55.132 |
| 2 | Brad Lovell | 432 | 12:33.609 |
| 3 | David Cole | 454 | 13:05.318 |
| 4 | JT Taylor | 13 | 13:26.857 |
| 5 | Dean Burling | 74 | 13:27.843 |
| 6 | Samuel Berri | 149 | 13:48.688 |
| 7 | Kevin Yoder | 34 | 14:10.063 |
| 8 | David Schmidt | 26 | 14:14.040 |
| 9 | Shawn Fink | 307 | 14:48.804 |
| 10 | Gavin Skilton | 93 | 15:37.024 |
| – | Roger Lovell | 32 | DNF |
| – | Mattew Petersen | 212 | DNF |
| – | Lauchlin O'Sullivan | 76 | DNF |
Time Attack 4WD
| | | | |
| --- | --- | --- | --- |
| Pos. | Driver | No. | Finish Time |
| 1 | Brianne Corn | 968 | 11:56.422 |
| 2 | Robert Thorne | 95 | 12:00.661 |
| 3 | Harrad Demuth | 585 | 12:07.312 |
| 4 | Victor Kuhns | 116 | 12:08.632 |
| 5 | David Kern | 156 | 12:12.630 |
| 6 | Tom Wright | 15 | 13:00.360 |
| 7 | Carlos Martinez De Campos | 123 | 13:10.161 |
| 8 | Martin Mennig | 486 | 13:27.694 |
| 9 | Valentin Ivanitski | 21 | 14:48.358 |
| – | Stephan Verdier | 300 | DNF |
| – | Christy Carlson | 298 | DNF |
Unlimited
| | | | |
| --- | --- | --- | --- |
| Pos. | Driver | No. | Finish Time |
| 1 | Nobuhiro Tajima | 1 | 09:51.278 |
| 2 | Rhys Millen | 67 | 10:09.242 |
| 3 | Jean Philippe Dayraut | 3 | 10:17.707 |
| – | Dave Carapetyan | 959 | DNF |
| – | Paul Dallenbach | 98 | DNF |
Open Wheel
| | | | |
| --- | --- | --- | --- |
| Pos. | Driver | No. | Finish Time |
| 1 | Spencer Steele | 43 | 10:42.366 |
| 2 | Jimmy Olson | 40 | 10:44.163 |
| 3 | Dave Wood | 11 | 11:58.011 |
| 4 | Dan Novembre | 28 | 12:18.447 |
| 5 | Shawn Johnson | 90 | 12:24.560 |
| 6 | Rodney OMaley | 65 | 12:38.465 |
| 7 | Andy Figueroa | 71 | 12:41.867 |
| 8 | Lorie Wood | 12 | 13:33.916 |
| – | Chris Strauch | 56 | DNF |
| – | Jimmy Kenney | 69 | DNF |
Super Stock Car
| | | | |
| --- | --- | --- | --- |
| Pos. | Driver | No. | Finish Time |
| 1 | Clint Vahsholtz | 18 | 10:55.603 |
| 2 | Layne Shranz | 7 | 11:22.500 |
| 3 | Steve Goeglien | 27 | 11:44.524 |
| 4 | Rod Moberly | 14 | 12:15.525 |
| – | Bobby Regester | 44 | DNF |
250 Motorcycle
| | | | |
| --- | --- | --- | --- |
| Pos. | Driver | No. | Finish Time |
| 1 | Chuck Lee | 56 | 12:39.366 |
| 2 | Zach Warnock | 107 | 12:43.072 |
| 3 | Codie Vahsholtz | 285 | 12:51.183 |
| 4 | Randy Belisle | 33 | 12:54.669 |
| 5 | Scott Warner | 232 | 13:21.449 |
| 6 | Joey Hamilton | 39 | 13:32.208 |
| 7 | Jimi Heyder | 442 | 13:43.59 |
| 8 | Paul Delio | 68 | 13:50.56 |
| 9 | James Buchner | 23 | 13:59.40 |
| 10 | Daniel Perry | 989 | 14:16.18 |
| 11 | David Perry | 137 | 14:21.31 |
| 12 | Daniel Berendes | 591 | 14:21.75 |
| – | Anthony Miele | 407 | DNF |
450 Motorcycle
| | | | |
| --- | --- | --- | --- |
| Pos. | Driver | No. | Finish Time |
| 1 | Davey Durelle | 58 | 11:50.988 |
| 2 | Joe Prussiano | 421 | 12:11.046 |
| 3 | Travis Newbold | 747 | 12:19.445 |
| 4 | Tom McCarthy | 26 | 12:35.584 |
| 5 | Mark Woodward | 66 | 12:38.374 |
| 6 | Darryl Lujan | 69 | 12:47.717 |
| 7 | Scot Lee | 151 | 12:59.671 |
| 8 | Teague Sawyer | 10 | 13:01.47 |
| 9 | Dave Stock | 22 | 13:04.37 |
| 10 | Doug Chestnutt | 211 | 13:07.12 |
| 11 | Donnie Burns | 937 | 13:12.114 |
| 12 | Chris Johns | 214 | 13:20.391 |
| 13 | Michael Kassebaum | 4 | 13:28.499 |
| 14 | Justin Rastegar | 801 | 13:29.235 |
| 15 | Mark Bartle | 313 | 13:41.965 |
| 16 | Dean Mizes | 711 | 13:46.771 |
| 17 | Charlie Ford | 312 | 13:47.913 |
| 18 | Mitchell Trom | 263 | 13:58.385 |
| 19 | Mike Scarsella | 776 | 16:19.240 |
| 20 | Joshua Hamblen | 171 | 18:27.155 |
| – | Zach Kinzler | 920 | DNF |
Supermoto 450
| | | | |
| --- | --- | --- | --- |
| Pos. | Driver | No. | Finish Time |
| 1 | Leeland Sinclair | 521 | 12:05.178 |
| 2 | Greg Chicoine | 100 | 12:05.527 |
| 3 | Craig Gleason | 96 | 12:14.628 |
| 4 | Geoff Cesmat | 85 | 12:28.030 |
| 5 | Alessandro Scalabrin | 770 | 12:33.862 |
| 6 | Chase Guthrie | 82 | 12:41.872 |
| 7 | Jeff Delio | 179 | 12:42.872 |
| 8 | Mark Niemi | 152 | 12:47.367 |
| 9 | Greg Nichols | 220 | 12:55.318 |
| 10 | Chip Golden | 324 | 12:55.506 |
| 11 | Eddie Tofoya | 515 | 12:56.732 |
| 12 | Lorenzo Marchini | 109 | 13:01.403 |
| 13 | Tom Specht | 311 | 13:03.152 |
| 14 | Scott Lapierre | 299 | 13:28.56 |
| 15 | John Kollars | 831 | 13:29.15 |
| 16 | Mattew Hazelwood | 468 | 13:32.470 |
| 17 | Sean Arnold | 607 | 13:39.708 |
| 18 | Scott Allen | 343 | 13:41.785 |
| 19 | Keith Hendry | 340 | 13:52.676 |
| 20 | Ed Russell | 365 | 14:02.297 |
| 21 | Daniel Raygor | 314 | 14:06.390 |
| 22 | Kevin Brown | 757 | 14:49.590 |
750 Motorcycle
| | | | |
| --- | --- | --- | --- |
| Pos. | Driver | No. | Finish Time |
| 1 | Stuart Sinclair | 508 | 11:27.396 |
| 2 | Gary Trachy | 357 | 11:32.004 |
| 3 | Marco Belli | 229 | 12:10.660 |
| 4 | James McKay | 333 | 12:14.212 |
| 5 | David Johansen | 570 | 12:47.292 |
| 6 | Rusty Wilson | 113 | 12:58.802 |
| 7 | Jerry Brown | 121 | 13:07.008 |
| 8 | Chris Koxlien | 931 | 13:13.008 |
| 9 | Dan Harmon | 74 | 13:29.802 |
| 10 | Joseph Toner | 360 | 13:32.171 |
| 11 | Ryan Sweeney | 669 | 14:02.495 |
| 12 | Pierpaolo Vivaldi | 979 | 14:15.683 |
| 13 | David Rutherford | 223 | 14:16.084 |
| 14 | Dustin Flagge | 303 | 14:36.342 |
| 15 | Seth Cohen | 102 | 15:14.979 |
| 16 | Dimitri Coste | 67 | 15:16.125 |
| – | Dale Wentworth | 64 | DNF |
Side Car
| | | | |
| --- | --- | --- | --- |
| Pos. | Driver | No. | Finish Time |
| 1 | John-Thomas Wood | 187 | 13:09.04 |
| 2 | David Hennessy | 122 | 14:35.641 |
| 3 | Hans Schulz | 99 | 16:26.315 |
| 4 | Ken Kyler | 178 | 18:06.258 |
Vintage Motorcycle
| | | | |
| --- | --- | --- | --- |
| Pos. | Driver | No. | Finish Time |
| 1 | Robert Spann | 93 | 13:33.528 |
| 2 | Mickey Alzola | 49 | 13:37.511 |
| 3 | Marc LaNoue | 9 | 14:02.052 |
| 4 | Leonard Hale | 62 | 14:08.493 |
| 5 | Lloyd Hale | 6 | 14:08.884 |
| 6 | Herbert Wolff | 177 | 14:22.532 |
| 7 | Kevin Magner | 114 | 14:55.291 |
| 8 | Joe Blackwell | 916 | 15:49.773 |
| 9 | Robert Gerberich | 501 | 18:13.82 |
| – | Donald Bjornsrud | 777 | DNF |
Quad 450
| | | | |
| --- | --- | --- | --- |
| Pos. | Driver | No. | Finish Time |
| 1 | Steve Tutt | 7 | 12:41.960 |
| 2 | Craig Kilday | 44 | 13:14.948 |
| 3 | Troy Smith | 322 | 13:35.923 |
| 4 | Michael Taylor | 626 | 13:47.92 |
| 5 | Adam Rapier | 666 | 14:48.30 |
| 6 | Scott Kolm | 921 | 15:57.316 |
1205 Motorcycle
| | | | |
| --- | --- | --- | --- |
| Pos. | Driver | No. | Finish Time |
| 1 | Carlin Dunne | 5 | 11:11.329 |
| 2 | Jeff Grace | 97 | 12:02.510 |
| 3 | Alexander Smith | 55 | 12:12.920 |
| 4 | Glenn Cox | 13 | 12:15.000 |
| 5 | Jeff Jensen | 500 | 13:06.000 |
| – | Mark Cernicky | 50 | DNF |
| – | Bob Milewsky | 106 | DNF |
| – | Greg Tracy | 555 | DNF |
Electric
| | | | |
| --- | --- | --- | --- |
| Pos. | Driver | No. | Finish Time |
| 1 | Ikuo Honawa | 16 | 12:20.084 |
| 2 | Chad Hord | 909 | 14:33.429 |
Exhibition – CTR
| | | | |
| --- | --- | --- | --- |
| Pos. | Driver | No. | Finish Time |
| 1 | James Robinson | 902 | 15:46.609 |