The mysterious LaFerrari 'FXX' prototype has been spotted again. This time up close and in finer detail, with images recently hitting Facebook.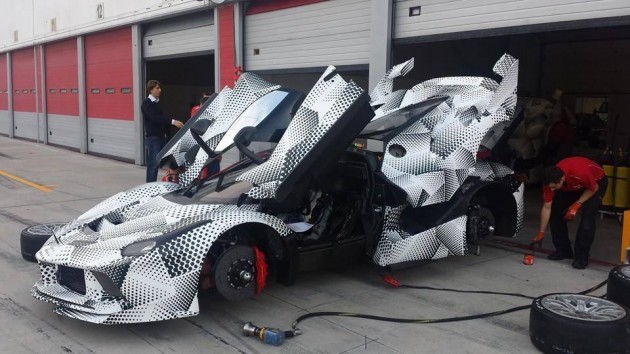 Ferrari is still yet to officially confirm if there is a more seriously focused version of the LaFerrari on the way. However, it's plain to see something is being planned. More specifically, a track-ready version that is not road legal.
It's been widely believed Ferrari is planning a Ferrari Enzo FXX replacement, of sorts, which will probably be only available to buy via invitation by Ferrari. It's also likely to be a track-only model that will probably be kept and maintained by Ferrari like the 599 FXX.
According to reports, the special edition will come with a slightly tweaked version of the 6.3-litre V12 hybrid powertrain. Power output is tipped to increase from 708kW to as much as 772kW (1050hp). Along with the increased power, some weight reduction is also expected to further boost performance and track agility.
All details are rumoured to debut at the Ferrari Finali Mondiali event in Abu Dhabi early in December. Production could be limited to just 30 units, making it an extremely fast and extremely exclusive model.
Take a look at the images for more detail. They were first posted on the CzechExotics Facebook page, revealing the huge rear wing we saw last week in a spy video, as well as a stripped out interior with a roll cage, and huge racing brakes and wheels.