Porsche has released new details on the epic Porsche 918 Spyder production car, set to go on sale later this year. Up until now, power outputs and specifics on the electric elements hadn't been concrete. Now we know, the 918 will definitely be Porsche's most powerful street-legal car ever made.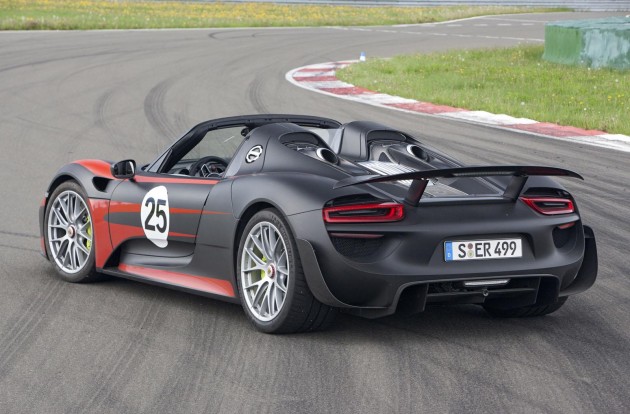 In the engine department sits a 4.6-litre naturally aspirated V8 engine producing 447kW of power and 530Nm of torque. This alone is very impressive. The 918 is also supported by two electric motor systems adding 115kW and 95kW to the front and rear axles. Torque distribution is roughly 43:57 front:rear.
Combined power, deep breath, is rated at 661-662kW (887hp) and 800Nm. This is forceful enough to provide 0-100km/h times in just 2.8 seconds, and a top speed of 340km/h.
The beauty with the 918 is the fact that it's a hypercar which is capable of driving on zero petrol. In 'E-Power' mode, one of many driving modes, the car can be driven on electric power for a range of around 30km. It still provides respectable performance too, with 0-100km/h coming up in under 7.0 seconds, and a top speed of 150km/h.
Stepping up from that is the Hybrid mode, which utilises both the petrol V8 and the electric motors to provide optimum efficiency. The electric motors can be used as the sole source of energy during low loads.
In Sport Hybrid mode, the petrol engine remands on and ready for demand. The electric motors are still used, especially to provide spikes in performance when needed.
Finally, the Race Hybrid mode provides the most aggressive delivery of power and maximum electric and petrol performance. The batteries are recharged more aggressively too, during deceleration for example.
As a bonus, the 918 will also come with a Hot Lap mode which is really only suitable for serious track stints. Maximum power from both sources is delivered, and the battery requires recharging via a 230V power socket. Recharging takes four hours, or just 25 minutes using an optional Porsche Speed Charging Station.
Being the flagship Porsche, there are a number supercar-esque features and highlights, such as a full carbon fibre body with active aerodynamics (overall kerb weight of around 1640kg), an adaptive PDK dual-clutch transmission with different modes, as well as a focused interior decor with bucket seats and a smart media interface on the dash.
Porsche recently described the philosophy behind the 918, pointing to its legendary predecessors.
"The 918 Spyder continues a long tradition of super sports cars at Porsche; as technology platforms, as the driving force behind both car emotion and car evolution and as the ultimate sports cars of their decades: the Carrera GTS, the first Porsche Turbo, the 959, the 911 GT1, the Carrera GT.

"More than any of its predecessors, the 918 Spyder is providing key impetus for developing technologies for future vehicle concepts. It offers a complete package of components that reflect Porsche DNA – more concentrated than ever before."
Racing car driver and motoring journalist Chris Harris had the chance to try out the astonishing hypercar recently. Click play below for an early first impression.