If you're reading this 2011 Lexus IS F review because you're in the market for a luxury sports sedan, or are just thinking about swapping over from a luxury vehicle into a high performance luxury vehicle, then sit back and soak up all the details on this very worthy option.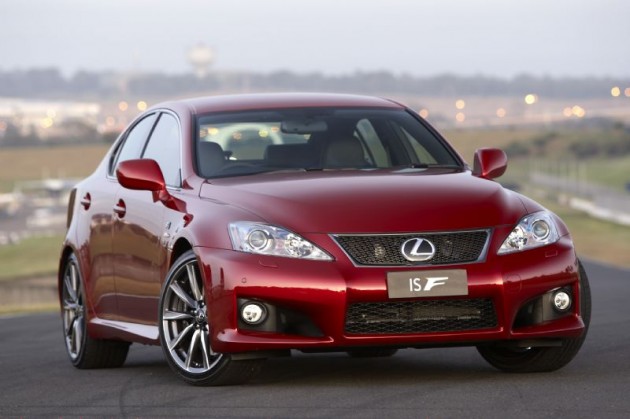 The Lexus IS F was specifically designed to target the BMW M3 and it has always had a lot of pressure to be better than it. Although, with imposing looks and attitude, a rumbling roaring 5.0-litre V8 and top of the line luxury, we don't see why it can't just be itself.
Give the accelerator a tap and the V8 abruptly barks with a crisp suddenness, then rumbles instantly back to idle. Tap it again but this time hold it down for a bit longer and it turns into a properly angry growl, like a mechanically-tuned lion
It's been around for three years now, the Lexus IS F, however, Lexus recently introduced an update with some changes aimed at ironing out some of the minor wrinkles of the first edition. Revisions include retuned suspension with altered spring rates, changes to bound and rebound damper settings, as well as a new more conventional mechanical limited-slip differential setup, from the old electronic type. Can you feel these changes?
You bet. It's been a few years now since stepping out of a 2008 Lexus IS F, but from what we can remember, the ride was a little giggling and perhaps too firm for day-to-day driving. The problem was a lack of active suspension too. In a highly-focused, high-performance sports sedan, it's a feature that really should have been included. We're happy to report Lexus has since rectified this minor inconvenience and has managed it without adaptive setups just fine.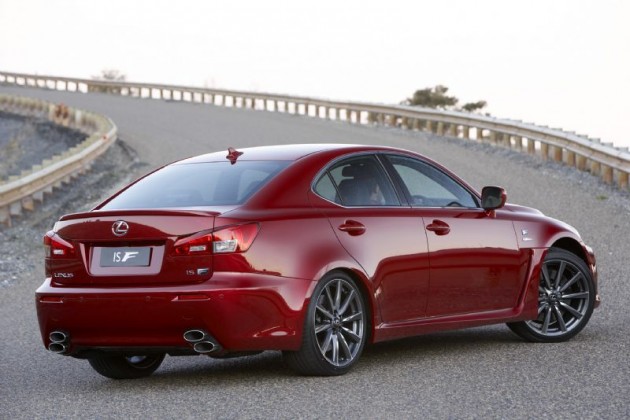 The Lexus IS F is based on the Lexus IS range, and there's only one model available. It comes with a Yamaha-developed 5.0-litre V8 engine displacing 311kW at 6600rpm and 505Nm of torque at 5200rpm. The engine is also able to yell out to a redline of 6800rpm thanks, in part, to double overhead camshafts, lightweight titanium intake vales, roller rockers and variable-length intake runners. It's also rear-wheel drive and uses an eight-speed automatic gearbox.
Inside, you get leather seats, a posh and somewhat chic/designer dash layout with cool blue instrument cluster dials. It all feels like you're in something rich. Not necessarily business class, which can become quite boring in some of the German rivals, just rich. The centre console is covered in a silver and chrome carbon fibre finish, while all of the buttons and adjustments are of high quality and feel tough and unbreakable.
The fully electric adjustable seats are very comfortable. They're more like chairs, but they still provide plenty of hug when you're feeling lonely… or pulling decent g's around a corner.
The seating position is simply superb. If you're a keen driving enthusiast, then you'll find that perfect, hunkered-down position with just a few flicks of the adjustment switches. Your hands then rest naturally in the quarter-to-three position giving you plenty of arm movement and vision over the wheel. The wheel is also electronically adjustable in every which way via a one-touch toggle.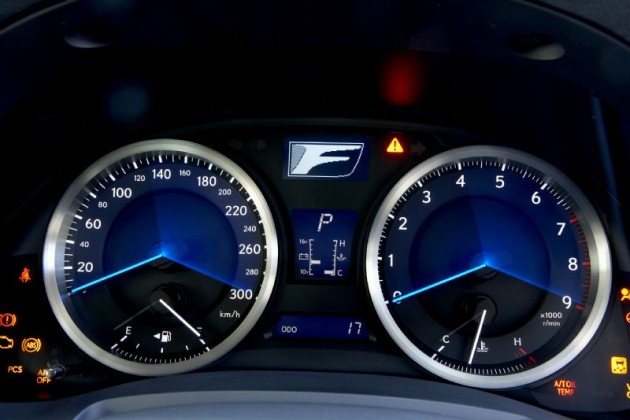 As far as technical gizmos go, the Lexus doesn't overwhelm you with 500 different options for the engine and gearbox settings. You simply get in and drive. There are shift paddles behind the wheel connected to the eight-speed, and there's an M mode sports shift setting which provides 0.1-second upchanges and 0.3-second downchanges. The paddles work a treat, but we'll get to the driving in a sec.
The flagship IS also comes with most options, such as satellite navigation, electric sunroof, traction and stability control, parking sensors, keyless start and entry, Bluetooth connectivity and enough airbags (eight), safety equipment and structural integrity to pass ANCAP's five-star safety test; all as standard equipment.
The Lexus IS F is a high performance car so it does come with various performance-oriented features over the high end IS250/350 models as well. These include monstrous Brembo six-piston brake calipers compressing 360mm slotted and cross-drilled disc rotors on the front, and two-piston, 345mm slotted and cross-drilled rotors on the rear. It also gets a number of discreet 'F' badges and logos throughout, a tidy bodykit and a boot-lip spoiler.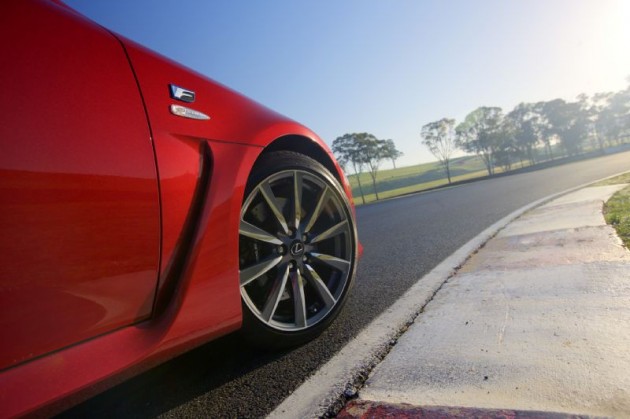 Okay, enough anticipation, the important thing you need to know about the latest IS F is what it's like to drive. When you push-button start the engine you know you have the power of this beast just centimeters away from your right foot, it gives you a great sense of occasion. You can hear and feel the engine lurking beneath the bonnet. It's almost as if it's smiling and raising its eyebrows with you, it knows this is going to be good. Give the accelerator a tap and it abruptly barks with a crisp suddenness, then rumbles instantly back to idle. Tap it again but this time hold it down for a bit longer and it turns into a properly angry V8 growl, like a mechanically-tuned lion.
The electronic steering is moderately weighted in the IS F, it's not at the heavy end of the perfect-steering scale, it's comfortable and gives you plenty of feedback. Tip it into a corner and the nose is very accurate with hardly any sign of understeer, even when pushed. Get on the power though with the traction and stability control off and you'll find oversteer comes into play at will. With the safety systems in place, like most Toyota stability systems, the electronics are pretty much fool proof. You can be as flippant as you like with the go pedal and the IS F stays straight, true and composed.
Acceleration in between corners is where the goosebumps really start to rise though. The sheer sound of the V8 symphony under the bonnet truly is one of the great V8 sounds of any modern day sedan. It doesn't crackle and pop like some of the other awesome-sounding high-performance cars on sale today, it goes for a more refined soundtrack, never skipping a beat or missing a chord.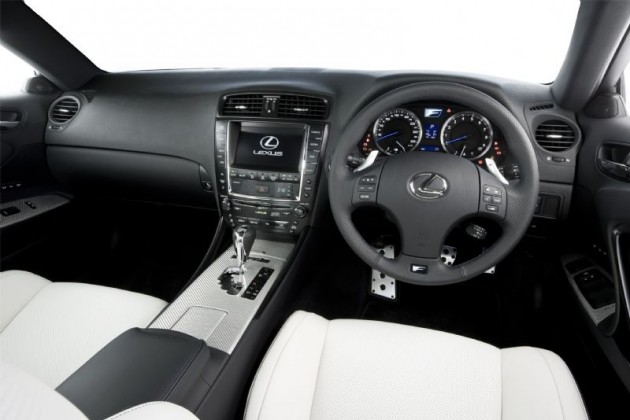 Clicking up through the eight-speed using the paddle shifters is a pleasure to use and makes you feel like you're driving a seriously rapid supercar. The revs rise very quickly and it's time to change up in seconds. This is the beauty of having many ratios to choose from. It doesn't lead you astray though, the IS F is very quick – 0-100km/h takes just 4.8 seconds – it just provides that extra element of changing gears more often for your entertainment (it also helps out with fuel economy).
The important aspect to the Lexus IS F is, it makes you feel great. There's a certain coolness attached to it too, because, it's a Lexus, which generally signifies intelligence, but it's also a menace, showing off subtle muscles that bulge through its conservative panels;  the 18-inch shadowed 'sword' spoke wheels, the anabolic wheel arches and those trademark quad exhaust tips.
As mentioned, if you're in the market for a very high quality luxury four-door sedan that's also capable of offering huge presence, thrills and an awesome V8 engine, the Lexus IS F is definitely a car you should include in your short list. If you're not convinced, book in a test drive and see for yourself. It may just miss out on matching the BMW M3 during outright time attacks on a circuit, but it'll still provide equal levels of sports car theatre and extremely impressive performance.
PD TECHNICAL BOX
MODEL
2011 Lexus IS F
ENGINE
5.0-litre V8, DOHC
ENGINE SIZE (cc) / COMPRESSION RATIO
4969cc / 11.8
BORE X STROKE (mm)
94mm x 89.5mm
POWER
311kW@6600rpm, 505Nm@5200rpm
POWER TO WEIGHT RATIO
5.47 : 1 (kg/kw)
WEIGHT
1700kg
HEIGHT / WIDTH / LENGTH
1485mm / 1815mm / 4660mm
DRIVETRAIN
Rear-wheel drive
BRAKES
Front: 360mm slotted and cross-drilled disc
Rear: 345mm slotted and cross-drilled disc
WHEELS / TYRES
F and R: 18 inch 255/35 R 18
FUEL CONSUMPTION
Official average: 11.4L/100km
PERFORMANCE
0-100km/h: 4.8 seconds
PRICED FROM
$126,800
PROS
Exhaust note, it's not an M3, naturally aspirated V8 grunt
CONS
Your German friends will block you on Facebook, Umm…
THE COMPETITION
BMW M3, Mercedes-Benz AMG C63