BMW is reportedly working on a sportier version of the new i8 hybrid sports car, potentially called the i8S. It's believed the edition is being designed to help the Bavarian company celebrate its upcoming 100th birthday.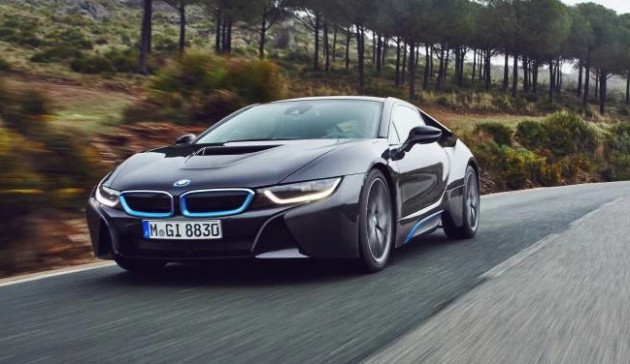 The news originally stems from an Auto Motor und Sport report earlier this year, and has now been extended upon by Automobile Magazine in the US. The US report says the i8S is on the way featuring revised suspension, uprated brakes, and the rear seats removed. It's also expected to come with performance tyres replacing the regular eco-focused rubber.
In the engine compartment BMW is apparently tossing up between two options. One is the idea of a new twin-turbo 2.0-litre four-cylinder paired with an electric motor powering the front wheels. This option could produce somewhere around 238kW plus 152kW from the electric motor.
Another option is set to be a 3.0-litre twin-turbo inline six producing around 358kW, plus the electric motor adding up to 81kW. With this kind of power on tap, in either guise, we could see 0-100km/h figures drop from the current i8's 4.4 seconds to around 3.5 seconds, placing it in serious supercar territory. (The regular BMW i8 produces a combined output of 266kW.)
There is some talk of a new nine-speed dual-clutch auto also being in the works for the sportier version. With the new transmission, overall kerb weight is likely to increase somewhat, although the added power should compensate for that especially if the above figures turn out to be correct.
More details are expected to surface in the lead up to BMW's 100th birthday in 2016.