The new 315kW 2011 Ford FPV GS Ute is about as tough as they come. And like the previous model, you can thank the Americans for the engine… but this time around you can thank Australia for the forced induction. Yep, that's right, it comes with an Australian-made supercharger. Does it hammer? You can bet your best flanno on it. It flies.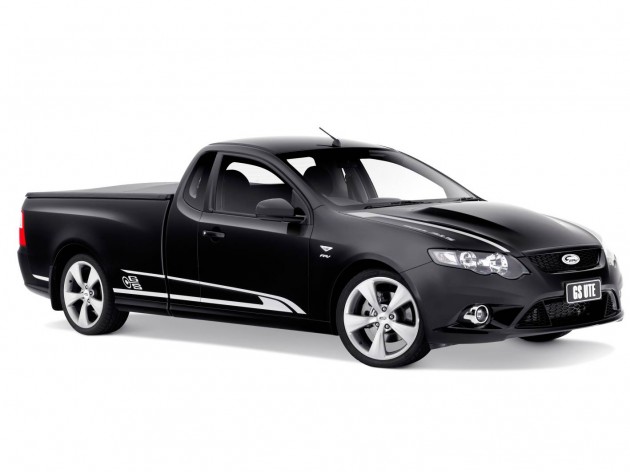 If you like your V8 utes built to barbeque rubber, then look no further. The 2011 FPV GS Ute is now hosting a honking new 5.0-litre V8 engine, and it has a friend. Harrop's its name, and supercharging is its game. But is this new combination a better drive than the old naturally aspirated 5.4-litre donk? Well, that's what we're here to find out.
Quarter throttle is plenty to beat most cars off the lights, half will see you almost always win, and full stomp will have you writing your name in the road
First up impressions are nothing but brutal. Without even the slightest touch of the right foot pedal, you'll hear the whine of the Aussie-sourced Harrop supercharger and feel the extra push in the pants compared with the old model. Like a teenager on a first date, we'd done our plums for the new 'Coyote' V8 right away. Whereas the old 5.4-litre V8 needed decent revs to make a serious move; the new engine doesn't need much at all. Who doesn't love torque on demand?
The new 5.0-litre Coyote V8 is the latest incarnation of the Ford Modular V8 engines. It features, for the first time on an FPV, Cam Torque Actuated (CTA) cams and Twin Independent Variable Cam Timing (Ti-VCT). What's that mean? Well, it allows the Power-train Control Module (PCM) to advance and retard intake and exhaust cam timing independently of each other, providing improved power, improved fuel economy and reduced emissions. In other words, it's worlds above the outgoing 5.4-litre. The exhaust note is better, too. Just sayin'.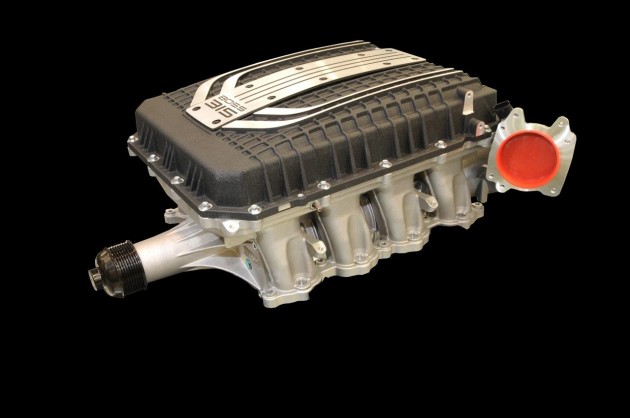 Quarter throttle is plenty to beat most cars off the lights, half will see you almost always win, and full stomp will have you writing your name in the road – with traction control off of course. The power is always there, ready for you to use whenever you need it, you just dial in how much. It really is that instant. Kind of like a mini Starship Enterprise… beam me up, Henry.! As you accelerate, power does flatten out high in the rev range, but grabbing another gear will fix that, and around goes the speedometer. We'd be surprised if it didn't climb well past 265 km/h.
Where you'll sit and momentarily wait for grunt in the FPV F6 (310kW), since the turbo needs to spool to make power, the 315kW V8 just stamps its 245mm-wide feet into the ground and pulls from anywhere in the rev range. That said, the GS does feel slightly slower than the FPV F6 beyond 110 km/h – if you were racing around a circuit, the GS's power band would be much more useable than the F6 since the only way to keep the F6 on full power is to keep it on boost – once the boost drops off, you have to wait for it to spool back up to see any real advances in acceleration. In other words, the V8 is a lot more fun. And instant.
Now, you could have the best engine in the world, but it's nothing without a great gearbox. Is the ZF six-speed automatic gearbox well suited to the new Coyote V8? Well, yes, it is. Is it the best gearbox in its class? Hmm, hard question. We'd like to think of it more like this; think of the ZF six-speed automatic as a person. It's that person you can always depend on. They mostly make good decisions, and only a few bad ones. They rarely complain, and never act selfish. They might not be your best friend, but you value them a lot. The ZF is a lot like that. While it may not be the most refined 'box in the world (it is right up there though), it does its job, and does it well. The ratios are spaced out enough so you can 'try' and get decent fuel economy, but at the same time you won't have trouble finding the right gear to amuse yourself should you want to hit hyperdrive.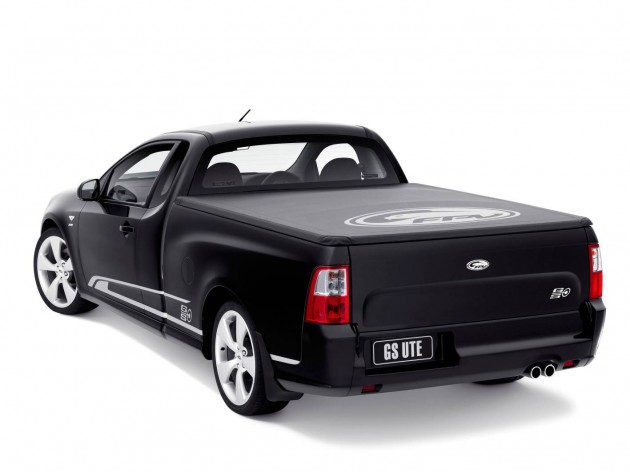 Which brings us another important part of any road test; does it handle? If you've driven any new FG Falcon, you'll know how solid it feels on the road – certainly the best in its class. The ute does feel more toey in the rear end than the sedan – not always a bad thing – but it's very controllable. Some performance Falcons in the past had a tendency to 'tank slap', causing you to loop or worse, fall into a ditch – think of a sail boat in high wind. There won't be any of that with the new FPV GS; it's very composed in even the hottest of moments. The new V8 doesn't feel as nose heavy as models gone by, that said, you can notice the difference over the six-cylinder variant. It does feel big on the road, so don't go thinking it'll be as easy to putt around town as your Fiesta, which makes sense considering it is based on a large family sedan.
When it comes to pulling this large beast up, the brakes are certainly adequate. While the standard GS brakes aren't as powerful as the Brembos that are featured on the F6, they do a solid job of pulling the near two-tonne ute up when needed. That said, we wondered why the Brembos aren't standard fitment to the GS, too? The biggest difference between the stock GS brakes,and the Brembo brakes on the F6 is pedal feel, and overall bite.
One of the challenges manufacturers face when fine-tuning a car's handling is hiding its overall weight, so that the car maintains the best handling characteristics it can. Now given the Ute's almost 1800kg, it's quite a hefty thing, but changing direction through bends and backstreets doesn't seem to bother or unsettle it much. The shift in weight will sometimes end in oversteer, but like we said, is that always a bad thing? If you're after a lightweight ute, try the Proton Jumbuck. Hmm, actually, don't do that.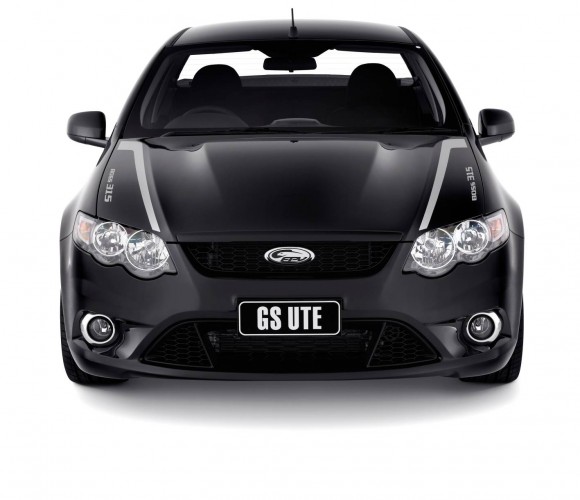 The best part about it being big means there's heaps of room in the cabin. There's plenty of storage behind the seats, and lots of little compartments, too. Comfort-wise, the seats are right up there with FPV's finest; great for long trips, and easy to get in and out of. If we had any qualms, it'd be that they could do with a touch more lateral support through the twisty stuff, but it's no biggie. Ford Australia has done a good job with the FG's creature comforts, making sure they're easy to find, and use. Aussies put the Ford together, so you know it's going to suit, well.. Aussies. Us Australians don't like it when things become too complicated – a good case of KISS (keep it simple stupid). And yes, it has a cable for your iPod and plays MP3s. In fact, it's one of the easier iPod systems to use. Rock on.
If you're into performance as much as we are, the tuning capabilities of the GS Ute against its main rival (the HSV Maloo) are immense; the FPV GS makes great performance sense. Sure, it doesn't look like something from Batman, but it'll scream its heart down any highway with the best of them. And with more boost (achieved by installing a different pulley on the front of the supercharger) and a tune you'd see this Aussie monster give a Porsche 911 Turbo a solid run for its money. Yes, you read right, a 911. Tuning packages can see these supercharged Coyotes pump out in excess of 450 rear-wheel kilowatts. Eat that Germany.
PD TECHNICAL BOX
MODEL
2011 FPV GS Ute
ENGINE
5.0-litre supercharged DOHC V8 with Ti-VCT
ENGINE SIZE (cc) / COMPRESSION RATIO
4951cc / 9.25
BORE X STROKE (mm)
92.2mm x 92.7mm
POWER
315kW@5750rpm, 545Nm@5500rpm
POWER TO WEIGHT RATIO
5.68 : 1 (kg/kw)
WEIGHT
1792kg
HEIGHT / WIDTH / LENGTH
1481mm / 1933mm / 5096mm
DRIVETRAIN
Rear-wheel drive
BRAKES
Front: 322mm slotted and cross-drilled disc
Rear: 303mm solid
WHEELS / TYRES
F and R: 19 inch 245/35 ZR 19
FUEL CONSUMPTION
Official average: 14.2L/100km
PERFORMANCE
0-100km/h: Not yet tested
PRICED FROM
$52,990
PROS
Tuning potential, supercharger sound, great torque
CONS
Fuel consumption, you'll lose your licence
THE COMPETITION
HSV Maloo, FPV F6 Ute