It's no secret SUVs are the flavour of the month decade. All car companies offer at least one SUV, or are planning to introduce one in the near future – even Lamborghini, Bentley, and Rolls-Royce will soon cave into the fashion. We normally remain very partial here at PD, but for this feature, it's personal.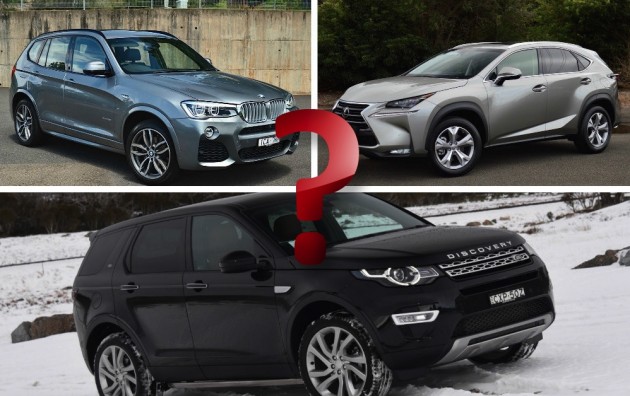 You see, I'm in a bit of a predicament. The wife has managed to convince me that we need an SUV, even though the closest thing we do to 'off roading' is make a trip down to the snow once or twice a year. She wants to spend about $60,000 and I want to spend about $50,000. So it looks like we're spending about $70,000. At the moment the argument is between three vehicles; the excellent Land Rover Discovery Sport (which I've just stepped out of – review coming soon), the brilliant BMW X3 xDrive30d, and the sharp – and most affordable – Lexus NX 200t.
As a motoring journalist I give all three of these vehicles high recommendation. The wife really enjoys the Land Rover, mainly because it looks like a Range Rover Evoque (I think), whereas I – being an avid BMW fan having previously owned three older 3 Series models including two M3s – want the X3. As for the Lexus, well, it's a great vehicle in its own respect. I've always appreciated the sheer reliability and attention to detail of Lexus vehicles. In fact, whenever someone that I know asks me what vehicle they should buy, I usually recommend a Toyota or Lexus because I know my advice isn't likely to backfire on me down the track with the vehicle breaking down on them.
Firstly, let's go over the Discovery Sport – the newest vehicle here – and point out some of the highlights and some of the potential considerations. Out of the three engine options – TD4, SD4, SI4 – I think the SD4 is the best balance. In Australia the SI4 petrol is slapped with the highest tax, whereas the TD4 is slightly down on power. I haven't actually driven the TD4, but my male instinct tells me that I need the most powerful version available (of course). Both the TD4 and SD4 use a 2.2-litre turbo-diesel four-cylinder, with the TD4 developing 110kW/400Nm versus the SD4's 140kW/420Nm. There's no question the torque figure is adequate, but 110kW just seems piddly to me. Acceleration takes 10.3 seconds (official claim) in the TD4 and 8.9 seconds in the SD4.
We visited a dealer over the weekend and they said the SI4 is easily the least popular model. I think this might be important when it comes time to sell. So, the SD4 it is. Prices start at a very reasonable $56,500, or $59,000 for the auto. That's for the base model SE. Surprisingly, the SE does come with plenty of luxuries as standard. You get a touch-screen interface with sat-nav, a 10-speaker stereo, leather upholstery, and various driving modes.
Next up is the HSE and then the HSE Luxury. We sat down with the dealer and picked the options we thought were necessary on the SE model to see how it stacked up against the dearer HSE and HSE Luxury. It turns out, our lightly optioned ideal version will set us back just under $75,000 (including on-roads), which is over the standard price of the flagship HSE Luxury automatic ($69,000). However, the HSE Luxury comes with items that we're not interested in, such as a 17-speaker stereo, specially filtered air-con, and DVD playing functions. We did select a few options that I think might help with resale though, such as water wading sensors ($490), the Black trim and wheels pack ($1790), and a panoramic glass roof ($1800). I'll hold off on going into too much detail about the drive impression of the SD4 I recently tested and save that for the review. Basically, it's a lovely vehicle to drive and seems fairly confident off road.
The things we like about it. The design. It definitely stands out and makes a bit of a statement. I actually think it looks better than the Range Rover Evoque, which to me is starting to look boxy. The cabin is also very luxurious and pampering, large, and, as mentioned, comes with plenty of goodies even in standard form. According to the wife, it's also very easy to drive with good visibility, and it's easy to park – all vehicles are easy to park to me so there's no compliment there.
As for things we don't like. I'm not entirely confident in Land Rover's reliability. There has been plenty of criticism towards the company over the decades in regards to breakdowns and questionable build quality. Jaguar Land Rover has definitely stepped up in recent years thanks to its new Indian ownership (Tata Motors)… on the surface it seems anyway. However, according to the JD Power 2014 Vehicle Dependability Survey (one of the biggest of its kind in the world), Land Rover came in a disappointing third from the bottom, with 179 problems per 100 vehicles (PP100). For the 2015 survey, Land Rover dropped to second last with 258 PP100. In both years, Lexus rated the best with a score of 68 and 89, respectively. Another negative for me is the nine-speed auto. It endlessly hunts for gears and kicks down only when poked really hard. In my opinion it is the most annoying transmission on the market – even the other half noticed some hesitation during our recent test drive. This is easy to overlook though when you pull all of the positives together.
Next up, the BMW X3. If we're going to buy a BMW, we need to make sure we buy the best driver's variant. And for me it's the xDrive30d. It comes with a silky smooth yet powerful 3.0-litre turbo-diesel producing 190kW and 560Nm. It is the most powerful out of these three and easily the quickest (0-100km/h in 6.2 seconds). Interestingly, it is also the most fuel efficient in terms of official average ratings; 6.0L/100km vs 6.1L/100km, and 7.9L/100km for the petrol Lexus. If it were entirely my choice, I'd be buying a secondhand E90 BMW M3 sedan. So, as you can probably guess, the X3 is my pick. I haven't driven the 30d in the X3, but I have sampled the 35d in other BMW models, as well as the X3 xDrive28i which is a superb drive. It rails around corners like a sports car and offers a really engaging and dynamic driving experience, far beyond any of these rivals. BMW also rates reasonably well in the JD Power surveys, with the X3 specifically rated as one of the top premium SUVs.
However, the other half isn't much interested (and I have to agree), in the styling. It's been around for a few years now in virtually the same form. And perhaps worst of all, it blends in with the rest of the much-cheaper Japanese and Korean rivals in terms of design. At the moment my wife has a Mazda3. Despite advising her that while being a great car it may become boring after a year or two, she went ahead and bought it anyway. Now, she is entirely bored with it. First-world problem, I know. I fear that this may happen with the X3 as well. It won't for me because I like driving, but let's face it, she is going to be spending significantly more time behind the wheel in it than me. In xDrive30d form, prices start at $77,700, making it by far the most expensive. This doesn't leave much room for options and on-road costs and so on.
Finally, we come to the Lexus NX 200t. I followed the NX quite religiously throughout its birth, starting from a striking concept, to launching in hybrid form, and then debuting an all-new (for Lexus/Toyota) 2.0-litre turbo-petrol motor. We're not interested in the 300h hybrid version, but we have taken the 175kW/350Nm 200t for an extended drive from Sydney to Adelaide, via the Great Ocean Road, and enjoyed it a lot.
The NX is classed as a smaller vehicle by VFACTS compared with the other two here, partly due to price. In the real world it offers a similarly accommodating interior, with ample rear seat space and cargo room. About the only area that seems smaller is the ceiling height. Due to the sporty exterior styling the ceiling is more 'soft-roader' compared with the tall SUV-like bodies of the other two. This isn't a problem for us.
What is a problem is the styling. While it looked stunning (in my opinion) when it was a concept, really standing out from the common curvy crowd with sharp characteristics, I must admit it is starting to look a bit odd. Should we, or anyone for that matter, be buying a vehicle based on styling alone? Of course not. The Lexus is filled with luxuries as standard and doesn't stump the buyer at the showroom with an endless and expensive options list. We have to remember the proved reliability too, and the fact that it drives, handles, and goes quite well for a small-to-medium SUV (PD tested 0-100km/h in 8.3 seconds).
As for the downsides? My wife isn't convinced on visibility and isn't a big fan of the styling. For me, it's simply the competition. With these rivals at such a high level, it is hard to pass them up for the NX. To make matters more difficult, the NX 200t F Sport – the variant we'd go for – retails from $63,127 (excluding on-roads), putting it in perfect proximity with our price range.
We would love to hear your opinion. What would you buy out of these three? And what advice would you give to anyone else considering these? Is there something we have missed? I'll be sure to keep you posted in regards to what we go ahead with and report back on any potential issues that you could take into account.