Audi has sent out an official teaser of its upcoming Audi Q8 SUV, which will come in as Audi's first proper attempt at the coupe-style SUV market.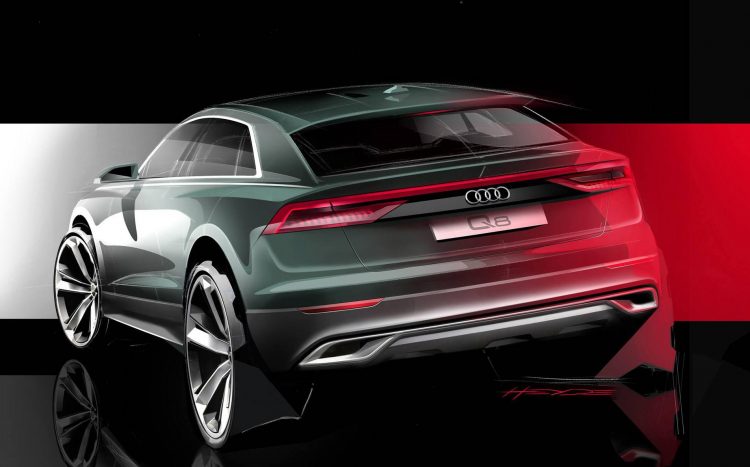 Set to be the VW-owned brand's answer to the BMW X6 and Mercedes-Benz GLE Coupe, the Audi Q8 will be based on the MLB Evo platform that is shared with vehicles such as the Audi Q7, Bentley Bentayga, and Lamborghini Urus.
It's expected to be about the same length as the Q7, but with an obvious sloping roof and tailgate design for a more sporty profile and reduced cargo space As the teaser image shows, the Q8 will feature the full width taillight treatment which is fast becoming a new (or reinvented) fashion.
On its Facebook post, Audi says the Q8 will "definitely not" be a wolf in sheep's clothing, but instead an SUV with a coupe design. We're not really sure what that means exactly. Maybe it's a sheep in sheep's clothing? Or a wolf in wolf's clothing?
In any case, the Q8 is likely to come in plug-in hybrid E-Tron form. Why? Well, the company has revealed a couple of concept vehicles with the Q8 label in the names, and they featured a hybrid system.
The first Q8 concept featured a 3.0-litre twin-turbo V6 producing 245kW and 500Nm, paired with a 17.9kWh lithium-ion battery and electric motor system, combined to develop 330Nm and 700Nm. Meanwhile the Q8 Sport Concept, revealed shortly after, featured a 331kW/530Nm V6 with a 20kW electric motor, using a slim 0.9kWh battery.
A full debut is tipped to take place by mid-June this year, with market entry expected to follow later in the year.