To all super-fans out there, drop everything and read this. Before convincing everyone you know to nominate you for a precious appearance in Super-Fan Builds. After all, this web series has a Higher Purpose that will make fandom members in the universe of comics, games and films undoubtedly squeal with delight.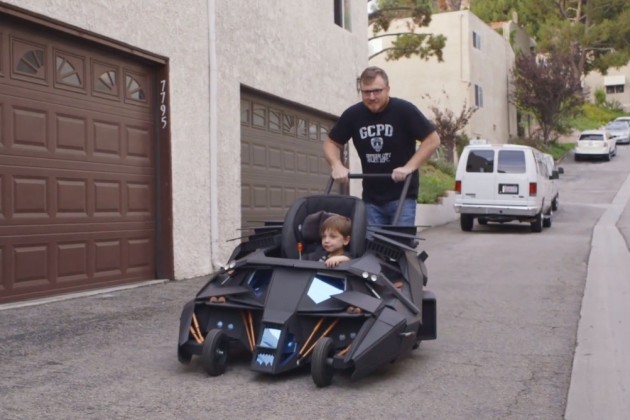 Yup, every other week, the programme's very own prop team creates a unique object, based on a specific franchise, which will be presented to its 'Ultimate Super-Fan'. And after ingeniously crafting a Groot Swing Set (Guardians of the Galaxy) and a Hobbit-themed Litter Box & Cat Scratching Post (The Lord of the Rings), it was time to catapult a Batman aficionado from Gotham to glee. With a stroller, that is.
It was Maressa Earl who nominated her husband Josh as the Ultimate Batman Super-Fan. The evidence was quite overwhelming. Approximately every square centimetre of his home office turned out to be covered with the Caped Crusader's collectors' items. Josh and Maressa's young son Collin proved not immune to his father's fanaticism, and has been diagnosed with the Bat bug as well.
In order to make both Dark Knight devotees happy, the Super-Fan Builds prop team decided to build a Batman stroller, a toddler-friendly Batmobile reproduction. Three-dimensional models and paper scale replicas quickly evolved into a solid steel frame, which was subsequently clad in seamlessly assembled computer-cut PVC foam parts, a black car seat, and additional details such as mirrors and headlights.
Needless to say that Josh, when confronted with his newest toy treasure, immediately expressed those feelings we would all experience; initial disbelief, swiftly dominating excitement, followed by – just a hunch – a secret frantic desire to quickly steal it from his kid and drive it himself.