BMW has released another, slightly more revealing teaser video of the all-new 2017 5 Series. This time we get a glimpse of the exterior design, albeit in an over-dramatic, powerful-sounding presentation.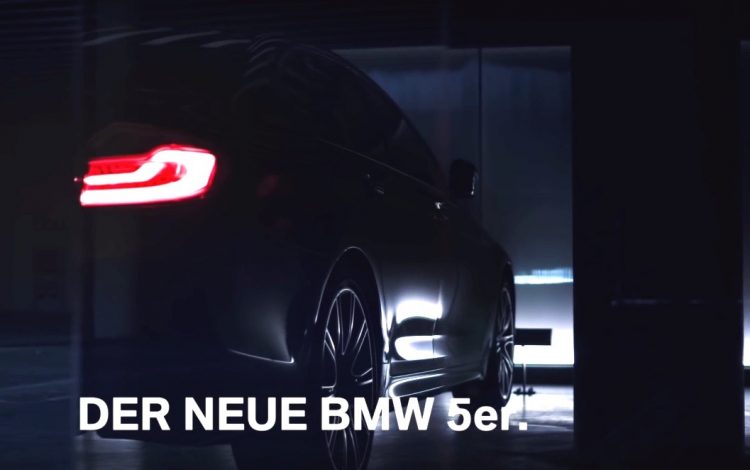 Getting ready for its public unveiling at the Paris show later this month, the new 5 Series is expected to introduce a number of segment-firsts in terms of technology and driving dynamics.
In the teaser, a view of the rear showing a glimpse of the spiffy new LED taillights is flashed up, along with a vague profile view which appears pretty similar to the current 5 Series. We can also see well-rounded wheel arches that kinda remind us of the previous-gen 5 Series.
Where things will change majorly though is underneath. The codenamed G30 is set to be based on BMW's latest CLAR platform. This debuted on the latest 7 Series, blending advanced construction with lots of lightweight material use, including carbon fibre.
It's unknown just how much carbon fibre will be used in the G30, but it is believed the new model will drop as much as 100kg from its kerb mass compared with the current model. Obviously this will bring a range of benefits, including in handling, performance and economy.
We can probably turn to the latest 7 Series for an idea of what to expect in terms of design, with pronounced upper front grilles, plenty of horizontal tones and body lines, and an overall lower and wider stance.
More details are likely to be dropped over the coming weeks, we suspect. So we'll keep you updated with all of the official stuff as it comes.
https://youtu.be/ClOMyWl3aaE