Vortech Engineering has sprinkled some of its supercharger magic over the 2015 Ford Mustang GT and come up with a bunch of tyre-frying packages that will go on display at the upcoming 2014 SEMA show in Las Vegas.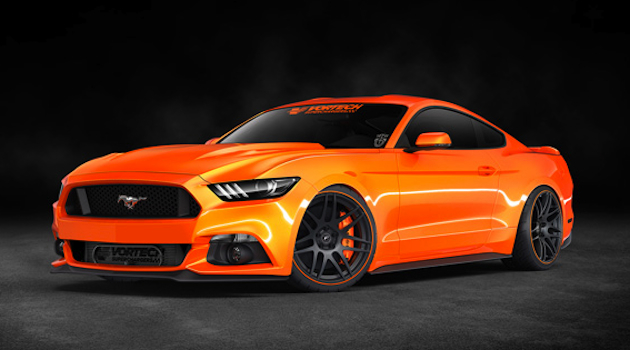 Sitting on the Vortech stand will be this 'Competition Orange' 2015 Ford Mustang GT. In the engine bay you'll find one of Vortech's V3si superchargers that's been tuned to raise power to 477kW and 657Nm (up from the standard 324kW and 541Nm).
If that kind of power doesn't tickle your fancy, the company also offers supercharger packages that can deliver up to 895kW – yep, you read right. That kind of power would most certainly deliver hypercar-like speed.
As you can see in the picture, Vortech's display car will sport a set of 20-inch Forgestar alloy wheels, a set of high-performance Baer brakes, and exterior enhancements such as a carbon fibre front lip spoiler, and carbon fibre side skirts and rear skirt. Peeking through the lower air dam is an intercooler setup that's designed to keep air intake temperatures to a minimum.
The blown orange Mustang will sit closer to the ground thanks to adjustable coilovers, giving it a mean stance to match its loud paintwork. It'll also make all right noises through a Magnaflow exhaust.
For the first time in the Mustang's history, the new model will go on sale right here in Australia next year, and will be available with a 231kW/441Nm 2.3-litre EcoBoost four-cylinder or a 324kW/541Nm 5.0-litre V8. Prices are expected to start from around $50,000, however, Ford is still yet to make an official announcement.