To keep up with the super hot hatch game, Volvo is expected to launch a new V40 Polestar inspired by the S60 Polestar. A model like this could help bolster Volvo's recent move into local motorsport and sports cars.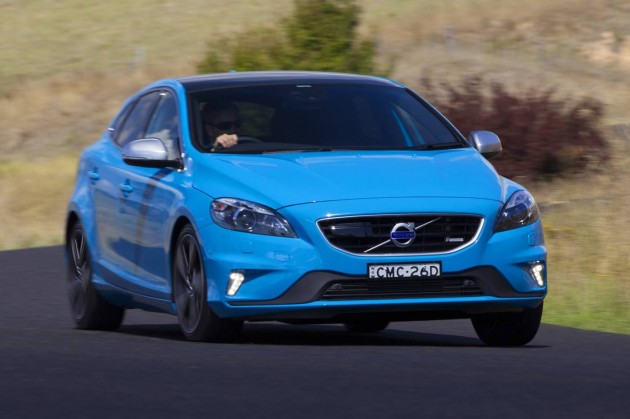 At the moment the hottest version of the V40 that you can buy is the T5 R-Design. It comes with a 2.5-litre turbocharged five-cylinder engine producing a respectable 187kW. Power is sent through a conventional six-speed auto with front-wheel drive. Polestar doesn't currently offer a factory tune for this model, despite offering such service with the S60/V60 and XC60 R-Design models.
A new Polestar version could use the company's just-announced turbo and supercharged 2.0-litre four-cylinder engine which will debut in the upcoming XC90 SUV. In the XC90 output peaks at 235kW.
With this engine stuffed under the bonnet of the little V40, which is loosely based on the Ford Focus platform, we could see 0-100km/h times drop from 6.7 seconds as tested in the T5 R-Design, to around 5.0 seconds.
Although the 2.5-litre turbo – also from Ford – is capable of producing similar figures as it did back in the old Focus RS, using such a unit would not fall in line with Volvo's plans to introduce small-capacity four-cylinder engines into all of its lineup.
The new 2.0-litre turbo and supercharged engine is expected to find its way under many showroom models, including the confirmed 2015 XC90 T6 variant where it will offer 235kW and 400Nm.
We've all been waiting for Volvo's next Polestar product and it looks like it could take the form of a hot hatch. Like the S60 Polestar, a V40 version would likely come with Brembo brakes, Ohlins suspension and a number of discreet interior and exterior enhancements.
If it all comes to fruition, the other main question will be will Volvo stick with front-wheel drive or go for the Haldex all-wheel drive system as seen on the V40 Cross Country? We'll keep you updated with any official details that come to hand.