Before you get to heavyweights like the BMW M3 and Mercedes-Benz C 63, you have these two tantilising underdogs. The 2014 Lexus IS F is back for another year in similar spec as last year, while the Volvo S60 Polestar only joined the game in 2013. Can the newcomer be a match for the veteran?
This isn't your conventional comparison but if you're in the market for a mid-size sports sedan for around $100k or more, you need to investigate these two. It's a battle of rear-wheel drive versus all-wheel drive. Turbo versus high-revving natural aspiration. And cross country adaptability versus hardcore handling.
In the blue corner is Volvo's updated S60 Polestar. It comes with a 3.0-litre turbocharged inline six producing 257kW of power and 500Nm of torque. All of this is sent through a revised Haldex all-wheel drive system, optimised by Polestar, after going through a six-speed automatic transmission which now comes with paddle shifters.
From the land of the rising sun is the Lexus IS F. It's based on the previous-gen Lexus IS, but it has been given a quick touch over with carbon fibre and Alcantara for the 2014 model year, with notable details such as a neat little carbon fibre lip spoiler at the back. Under the bonnet sits the same 5.0-litre V8 producing 311kW and 505Nm. This Yamaha-developed unit turns the back wheels via an eight-speed sports automatic, also with paddle shifters.
Prices? This is where the comparison spreads the most. The Volvo starts from $99,550, with the V8 IS F retailing from $125,475. The IS F has dropped in price over the years but it stands quite a distance from the Volvo, edging more closely to the $150k-plus BMW M3 and Mercedes C 63.
2014 Volvo S60 Polestar vs 2014 Lexus IS F: The Specs
| | 2014 Volvo S60 Polestar | 2014 Lexus IS F |
| --- | --- | --- |
| Engine | 3.0-litre turbo six-cylinder | 5.0-litre V8 |
| Output | 257kW@5700rpm / 500Nm@3000-4750rpm | 311kW@6600rpm / 505Nm@5200rpm |
| Transmission | Six-speed auto | Eight-speed auto |
| Drive type | All-wheel drive, Haldex system | Rear-wheel drive, mechanical limited-slip differential |
| Wheels | F: 19×8.0, 235/40 R: 19×8.0, 235/40 | F: 19×8.5, 225/40 R: 19×9.0, 255/35 |
| ANCAP | Five stars (scored 36.34 out of 37) | Five stars (scored 33.4 out of 37) |
| Tare weight | 1770kg | 1700kg |
| Power-to-weight | 6.8:1 (kg:kW) | 5.4:1 (kg:kW) |
| Official fuel economy | 10.2L/100km | 11.4L/100km |
| Economy during test | 11.8L/100km | 12.8L/100km |
| Fuel capacity/type | 67L/95 RON | 64L/95 RON |
| Power efficiency | 25.1kW:L/100km | 27.2kW:L/100km |
| 0-100km/h as tested | 4.9 seconds | 4.7 seconds |
| 0-200km/h as tested | 18.8 seconds | 17.3 seconds |
| Priced from | $99,550 | $125,475 |
2014 Volvo S60 Polestar vs 2014 Lexus IS F: The Package
In terms of comfort and practicality, we'll just dive right in and say the Volvo is the winner of this department. Its plush semi-leather sports seats are generously bolstered yet uber-soft and comfortable for long journeys. In the rear there is also noticeably more legroom and a useable middle seat.
The Lexus has excellent front seats as well but they can seem a bit too large for the cabin. If you're a large figure, you will find it confined, with a raised up centre console making you feel quite cocooned. For average to small drivers, it's an intimate place that you'll immediately feel acquainted with.
Unfortunately, rear-seat space is restricted drastically in the Lexus, with a huge transmission tunnel making way for the heavy-duty driveline underneath. This results in a centre seat that's demoted to a plastic shelf. For the outer passengers legroom is confined due to those large bucket seats in the front.
You tend to cut the Lexus some slack when it comes to equipment. We've highlighted this before and we'll highlight it again; most Lexus vehicles come with a huge list of standard features, leaving few surprise option boxes for the dealer to talk you into.
Being the flagship IS, the IS F comes with almost everything that the more modern Volvo gets, including radar-guided cruise control. It also gets a number of features that the Volvo misses out on, such as a standard electric sunroof, a power adjustable steering column, and a 14-speaker stereo. It even comes with 10 airbags while the Volvo makes do with eight.
Where the Lexus falls short is in the operation and form of these functions. The stereo, for example, might be a premium 'Mark Levison' unit but it fails to please with rather tiny sound and less-than-ideal clarity; the 10-speaker unit in the Volvo sounds much beefier and more enjoyable overall.
The radar cruise control seems like it has aged as well. It won't bring the car to a complete stop in the Lexus, and in mild traffic conditions it rather crudely slows and speeds up the vehicle. In the Volvo, the cruise uses more sensors and can calculate traffic more comprehensively and more readily, and it adjusts the controls automatically in a much smoother manner, only slowing the car down when it's completely necessary. It will bring the car to a complete stop as well if the car in front stops.
In the very back the Lexus offers 378 litres of boot space and the Volvo offers 380 litres, which means they are both capable of accommodating a decent interstate trip with three or four passengers.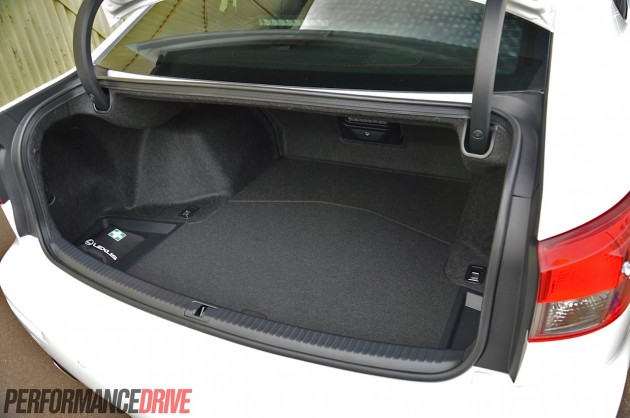 2014 Volvo S60 Polestar vs 2014 Lexus IS F: The Drive
Ride and handling
Volvo has utilised one of its motorsport sponsors to enhance the handling of the S60. It features Ohlins dampers at all four corners that are adjustable. In the middle setting the drive is compliant and absorbent, with a hint of body roll to provide an inviting and playful experience. The nose tucks away with confidence, but the steering lacks the response you'd expect from a sports sedan. There's no special communication through the wheel either, and there is some play just off centre.
Over in the Lexus, you get dedicated sports suspension. It isn't adjustable like in the Volvo but the driver has the option to hit the sport button on the steering wheel, which firms up the dampers. It's firm and rigid. It'll even cock a rear wheel in the air pulling into driveways.
You can feel every bump in the road in the Lexus, and in that sense every bit of information is sent up through the steering wheel so you know exactly how the tyres are responding with every move you make. This can be a good thing or a bad thing, depending on your preference.
During daily commuting it's tiresome. Out in the mountains or on a track, it's almost perfect. The harder you push it the more it makes sense. You also have the freedom to relish in some very controlled oversteer if your heart so desires, thanks to a proper mechanical limited-slip differential. It is one of the easiest vehicles to drift in our opinion, with immediate response and no aftershock or 'tank-slap' effect coming back to centre, so long as you know what you're doing.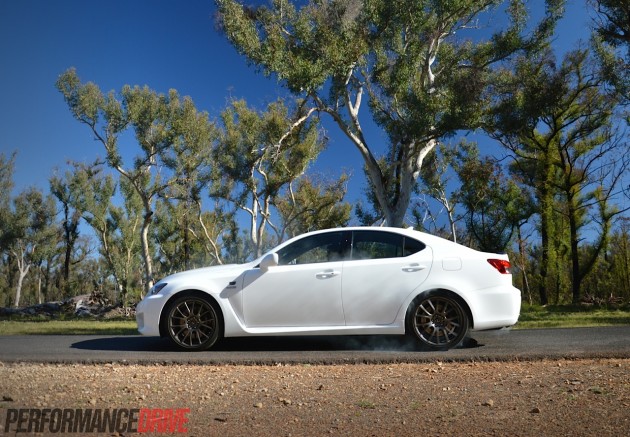 Power and delivery
The Volvo might now come with paddle shifters, which do enhance the driving experience somewhat, however, they are connected to a fairly conventional automatic. You don't get blipping on the downshifts like you do in the Lexus (and in many other lesser sports cars). Instead, it rather abruptly changes down on your demand, if it feels like listening. We found it to be more enjoyable – and quicker – to simply leave it in fully automatic S mode, making the paddles an almost redundant addition without a decent transmission to back them up.
The power surges strong in the Volvo, pulling through corners and up steep hills with grinningly potent acceleration. There's no major turbo-lag issues to wait for and the Haldex all-wheel drive system makes it feel glued to the ground, like it's impossible to get unstuck. Through a tight winding road the Volvo is no doubt an easier vehicle to drive fast. It gallops across uneven surfaces with greater composure, and rips around corners with pure untainted grip.
Thanks to the brute power of the 5.0-litre V8, the Lexus offers a better power-to-weight ratio here. You can feel the engine is more at one with the rest of the car, with a meaty mid-range and a gloriously savage top end. We timed 0-200km/h in both vehicles to give you an idea of the broad performance spectrum of both, with the Lexus stopping the clock well over one second sooner than the Volvo (see video below).
Part of this sheer speed is down to the fantastic eight-speed sports automatic transmission. It behaves like a well-sorted dual-clutch unit, with finger-tip response and lightning upchanges. Downchanges tend to cause the hairs on the back of your neck to stand on end, as the auto blipping sends a riveting induction noise echoing from the engine bay with each change.
It wasn't long ago when critics accused the IS F for having too many gears, with eight, but now it is the norm. It feels both punchy and long-legged, and it doesn't waste away power with wheelspin. In terms of theatrics and powertrain excitement, the Lexus trumps the Volvo.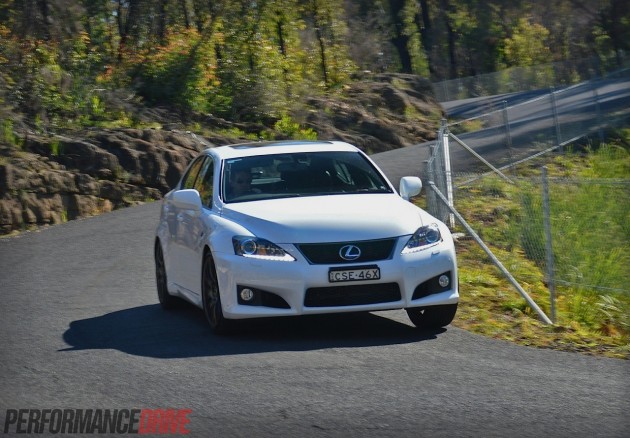 Economy
Interestingly, despite the typical efficiency of turbocharged engines, the Lexus does offer a better power efficiency. With 311kW on tap and an official average fuel economy of 11.4L/100km, the Lexus uses less fuel for the amount of power it generates.
In the rear world, it's the opposite. We averaged 12.8L/100km in the IS F and 11.8L/100km in the Volvo. This was achieved in very similar conditions, with equal highway driving and an equal amount of high-tempo spirited driving up and around the mountains.
The official average for the Volvo is a respectable 10.2L/100km.
Brakes
Both vehicles come with serious stoppers. The updated Polestar gets Brembo six-piston front calipers with 370mm discs, while the Lexus retains the same six-piston Brembo units with 360mm front discs as last year's model. The discs are perforated in the Lexus.
During a heated drive up our usual test route, the Volvo brakes perform with confidence, even after repeated onslaught. In the Lexus the brakes are just as powerful, although, they feel more natural and can be modulated with finer foot movements.
The Volvo pedal starts to drop sooner than the Lexus pedal after ongoing abuse, and pedal feel does diminish. Control and confidence is higher in the Lexus. Some slack should be given to the Volvo though as this test vehicle has over 7500km on the clock, compared with just 800km in the Lexus.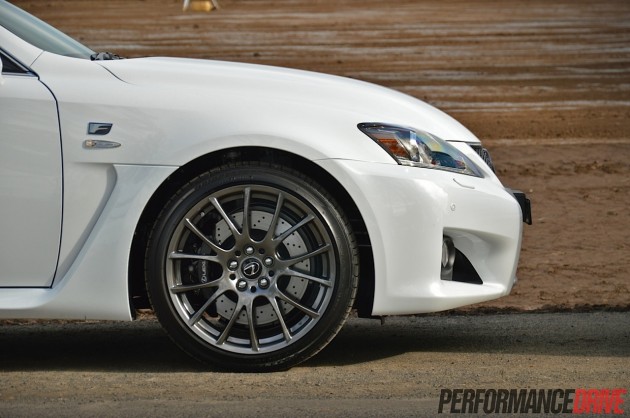 Volvo S60 Polestar vs Lexus IS F: The Video
2014 Volvo S60 Polestar vs 2014 Lexus IS F: The Verdict
We can't comment on longevity or ongoing ownership, but as a car to enjoy for a week the Lexus IS F is the more exciting car. And this is despite being over five years old now. It's aging gracefully. Every drive is an occasion; from the moment you fire up that growling, ultra-refined V8, to tapping the on-demand paddle shifters and turning the finger-tip precise steering.
As a vehicle to live with every day, on a more long-term basis, the Volvo would be the more complete option. It can perform brilliantly in a wider variety of conditions with equally impressive results. It's more user-friendly, more comfortable, more practical with more rear seat space, and it uses less fuel while offering very similar acceleration. And let's not forget it is much cheaper at the showroom.
With the Lexus, you're paying a 30 per cent premium for a better power-to-weight ratio and, on paper, a more efficient engine for the power it generates. You're also paying for a higher-tech, finer tuned engine, a more responsive drivetrain, and sharper handling.
If you love driving, our heart can't stop beating to the tune of the Lexus IS F. This is a wonderfully engaging rear-wheel drive package.
If, on the other hand, you're after a very quick sports sedan with class-leading technology and superior comfort, as well as the sheer confidence of all-weather adaptability, you need to step into your nearest Volvo dealer now.
As it turns out, these two vehicles are very different and made for almost entirely different purposes. It just so happens they offer similar performance at a reasonably similar price point.
2014 Volvo S60 Polestar vs 2014 Lexus IS F: The Competition
Audi S4
3.0-litre supercharged V6 – 245kW-440Nm – 8.1L/100km – 1780kg – from $105,000