What's the best small car on the market right now? It's a very difficult one to answer because there are just so many great options available at the moment. Here we're putting together two of the heavyweights, side-by-side, to see if we can narrow it down for you: the 2019 Mazda3 G25 GT and the 2019 Hyundai i30 N Line. Both variants are roughly one position down from the top spec and are aimed at drivers looking for a hatch with a sporty edge.
To create a fair comparison, it should be mentioned that the i30 is halfway through its current generation's lifespan, while the Mazda3 is fresh off the design studios for 2019. Both are pitched as practical small hatchbacks, and both are fitted with auto transmissions with front-wheel drive.
Mazda has 'overhauled' its pricing and standard feature listing for the latest-gen lineup. Meaning all models are now about $3-5k more than the equivalent i30 range. The i30 begins its pricing from $19,990, compared with the Mazda3's huge leap to $24,990 for its cheapest model.
Between these two, the tested i30 N Line auto retails from $29,490, and the Mazda3 G25 GT auto retails from $34,490 (all excluding on-road costs).
2019 Mazda3 G25 GT vs Hyundai i30 N Line – THE SPECS
| | 2019 Mazda3 G25 GT | Hyundai i30 N Line |
| --- | --- | --- |
| Engine | 2.5-litre four-cylinder | 1.6-litre turbo four-cylinder |
| Output | 139kW@6000rpm / 252Nm@4000rpm | 150kW@6000rpm / 265Nm@1500-4500rpm |
| Transmission | Six-speed auto | Seven-speed dual-clutch auto |
| Drive type | Front-wheel drive | Front-wheel drive |
| Wheels | F & R: 18×7.0, 215/45 | F & R: 18×7.5, 225/40 |
| ANCAP | Five stars | Five stars |
| Tare weight | 1340kg | 1424kg |
| Power-to-weight | 9.64:1 (kg:kW) | 9.49:1 (kg:kW) |
| Official fuel economy | 6.6L/100km | 7.1L/100km |
| Economy during test | 7.0L/100km | 7.6L/100km |
| Fuel capacity/type | 51L/91 RON | 50L/91 RON |
| Power efficiency | 21.06kW:L/100km | 21.12kW:L/100km |
| 0-60km/h | 3.98 seconds* | 3.73 seconds* |
| 0-100km/h | 8.28 seconds* | 7.12 seconds* |
| 60-110km/h | 5.79 seconds* | 4.66 seconds* |
| 1/8 mile | 10.55 seconds at 115.0km/h* | 10.18 seconds at 123.1km/h* |
| 1/4 mile | 16.09 seconds at 144.8km/h* | 15.41 seconds at 151.9km/h* |
| Max acceleration | 0.784g | 0.742g |
| 100-0km/h braking | 2.93 seconds at 38.27 metres* | 3.01 seconds at 37.92 metres* |
| Max deceleration | -1.159g | -1.253g |
| Decibel at idle | 42* | 38* |
| Peak decibel at 60-100km/h | 78* | 77* |
| Priced from | $34,490 | $29,490 |
* Figures as tested by PerformanceDrive on the day. Factory claims may be different
2019 Mazda3 G25 GT vs Hyundai i30 N Line – THE PACKAGE
Although the price points between the two are quite different, there is a valid reason. The Mazda3 is now loaded with features, some of which aren't offered in the i30. However, both variants tested come standard with forward collision warning with active braking, driver attention detection, a rear camera and parking sensors, auto headlights, sat-nav, Bluetooth connectivity with Android Auto and Apple CarPlay, digital radio, 18-inch alloys, tyre pressure monitoring, rain-sensing wipers, heated and folding side mirrors, dual-zone climate control, distance-controlled cruise control, and a starter button with proximity key. This is all impressive stuff for this price.
If a restricted budget doesn't end the comparison here for you, the Japanese-built Mazda3 GT adds an electrically adjustable driver's seat with memory, road sign recognition, head-up display, a 12-speaker Bose sound system that has double the speakers and double the sound quality of the i30's unit, auto-dipping high beam, blind-spot sensors with active lane keeping aid, higher-speed forward collision warning system, and a reverse collision warning system with active braking, and rear cross-traffic alert.
The Hyundai also misses out on what should be standard on all cars by now; an auto-dimming rear-view mirror, and one-click power windows for all windows controlled from the driver's door. However, it comes with a wireless phone charging pad and the Mazda3 does not.
Looks and styling is always a subjective deal. But we think both cars have their own individual attractive style. The Mazda looks fresher than the i30, given it is newer. It uses a smooth sheet metal design with minimal contouring and creases. But the Mazda has very large rear pillars that make sitting in the rear feel more claustrophobic than in the i30. The i30's rear now looks a little aged though we think, and the all-round LED lighting on the Mazda3 looks simply fantastic.
The two hatches have quite different interiors. The Mazda3 has a noticeably higher quality finish over the i30, with materials that look and feel more premium, and fewer hard, scratchy surfaces. The shape and layout of the i30 is slightly more practical however, containing more holes and spaces to dump your belongings. And that wireless charging pad is a point scorer. Viewing the i30's instrument cluster, it's also clean and easy to grasp with its uncluttered layout and soft blue glow.
In terms of space and comfort inside, the i30 feels like a wider and airier space to sit. In the Mazda3 it feels squashy and dark, particularly in the back, and it has a more intrusive centre floor hump to make way for all-wheel drive components offered in overseas models. The i30 also has a bigger and wider boot, measuring 395 litres compared with the Mazda3's 295 litres.
Both models come with a five-year, unlimited kilometre warranty, and are covered by capped-price servicing.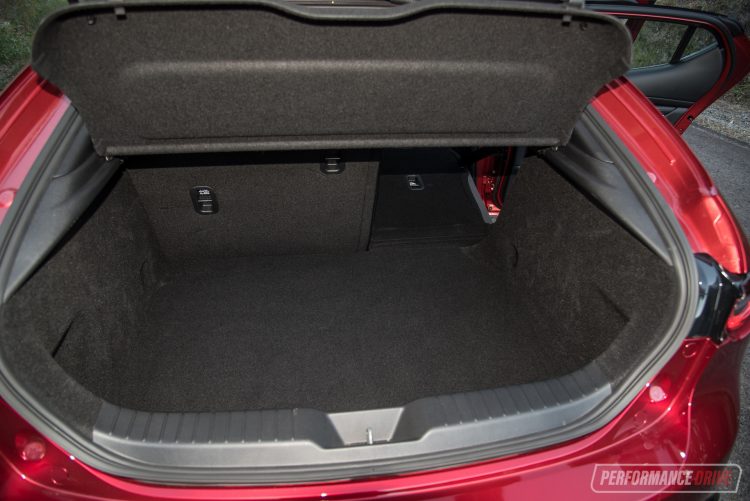 2019 Mazda3 G25 GT vs Hyundai i30 N Line – THE DRIVE
First, we love that there are sportier engines offered in the higher-spec models of both hatches. Some manufacturers have become lazy and thus don't provide as much of an incentive to spend up on the higher range models – Toyota Corolla, we're looking at you. On paper and behind the wheel, the 1.6-litre four-pot turbo offered in the i30 N Line is a sporty little number, and it easily outdoes the Mazda3 for performance and driving enjoyment. And engine sound, actually.
With 11kW more power, its 150kW peaks at 6000rpm, backed by a decent 265Nm spread between 1500rpm and 4500rpm. It's an energetic little engine, brilliant for whizzing around town or conquering steep hills with thanks to that turbo.
The seven-speed dual-clutch auto conveys some hesitancy during easy-going take-offs – typical for dual-clutch autos – but after you get used to the delay and change your driving style (or press your foot down harder), the i30 N Line stays ahead of the flow of traffic like a pocket rocket. Across the 0-100km/h test, it's almost no contest between these two. Our Vbox recorded a best time of 7.12 in the i30, and a rather uninspiring 8.28 seconds in the Mazda. We have previously tested the old Mazda3 SP25 GT auto in 7.74 seconds. We think the difference is due to a slight increase in weight for the new model.
Even though Mazda has invested a lot of money into its SkyActiv technology and upcoming spark ignition Skyactiv-X, the brand seems to have gone the opposite direction to industry trends. While most manufacturers are making their engines smaller and turbocharging them, Mazda is sticking with capacity and natural aspiration. At 2.5 litres, the Mazda3 has the biggest engine in the class. But with no turbo, the power and torque bands are narrow; 139kW at 6000rpm, and 252Nm at 4000rpm. This means you do need to give it a proper kick in the ribs to get it moving. On the other hand, it is a more relaxed and smoother drive, partly thanks to its conventional six-speed auto (non-dual-clutch).
Kudos to both engines for their ability to run on 91 RON fuel and E10 (10 per cent ethanol) blend. This can provide decent savings in the long term. Officially, and during our testing, the Mazda3 wins in the fuel consumption test. We averaged 7.6L/100km in the i30 and 7.0L/100km in the Mazda3 –  both over a week of testing in mixed conditions. Formally, the i30 rates at 7.1L/100km and the Mazda3 is 6.6L/100km. Both hatches' fuel tanks are quite small, at 51 and 50 litres, respectively. So, you might struggle to get 550km out of a tankful.
Handling the i30 on the road is more fun than the Mazda3. The suspension has been engineered in Australia to suit our conditions. And it shows. It feels stiffer and more engaging. The steering feel is also nimbler and quicker to turn into corners, and the wheel itself requires less movement to get a reaction.
Over in the Mazda3, it is now fitted with an old-fashioned torsion beam layout at the rear (i30 uses multi-link), which is lighter but not as comprehensive (previous model used multi-link). Ride quality feels smooth in both hatches, although the Mazda might edge ahead for pure softness and comfort, and road noise levels are equally respectable.
Outright cornering and braking grip goes to the i30, mostly thanks to 225-wide Michelin Pilot Sport 4 tyres (developed for response and handling), over the Mazda's 215-wide Bridgestone Turanza tyres (developed for luxury and touring).

2019 Mazda3 G25 GT vs Hyundai i30 N Line – THE VIDEOS
2019 Mazda3 G25 GT vs Hyundai i30 N Line – THE VERDICT
Choosing between the i30 N Line and the G25 GT will ultimately depend on what attributes are most important to you. If your budget is the biggest factor, the i30 undercuts the Mazda3 by $5k. But if you want the latest features, the Mazda3 takes the medal. Alternatively, if sportiness is the utmost importance to you, the i30's 1.6L turbo and Aussie-tuned sports suspension has it in the bag. If you're all about aesthetics, the Mazda wins the race with the freshest design.
For us, we'd take the i30 N Line. The interior is more practical and seems better fit for purpose, and we like the livelier handling, and of course there's the irresistible allure of the turbo engine and its superior performance. We also like the neater and more subtle styling of the i30 with the N Line aero kit, but that's probably just us.
What does the Mazda3 G25 GT do better?
• Styling is newer and fresher
• Interior quality feels more premium
• Bose 12-speaker sound system is brilliant
• Multimedia screen is a higher resolution and more crisp
• Longer feature list if you can afford the price hike, especially safety tech
What does the Hyundai i30 N Line do better?
• Won't bust your wallet; $35k for the Mazda is a lot of coin for a non-premium, non-flagship hatch
• Airier, more practical interior with more rear seat room and boot space
• Zippy, higher performance turbo engine
• More enthusiastic and engaging drive experience
• N Line package is cool and somewhat exclusive
As always, if you're thinking about buying a new car don't forget to click here to speak with our car buying specialists.