Subaru has unveiled an all-new SUV concept called the VIZIV-7 at the 2016 Los Angeles Auto Show, previewing a seven-seater of the future.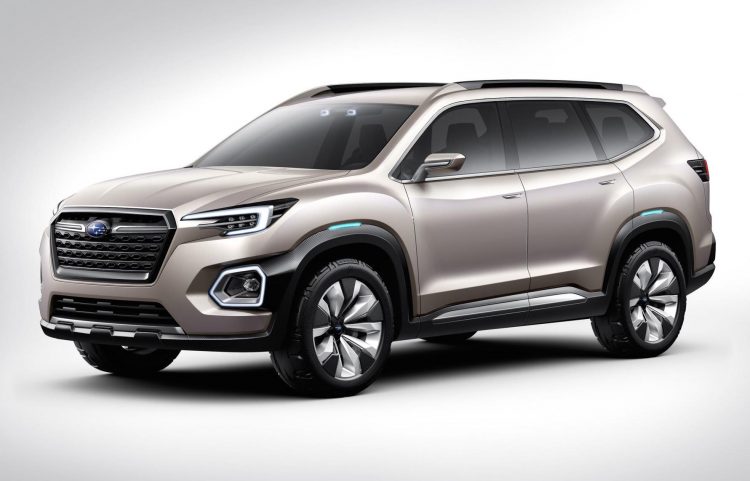 While very little is known about the VIZIV-7, Takeshi Tachimori, Subaru's vice president has said that, "We know customers in this segment want a full-sized vehicle and the next three-row from Subaru will be the biggest Subaru vehicle ever."
The name draws inspiration from a hybrid of the words vision and innovation, according to Subaru. Dimensions for the VIZIV-7 are indeed, large. It's 5199mm long, has a 2990mm wheelbase, is 1828mm tall and 2030mm wide. This makes it longer and wider than the current Toyota LandCruiser.
"The concept expresses our core brand values, safety, dependability, capability for outdoor activities and a forward looking attitude," said Takeshi Tachimori.
The new styling is said to be inspired by Subaru's 'DYNAMIC x SOLID' design language, featuring a familiar but futuristic take on the current look of Subaru's lineup. There's hexagonal shapes housing the front fog lamps and exhausts at the rear, with an added emphasis on straight body lines, complimented by the rectangular lights at the rear. The VIZIV-7 features body panels made from carbon fibre, and rides on 21-inch alloys wrapped in 265/55 rubber.
Under the bonnet could be anything from a turbocharged four-cylinder unit taken from the Impreza line up, or a more powerful 3.6-litre six-cylinder unit from the Liberty.
We don't know anything in terms of specifications or powertrains, but Subaru has said the concept will serve as a preview of the three-row design that will be used for a large SUV for the US early in 2018.