Details of the 2018 Suzuki Swift Sport have finally been revealed, at the new model's official unveiling at the Frankfurt motor show in Germany today.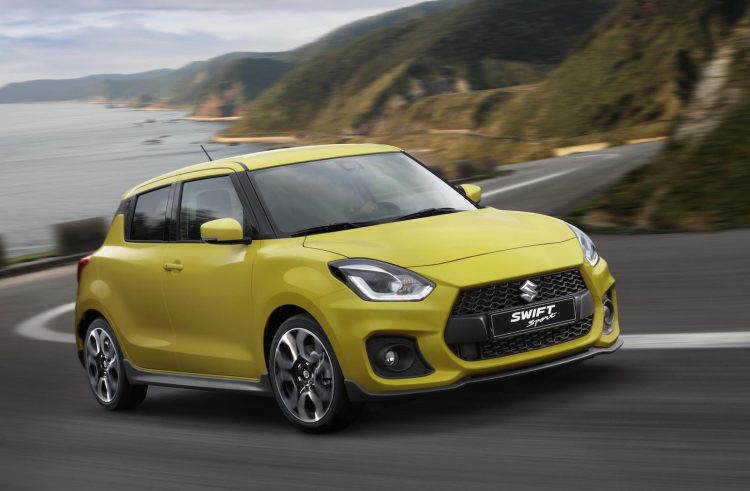 As suspected, the new Swift Sport comes with a turbocharged engine. It's the 1.4-litre four-cylinder from the Vitara S-Turbo, with outputs peaking at 103kW and 230Nm. This is sent through a six-speed manual transmission (no auto at this stage) with front-wheel drive, as before.
Compared with the outgoing model's 1.6-litre naturally aspirated unit, power is lifted by 3kW, however, torque is increased a lot, from 160Nm. Peak torque is accessible across a wider rev band too, between 2500-3500rpm, compared with the old 1.6's peak at 4400rpm.
Thanks to the new Swift's HEARTECT platform, the 2018 Swift Sport has a kerb weight of just 970kg. This makes it a whopping 90kg lighter than the outgoing manual version, while also giving it a power-to-weight ratio of 9.4kW/kg.
On the handling front, the Sport comes with bespoke sports suspension using Monroe front dampers with thicker stabiliser bars and Teflon seats, overall providing a 15 per cent increase in camber rigidity. Meanwhile at the back is a trailling arm layout with Monroe dampers, with a tuned torsion beam for optimal roll stiffness, Suzuki says.
As for the design, we've already seen the more aggressive body compared with the regular Swift. It's actually 40mm wider at the front and rear compared with the predecessor for a stronger presence, and it sits 15mm lower to the ground than the regular model. It also rides on unique 17-inch alloy wheels.
Inside it's a practical yet sporty place to be, with red highlights in every corner, a sports steering wheel for the driver, special red gauges, and mildly bolstered sports seats. It also comes packaged with Suzuki's latest touch-screen multimedia interface.
The new model is set to go on sale later this year. Australian prices and details are yet to be confirmed.