After days, weeks and months of teasers, Volkswagen has officially unveiled its electric-powered I.D. concept at the 2016 Paris Motor Show, with a road-going version confirmed to hit the road in 2020.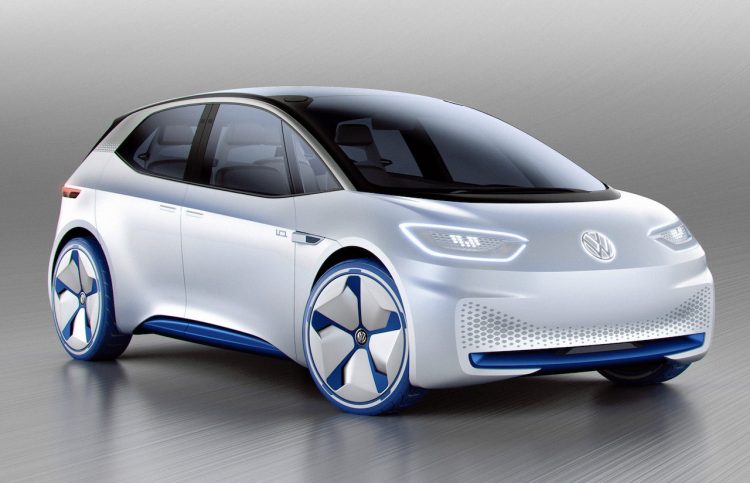 Volkswagen chairman Herbert Diess said at the reveal that the company has started the "greatest change process in history", with the brand now pivoting the direction of electric-powered and autonomous vehicles. Volkswagen also says it will be the first vehicle in its lineup capable of semi-autonomous driving.
The styling of the I.D. concept is a dramatically-new design aesthetic from Volkswagen, with a set of flush LED headlights, no front grille and an integrated front bumper, blue tyres wrapped around huge rims, and a seamless windscreen and roof design.
The I.D. concept rides on VAG's new 'MEB' platform, specifically designed to accommodate battery packs for electric vehicles and to offer optimum interior space. Volkswagen says the car is as compact as a Golf but as roomy as a Passat.
A range between 400 to 600km has been confirmed by Volkswagen for the production version, with the I.D. concept itself powered by a 125kW electric motor.
The concept throws away almost every conventional aspect inside, having removed all switches and buttons with touch-screen interfaces, with "augmented reality projected on the windscreen… no switches, no sticks, just screens," Herbert Diess said.
Diess also said the production version will be a real people's car, "it will come at the price of a Volkswagen Golf diesel, [with a] market launch in 2020".
When the production version does hit the market in 2020, it will lock horns with the likes of the Tesla Model 3 and Chevrolet Bolt in its respective price bracket. Volkswagen has provided us with a list of ten key points of the I.D concept. See below:
1. I.D. is the first Volkswagen in a completely new fleet of highly innovative electric vehicles.
2. I.D. is immediately recognisable as a zero-emission vehicle thanks to a newly developed design DNA for electric cars.
3. I.D. is driven by an electric motor with an output of 125 kW and has a range of between 400 and 600 kilometres on a single battery charge.
4. I.D. has an interior that offers an entirely new spatial experience with the Open Space.
5. I.D. will be launched as a compact electric car in 2020 parallel to the Golf.
6. As a concept car, I.D. gives us a first tangible glimpse of fully automated driving – this mode will be offered from 2025 onward.
7. I.D. retracts its multifunction steering wheel into the dashpad when in fully automated mode ("I.D. Pilot").
8. I.D. can receive parcels using a new delivery service, if its owner isn't at home.
9. I.D. is the first compact Volkswagen based on the Modular Electric Drive Kit (MEB).
10. Volkswagen has set itself the goal of selling a million electric cars a year by 2025.