Lotus has unveiled a new special edition model to help bolster sales, called the Lotus Evora S GP Edition. The GP features a black with gold stripe colour scheme inspired by the company's F1 car, partnered with Renault.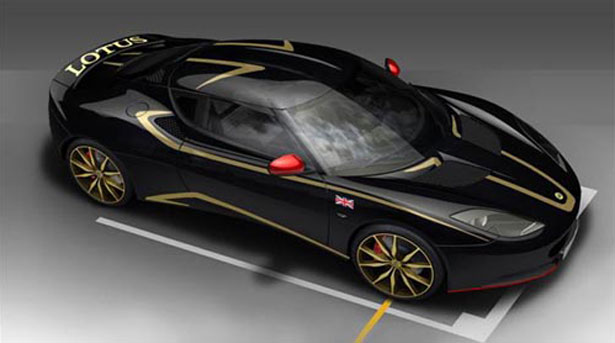 In standard form the Lotus Evora S is powered by a Toyota-derived 3.5-litre supercharged V6 developing 258kW of power and 400Nm of torque. It's also the biggest and most powerful mainstream Lotus currently on sale.
The Lotus Evora S GP Edition uses the same running gear as the standard car, so it's not a revolutionary new model this GP, it's more of a compliment to the range, offering top-spec options and a bit of exclusivity.
Inside, the Lotus Evora S GP Edition comes with the model's premium package including a reversing camera and a more luxurious, leather interior over the standard Evora. It also comes with the technology package including sat-nav and a premium sound system.
Outside, the Lotus Evora S GP Edition features obvious gold wheels, matching the F1 car, and gold pin stripes and red side mirrors.
Perhaps the most appealing element to the Lotus Evora S GP Edition, apart from its ability to sprint from 0-100km/h in just 4.6 seconds, is its exclusivity; Lotus is making just three examples.
Prices will start at £69,950 (around AU$ 109,706).
Also check out:
– Video: Lotus Exige R-GT rally car explained
– Lotus reveals new V8 engine development in progress
– Lotus Exige S with 3.5 supercharged V6 unvieled at Frankfurt show