Some ready-to-ship examples of the 2016 Mitsubishi Outlander have been spotted in Japan, partially revealing the new-look exterior design.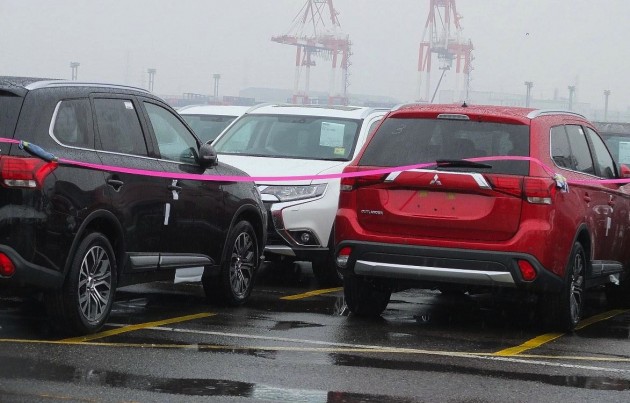 The 2016 Outlander is due to launch in Australia in the middle of April. It's set to bring fresh styling, including a completely new face and grille area. As you can (just) see in the images, the front end appears similar to the Outlander PHEV Concept-S.
At the back it's perhaps not as updated as the front, although there are new taillights and a central chrome trim piece encompassing the badge. Down below features a new diffuser area as well, with chrome/silver trimming matching trim pieces on the side skirts.
In terms of mechanical highlights, the 2016 update is expected to come with a similar lineup of engines as the outgoing version. There is talk of an updated PHEV hybrid system however, potentially bringing more power and range, and improved efficiency.
At the moment the Outlander is available with a 2.4-litre naturally aspirated four-cylinder producing 124kW and 220Nm, and a 2.2-litre turbo-diesel developing 110kW and 360Nm. Average fuel economy ratings span from 7.5L/100km in the petrol to just 5.8L/100km in the diesel.
The Outlander was one of the most popular SUVs in its segment in Australia last year, selling to 9677 buyers, giving it 8.6 per cent market share. An official unveiling of the model update will take place at the 2015 New York Auto Show in April.