Audi has been spotted test driving a (now broken) prototype version of the upcoming 'SQ7' performance SUV on the Nurburgring, with the driver pushing so hard the big soft-roader veered into a guardrail.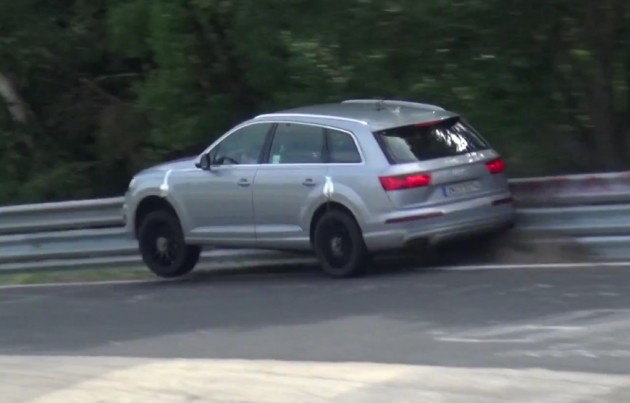 It's not very often that we see a test driver crash, it's usually the prototype that gives in (or catches fire) before the driver misjudges. In this case, the sheer size of the Q7 and the subsequent weight couldn't handle the notorious carousel at the Nurburgring.
With so much weight wanting to escape outwards, it looks like the tyres simply couldn't hang on anymore right near the exit of the banked concrete section of the corner. The prototype then collided heavily with the barrier, ricocheting and literally bouncing off the ground.
Aside from the impact, the news here is the SQ7 looks to be in near production guise with very little camouflaging. The new variant will feature sporty exterior trimmings and bespoke, large alloy wheels, as well as the usual mix of 'S'-themed enhancements such as brakes, suspension and interior.
Under the bonnet, the SQ7 is set to come with a turbo-diesel V8 engine using electronic turbocharging technology. Maximum power output is tipped to be around the 300kW mark, with around 700-800Nm of torque. We can expect a 0-100km/h time well within the 5.0-second range.
All is likely to be revealed at the 2015 Frankfurt Motor Show in September. We'll keep you updated with any more news that we hear on the model, including any official confirmation from Audi. Click play below for a sneak peek.