Audi's upcoming hottest and highest performance A4, the 2013 Audi RS 4 Avant, is set to be unveiled at the 2012 Geneva Motor Show. If this alleged leaked document is anything to go by that is.
(rendered speculation)
It's understood Audi's participation at this year's Geneva show was communicated through to Audi's distributor in Switzerland – known as AMAG. The program clearly outlines a range of new Audi vehicles that are set to be unveiled.
Vehicles include the Audi A1 quattro, the 2013 Audi A3 range – which looks like it will come with a new 1.8-litre turbocharged four cylinder producing 132kW – and the new 2013 Audi RS4 Avant.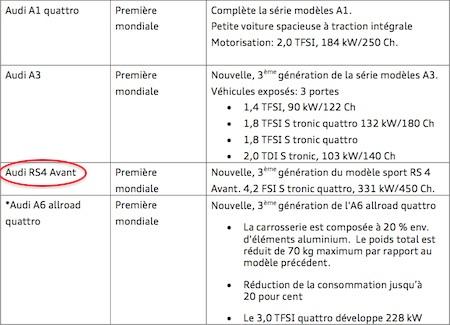 According to an Autocar report in the UK, the new RS 4 will only come in wagon (Avant) form. Audi sources said the wagon has been the most popular in the past. There are also suggestions circulating that the RS 4 will be made redundant for this model as an upcoming RS 5 Sportback could be on the way.
The Audi RS 5 Sportback will showcase a four-door coupe design, capable of accommodating two adults in the back just fine. It's believed those left who would prefer an RS 4 sedan could soon turn to an RS 5 Sportback for very similar specifications and layout.
As the program reveals, the new Audi RS 4 Avant will be powered by the same 4.2-litre FSI naturally aspirated V8, churning out 331kW of power and 430Nm of torque, as seen in the current RS 5. It will also come with a seven-speed S tronic sports-shift automatic transmission as standard. A six-speed manual could be an option.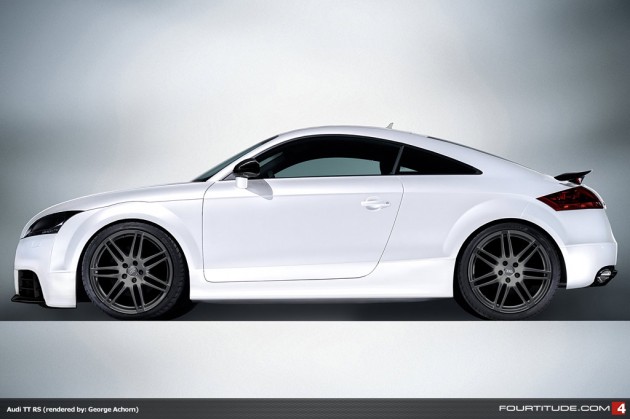 In other Audi/Geneva show news, a lightweight version of the Audi TT RS is expected to be unveiled at the show. It will apparently be called the Audi TT RS Plus, and it's said to feature weight reduction of up to 132kg over the normal TT RS. This would mean an overall weight of 1318kg (from 1450kg).
The new variant is also said to gain around 15-20kW in power over the standard TT RS's 250kW, using a revised version of the awesome 2.5-litre turbocharged five-cylinder engine. We'll have to wait and see to know for sure though.
Stay tuned for plenty of coverage on all things that shine and glitter at the show, and more details on these new Audis next month. The show starts March 6.