Last week, Subaru revealed the new Subaru BRZ GT300 Super GT race car. So what about Toyota and its GT 86? Is there a GT300 version on the way? Not quite.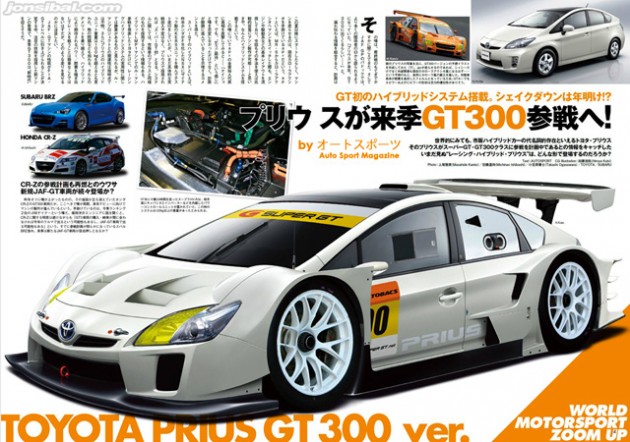 Toyota is apparently working on a Toyota Prius GT300 Super GT race car instead. Yes, although it might be a bit hard to believe, turning the otherwise boring Prius into a race car could be a good step as Toyota aims to reconnect with the performance and sports side of motoring.
Details of the Toyota Prius GT300 race car are a little scarce at this stage, with the only details being that the project will be built by Team APR. The team that currently has a couple of Corolla Axio race cars in the championship.
As for the looks, not much in the way of Prius styling will be carried across onto the GT300 car. These rendered images from Auto Sport Magazine show what the model is expected to look like.
The engine for the Toyota Prius GT300 car is almost certainly going to have nothing in relation to the road car as well, other than it will contain a combustion engine.
Reports say the Prius GT300 will compete in the 2012 series of the Super GT in Japan.