Following a teaser last week, Nissan has now unveiled the winter-themed 370Zki concept. And it has turned out to be something totally different to what we thought it would be. It's making its public debut at the Chicago auto show.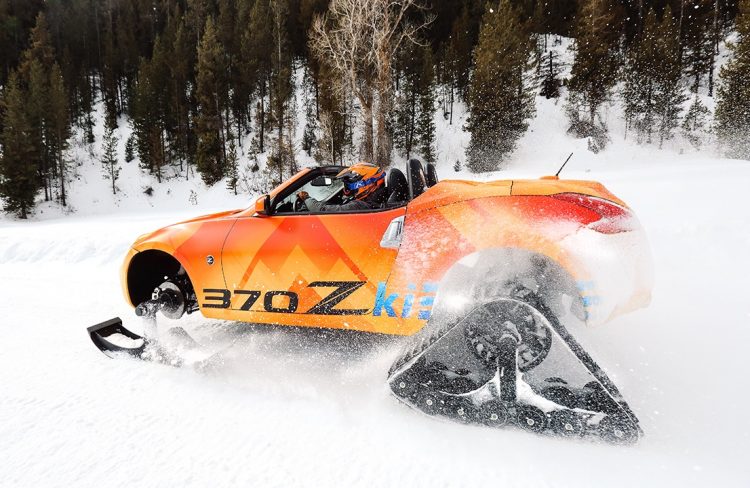 At first, most of the speculation suggested the concept would be a snow-themed version of the 370Z, with maybe a ski box on the roof and some snowy decals. But how wrong we all were. This is actually a car-shaped snow mobile, capable of driving up and down mountains that are covered in snow. And even more strangely, it's based on the convertible version of the 370Z.
The 370Zki concept uses custom front and rear suspension with the wheels removed. In their place at the front are a set of skis which help the sports car turn on snow. Meanwhile the rear axle supports a set of Dominator Tracks by American Track Truck.
All of this was made possible thanks to a big lift kit for the suspension, allowing clearance for the front skis to rotate and to provide room for the custom fabrication required to mount the track gear to the wheel hubs. The factory brakes were rerouted as well.
As for the power, it comes from the standard 3.7-litre petrol V6, which produces 247kW. This should be more than enough to get the tracks rotating at a decent speed, although Nissan hasn't mentioned anything about performance or capable speeds. Speaking about the unusual contraption, Michael Bunce, vice president of product planning at Nissan North America, said:
"The Nissan 370Zki continues our recent tradition of bringing imaginative winter vehicle concepts to the Chicago Auto Show. It's also fun to shake things up with something totally unexpected once in a while – and that's the Nissan 370Zki."
Obviously there are no plans to put the 370Ski into production. But if you have enough money and the right contacts, we're sure there's a workshop out there that would be happy to convert your 370Z into a similarly-adventurous winter mobile.