Sketches of Kia's facelifted flagship luxury sedan, the 2019 Kia K900, have emerged, showing a more elegant and imposing vehicle than the current model.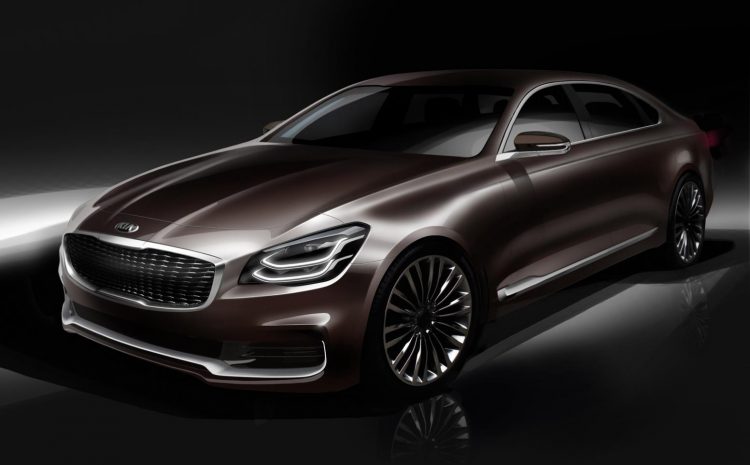 Not available in Australia, the K900 is a rival to the Mercedes-Benz S-Class and BMW 7 Series – a previously unimaginable playground for a Kia to be in. Based on the Genesis G80 and G90's BH-L platform (nee Hyundai Genesis and Hyundai Equus), the K900 is available internationally with a 3.3-litre V6, 3.8-litre V6 with 246kW, and the 5.0-litre 'Tau' V8 with 313kW and 510Nm.
This major update could see it score the Kia Stinger's 272kW 3.3-litre twin-turbo donk. From the sketches, we can infer a much more striking vehicle, with a six-window design, pinched crease beltline running the length of the car, and jewelled tallamps reminiscent of a Bentley Mulsanne.
At the front the 'tigernose' grille has been reimagined with 176 jewel-like cells that point away from the centre of the grille. Dual LED daytime running lights integrated within the headlamp cluster also create a unique facade.
Given the current model's exclusion from the Australian market, it's hard to believe this new model will arrive here wearing a Kia badge, assuming it is even built in right-hand drive. In any case, it will be built in Korea and go on sale in selected global markets in the second quarter of this year. We will bring you highlights from the New York auto show and any news relating to a potential entry to the Australian market.