Toyota's GRMN division (Gazoo Racing: Masters of Nürburgring) have released the production version of the GRMN 86 concept shown at the Tokyo Auto Salon last January.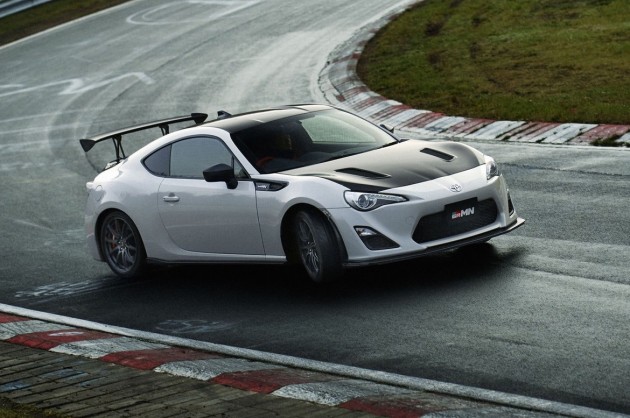 GRMN is the collection of Toyota's best drivers, including racing drivers from 24-hour endurance races, including Masahiko Kageyama.
The GRMN 86 is the result of the donor car being honed around the aforementioned track for over two years. At ¥6.48million ($70 000 AUD), all that added expertise doesn't come cheap, either. So what exactly do you get for the hefty premium over the standard hachi-roku? Well, importantly for some, not forced induction, but there is a power upgrade and weight downgrade.
An extra 11kW to bring the total to 158kW, and 217Nm (up from 205Nm) is channelled through a six-speed manual with a shorter set of ratios, ending their journey at a fatter set of 17-inch wheels.
Thanks to some lightweight items – a carbon fibre hood, plexiglass windows, plus a downforce-adding carbon fibre front splitter and rear wing – the 86 GRMN sheds 45kg over the original's 1222kg kerb weight, down to 1177kg. It also scores some serious stopping power in the form of six-piston front and four-piston rear calipers.
In summary, it has slightly more power, less weight, is more aerodynamic, stops better and is fettled by racing experts. All of these enhancements seem to accentuate the 86's strengths, where something like a turbocharger might change its power delivery and character too much.
Only 100 of these will be produced, with none of them expected to come to Australia, unfortunately. Check out the video below to see how it goes on the track.
https://youtu.be/TKMGEInpATE