Kia is set to launch a new sports sedan inspired by the Kia GT concept car in the next few years, becoming the South Korean company's new halo model.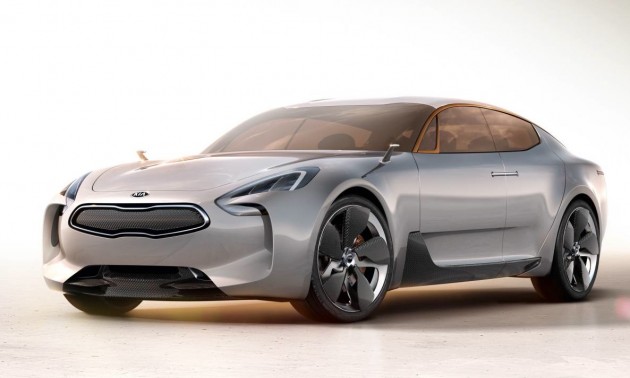 Confirmation was apparently made to Kia dealers in the US during a special meeting in Las Vegas. It's understood the new model will come with a V6 engine with rear-wheel drive, providing the foundations for a genuine driver's car.
The sporty four-door will take the shape of a four-door coupe and target vehicles like the Audi A7 and BMW 6 Series Gran Coupe. It is expected to be offered at a cheaper price point than the German offerings, with the aim to attract new buyer types to the Kia brand.
Specific details on the vehicle are yet to be uncovered. However, if we take a look at the GT concept (pictured) which was revealed at the 2011 Frankfurt Motor Show, we can see there is certainly some attractive elements to look forward to. The concept showcases a sporty new design that's both grand and imposing, with hints of sportiness and class in the finer details.
Of course the production version is likely to be watered down somewhat, losing details such as the slimline camera side mirrors, reverse-hinge doors, and the fancy double bubble roof and curved windscreen.
Under the bonnet of the concept is a twin-turbo V6 engine producing 291kW of power. It's unknown if a similar unit will be featured with the showroom model. Reports say it will come with a V6 nonetheless, pointing to Hyundai's relatively new 3.8-litre naturally aspirated unit that develops 248kW.
Market entry in the US is slated for 2017. Unfortunately, Australian showrooms will probably miss out.